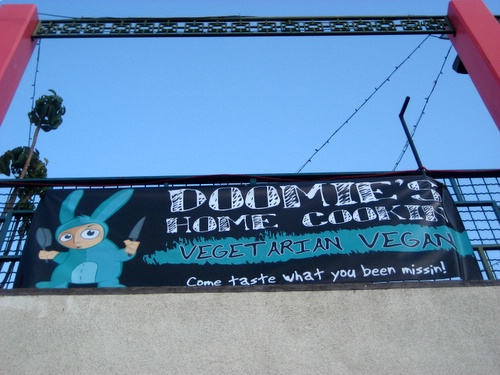 I read about this new veggie spot called Doomie's recently at To Live and Eat in LA and was quite surprised to find out about some veggie/vegan options in Chinatown, that's a pretty close by. On the way back from the LA Archives Bazaar we took a detour to check out this new veggie spot, and I'm glad we did because this is going on my short list of regular joints to visit!
The thrill of trying new places is that just maybe you'll find something unexpectedly tasty or otherwise perfectly matching your cravings: after a long day at the archives, a cold draft beer was just the right way to start the meal! They have a few options like Fat Tire  and Newcastle, but I went with Rogue Dead Guy Ale, it being the Halloween season and all. I liked their mission statement in the menu that states "we are the old comfort foods you long to remember…meat free versions of classic American diner foods." Sounds good to me.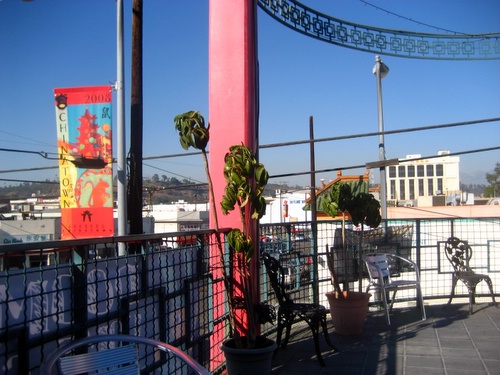 They also have a nice patio where you can admire the hills of Northeast LA.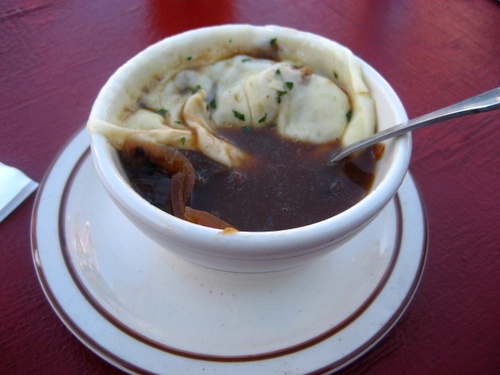 They have quite a few options but I decided on the Country Fried Steak which comes with the daily soup or salad.  I went with the French Onion soup. I think they gave me the vegan cheese (I don't remember if they asked me for my preference) because it had the plasticy texture of vegan "cheese". French Onion is always too salty for my palate, this one included, but still a fine soup with all the proper elements.
This be the Country Fried Steak, with a side of coleslaw, rosemary mashed potatoes, and some bread. I'm not a veggie gourmand by any means (beans and rice don't count) but I think this was breaded Seitan doused in a creamy gravy. Yup, it was good. I didn't think of taking notes cuz really, what would I say? It's not like I know the difference between this and the real version so I just give it a thumbs up.
My friends got some other items, including the Fried Chicken which comes with a breast and a drumstick, complete with wooden bone! Haha, that was nice. I had a small taste, the breading is quite something.
And finally, the BBQ Pulled Pork sandwich which was amazingly good. They ran out of the hamburger buns they usually put this on but if I were you I'd ask for it on the roll. This was amazingly good. Finger lickin' good. Fork lickin' good. But you'll have to try it yourself to see if it suits your needs!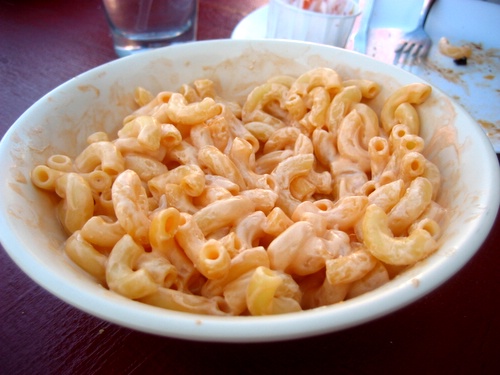 Doomie was especially excited about his version of Mac and Cheese, he's trying to emulate "The Box" and comes pretty close. Will people want a vegan version of the box? The jury is still out on that one.
I should mention that the wait staff here was very friendly, helpful, and provided excellent service, not like at some veggie places that seem to act as if they are doing you a favor by selling you grub. You know what I mean.
Sorry I couldn't be more descriptive about the tasty food, but I hope the pictures will help. Besides, don't you want to find out on your own? Hop to it!
Doomie's Home Cookin' 714.883.7657
686 N. Spring St
Chinatown, 90012
11am-8pm Closed Mondays.  Cash Only.