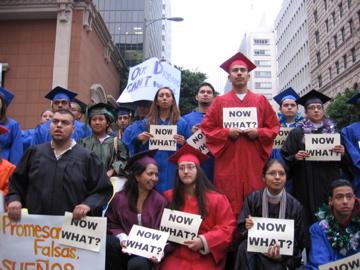 Higher Education is something that shouldn't be limited only to those who can afford it, it should be available to those who seek it and want to improve their lives. As of Sunday August 31, The Governor has Senate Bill 1301, Institutional Financial Aid on his desk waiting to be signed or vetoed, again. Various organizations and groups have been working to get the medias and publics attention on the bill and its importance to undocumented college students. Now there is an online petition in support of the bill and getting the governor to sign it. There are students right now attending community colleges and universities paying in-state tuition fees. All this bill will do is help make life easier and help those students pay for their education. It doesn't take away from the state budget or other college students either.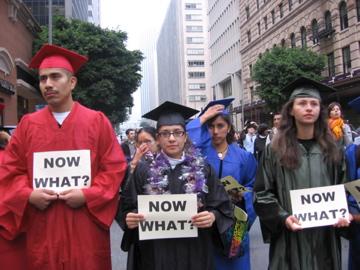 In an interview I had with Sonia Campos, assistant to assembly speaker Nunez, she said that funding for financial aid in colleges and universities is determined by the number of students graduating from high schools and enrolled in colleges and universities. The number of students, which includes undocumented students, will determine the amount of financial aid that will be awarded to students who qualify. Campos also said that not every student that is accounted for would qualify for financial aid, whether they're AB 540, miss the deadline or incorrectly fill out the application. Money set aside for these counted individuals is left unused even though the money was set aside for non-eligible students. I encourage everyone to sign the petition to get the Governor to sign the bill. I have also included some info for readers who may not be in the loop of what an AB 540 student is and other related topics.
What is the California Dream Act?
The California Dream Act is a state legislative proposal that allows U.S. citizen and undocumented "AB 540" students to apply and compete for financial aid at California public colleges and universities without the use of the Federal Application for Student Aid (FAFSA).
What law will the California Dream Act specifically change?
Institutional Student Aid:Â  This bill would allow AB 540 students to apply and compete for institutional aid administered by the attending college or university (i.e. State University Grant, UC Grant, scholarships, work study, and loan programs)
What is the Problem?
California high school graduates who have been accepted to our premier public colleges and universities may not be recognized as state residents and may be ineligible for state financial aid.    According to the San Francisco Chronicle, there are over 25,000 undocumented students who graduate every year from high school.  These students confront a difficult challenge of financing their college education because they are ineligible for any federal grants or loans and are unable to legally work. "Many of these youngsters find themselves caught in a catch-22 situation. As [undocumented] immigrants, they cannot work legally. They are also effectively barred from developing academically beyond high school because of the high cost of pursuing higher education. In short, although these children have built their lives here, they have no possibility of achieving and living the American dream. What a tremendous loss for them, and what a tremendous loss to our society." – Republican U.S. Senator Orrin Hatch author of earlier versions of the federal DREAM Act
What is an "AB 540" student?
"AB 540" students are those students who may qualify for in-state tuition at public colleges and universities in California (California Education Code §68130.5).  Regardless of immigration status, students may qualify for instate tuition at the UC, CSU, and CCC, if they meet ALL of the following requirements:
Attend high school in California for three or more years;

Graduate from a California high school or pass the GED; and

If undocumented, file an affidavit with the college or university stating that they have applied for a lawful immigration status or will apply as soon as they are eligible to do so.
Does this mean an "AB 540" student would have to fill out a FAFSA?
An undocumented student should not file a FAFSA because it may affect their future application for legalization.  The California Dream Act would allow the state to fund its neediest students while they are awaiting their legalization process by creating procedures where AB 540 students can compete with their peers without the use of the FAFSA.