REPORT FROM SAN DIEGO COMIC CON
Days Three, Four, Five, Six, – Quien Chingáos Sabe?……
By Al Desmadre
San Diego, CA, Sunday July 27, 2008
Ahh, another year, another Comic Con come and gone. Only sweet memories remain, lingering like the pungent aromas of the Nerd Herds even now fading from these Cheesy Nacho littered halls of the great San Diego Convention Center….
One can almost still hear the roars of the great unwashed as they marched in triumph, collecting the great spoils of their Geekly conquests! What marvelous tales will be told of this year's cosmic celebrations? The sightings, the rumors, the revelations, the previews of coming attractions! Those who hungered for ever more were satiated beyond hopes.
Those who sought to discover, felt their hearts overwhelmed. The universal vibrations of the fantastic were shared among common brethren this past week in these hallowed halls. And the collective soul of imagination was recharged for yet another year,..
If there ever was anything to learn from Comic Con, it's that we all desire a great yarn, in whatever form it may come, to send our hearts, minds and spirits soaring to a land of imagination, somewhere away from here, at least for a moment…..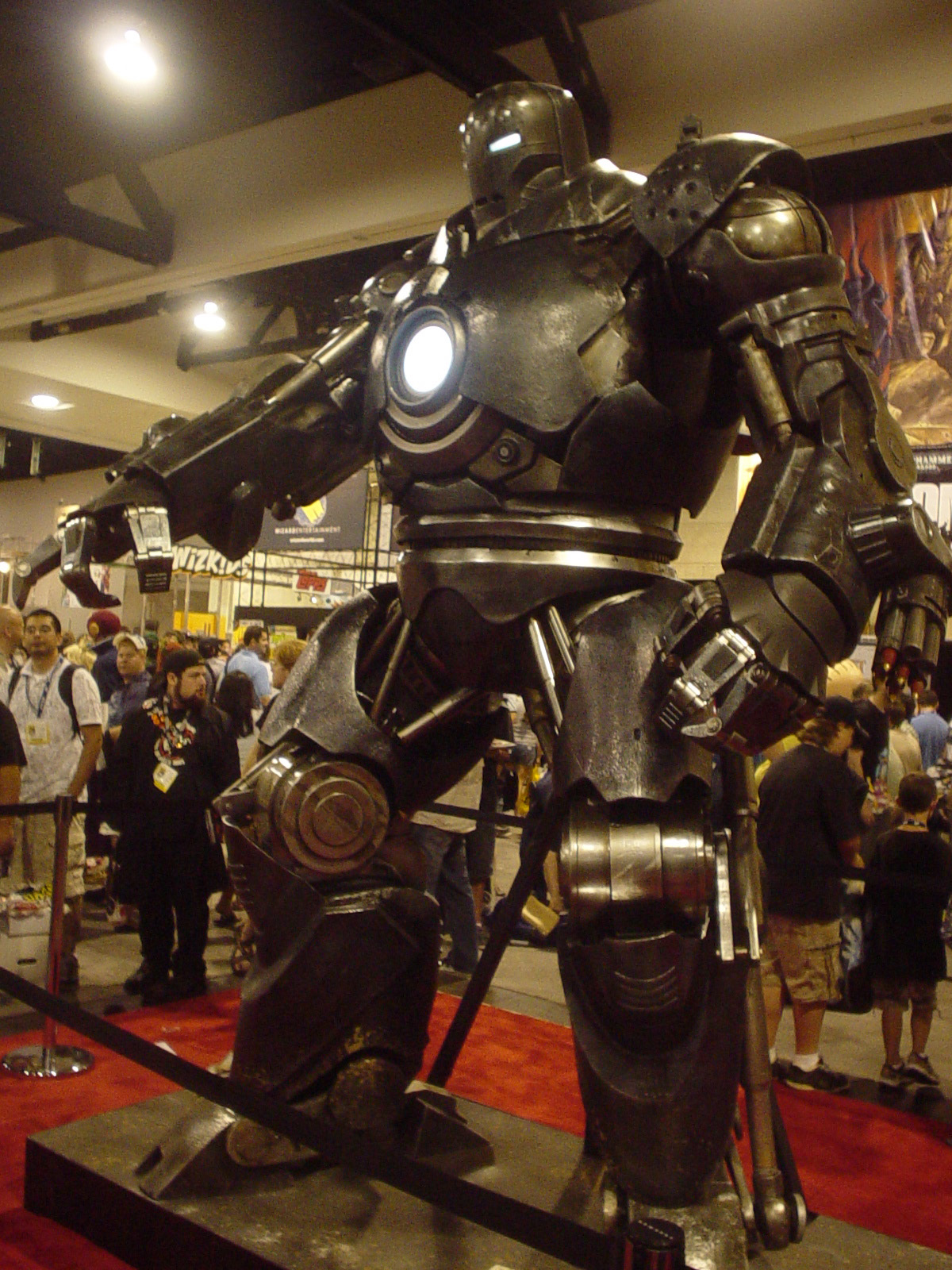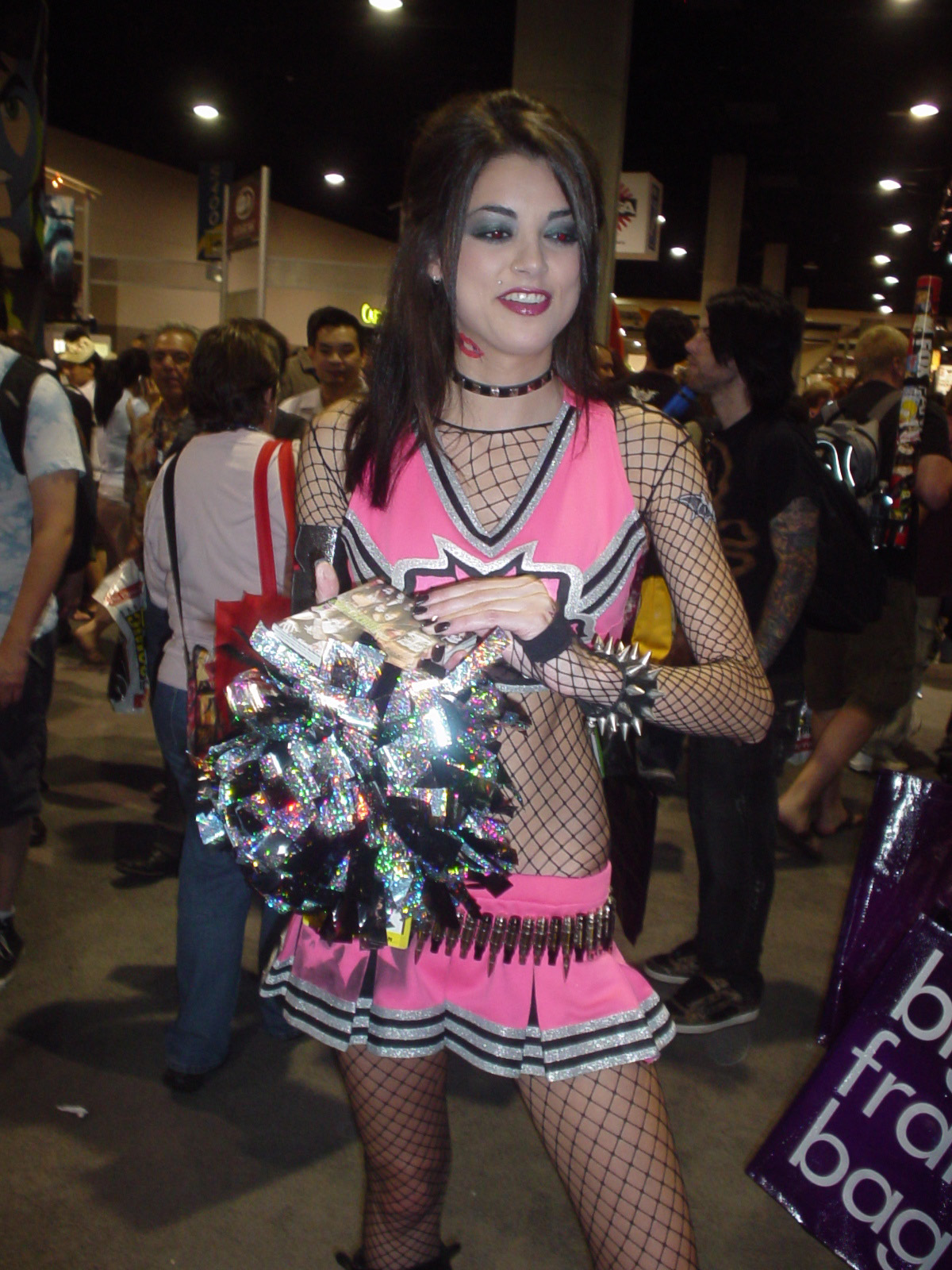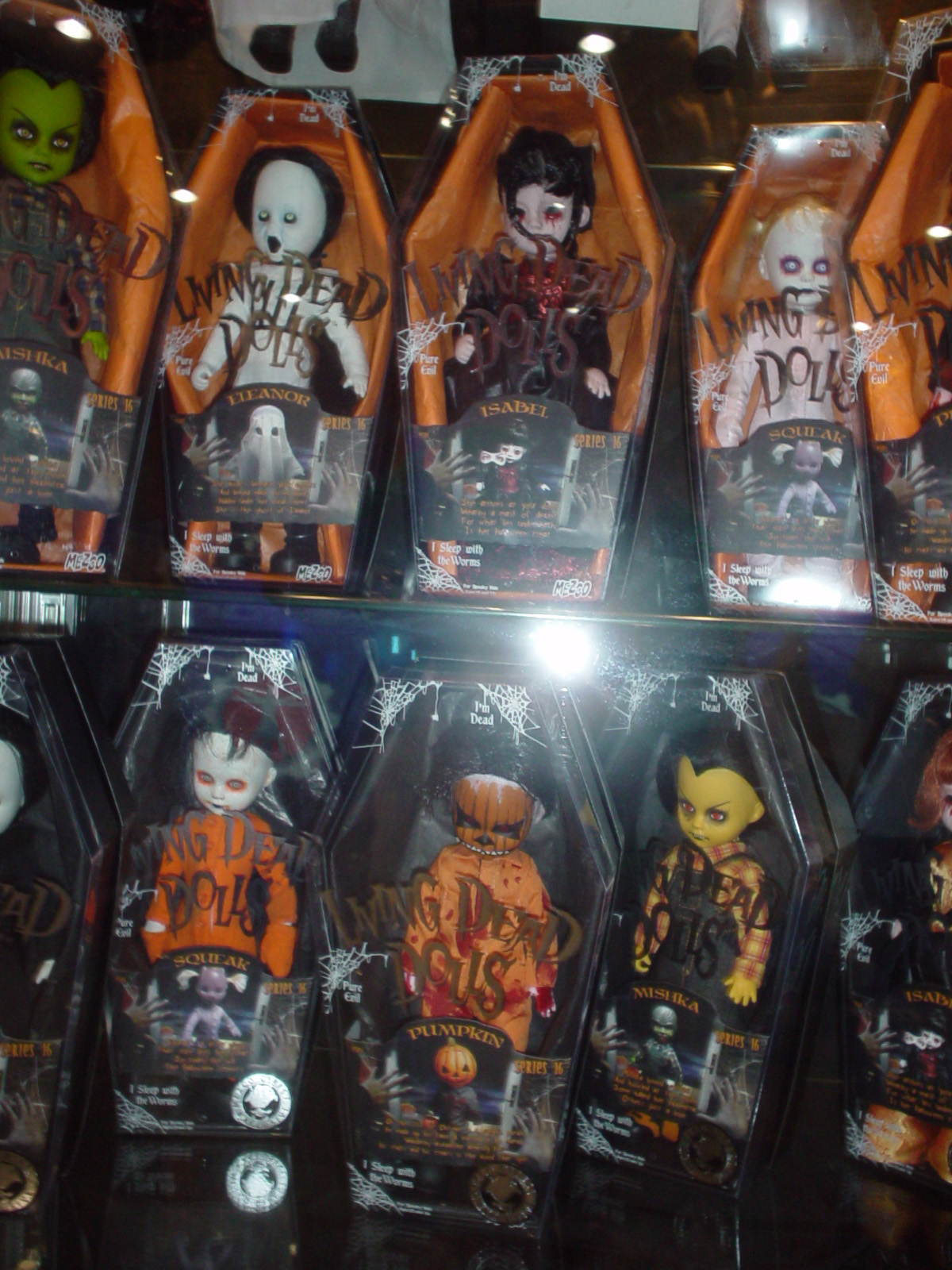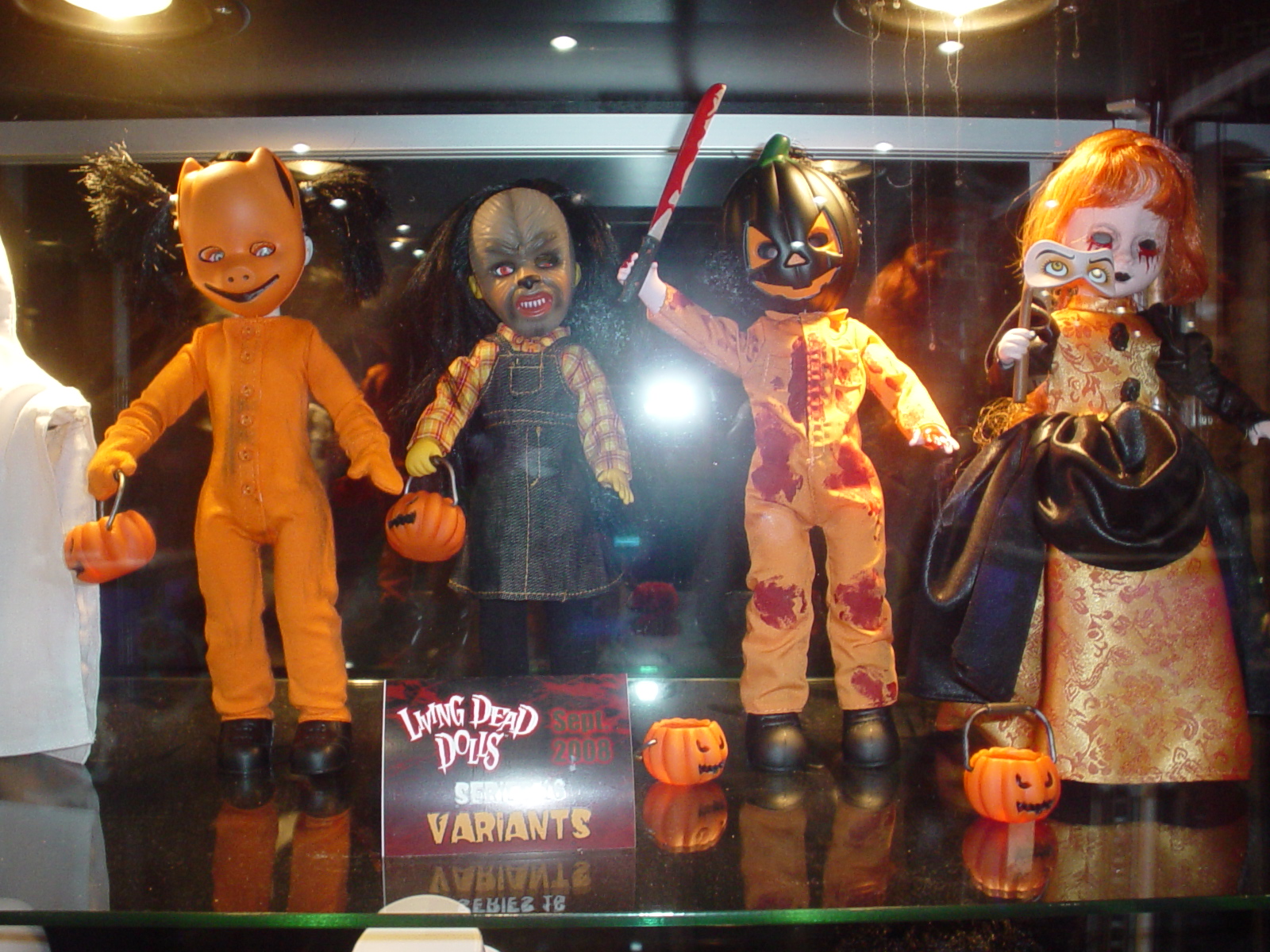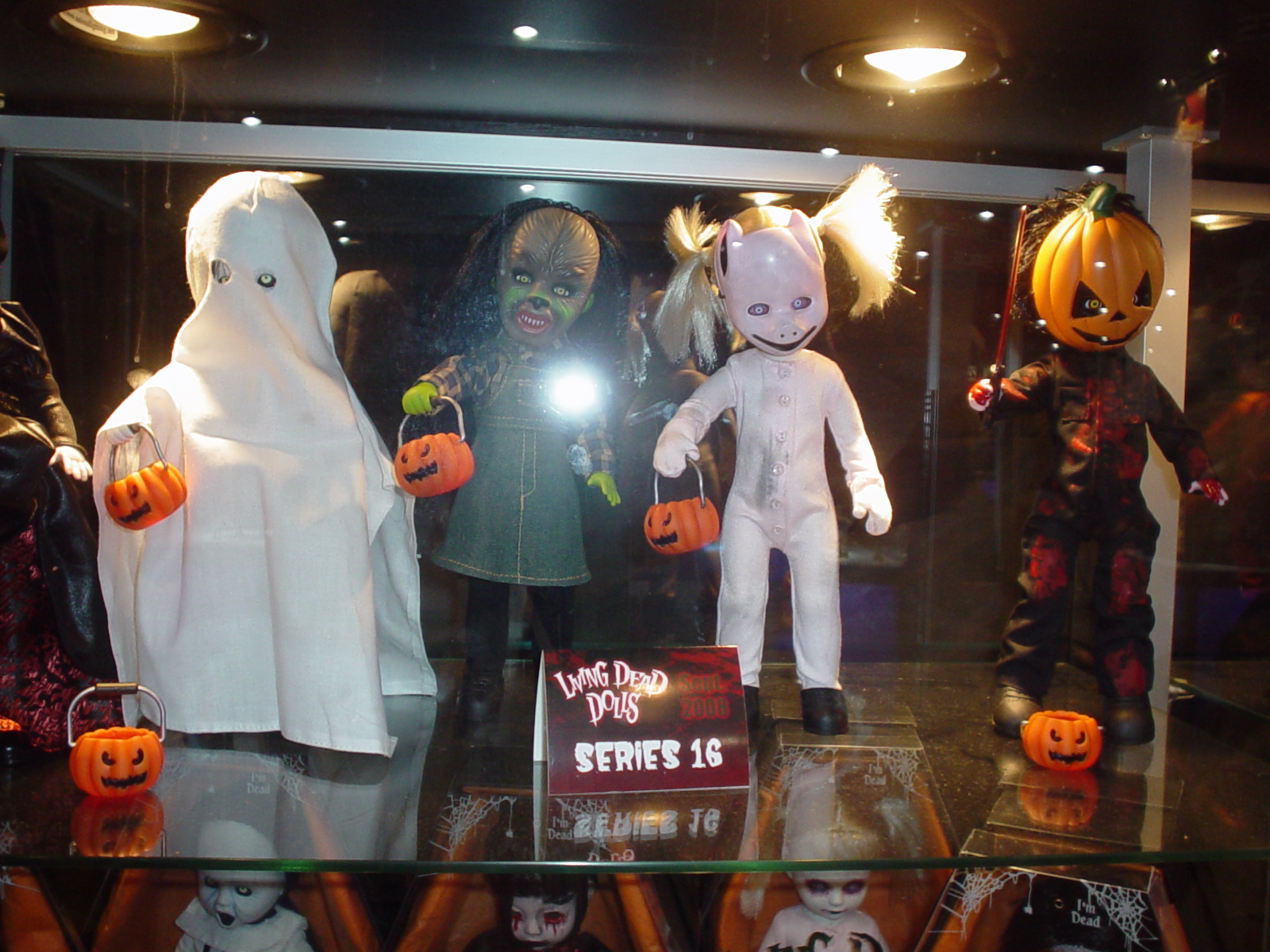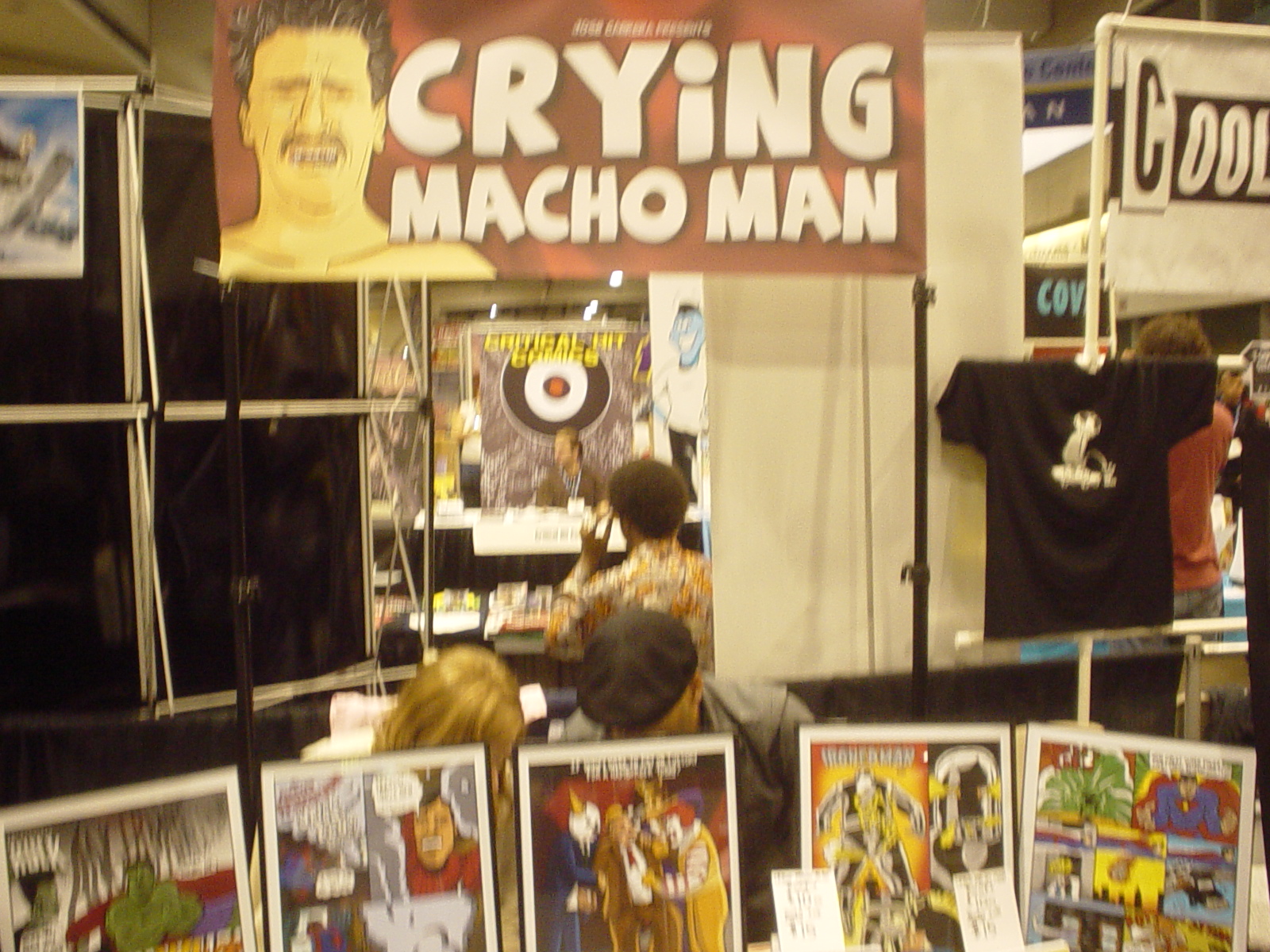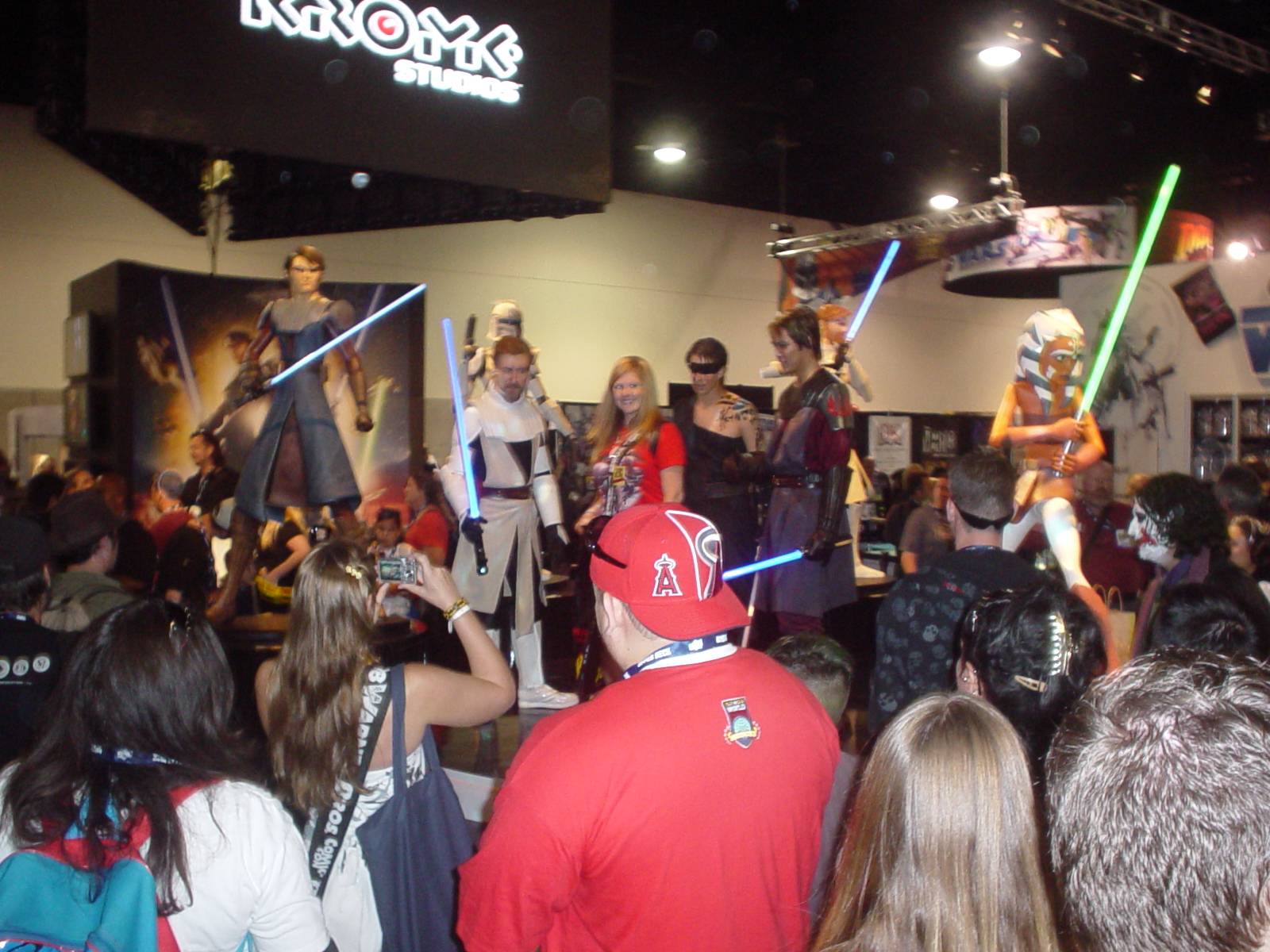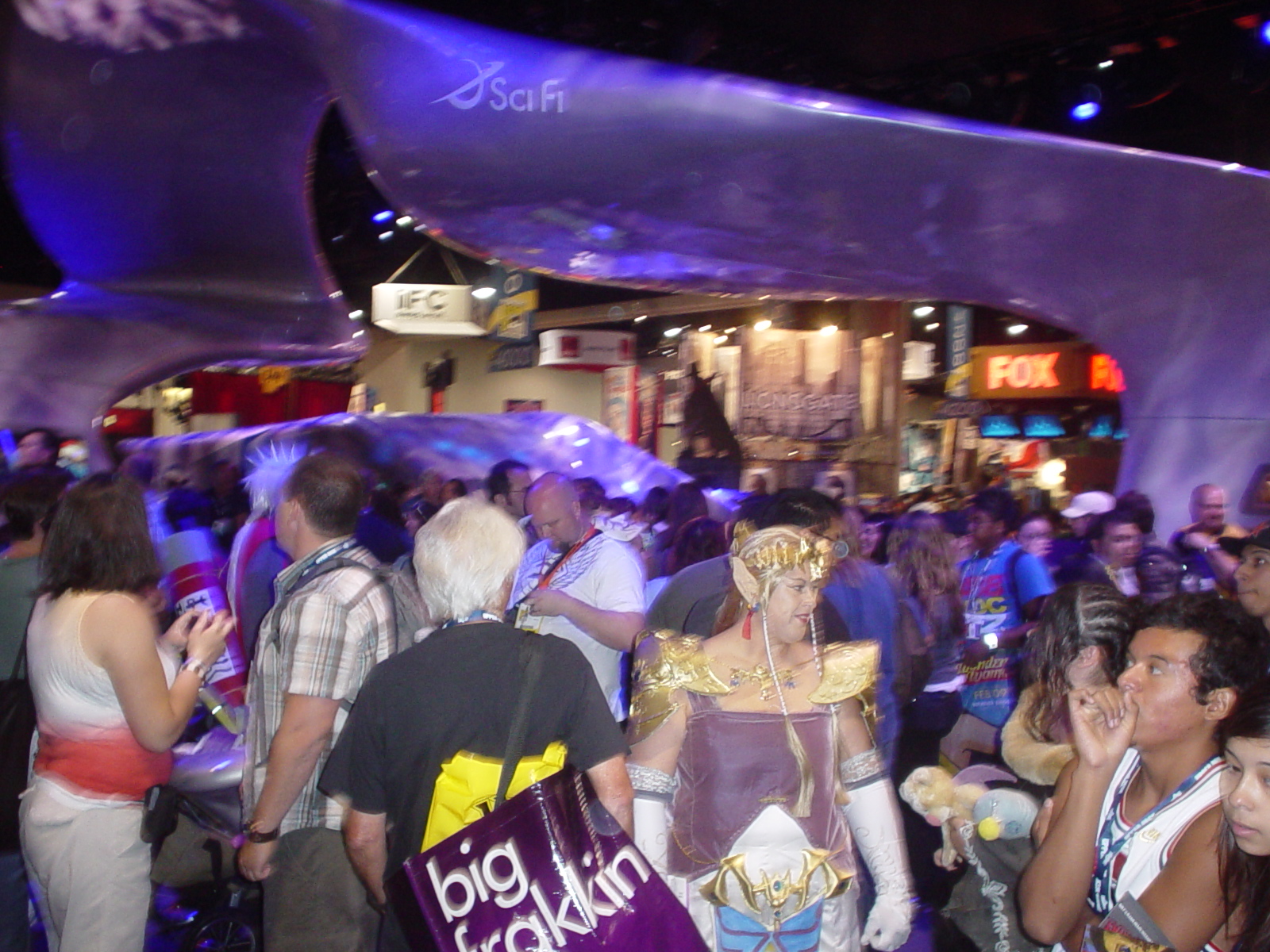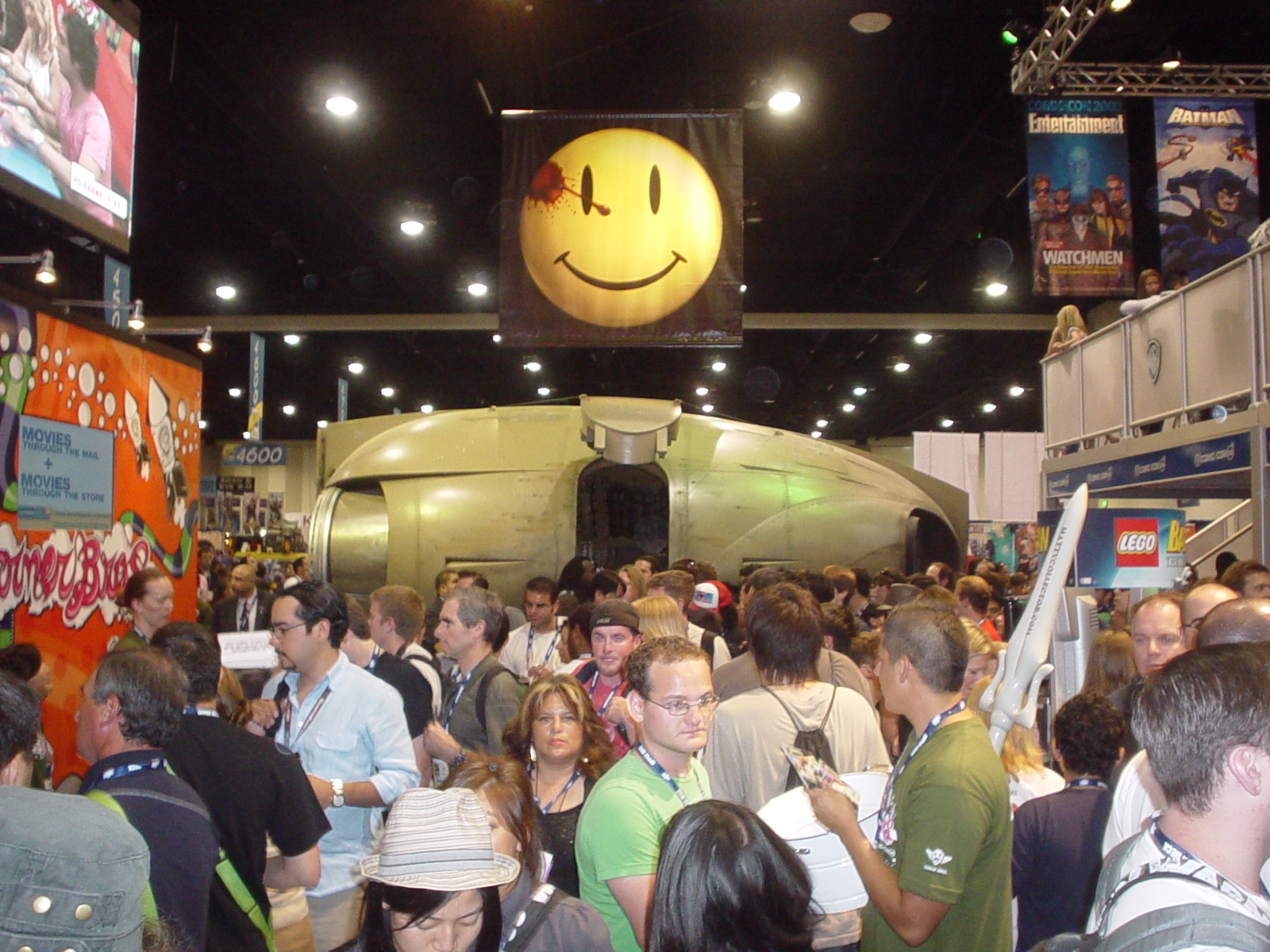 A brand spanking new LOVE & ROCKETS book with all new stories was delivered to Comic Con hot off the press! Just in time for Gilbert and Jaime Hernandez to personally sign copies for all of us fans. The Hernandez Bros. are seen here flanking the 9-year-old Natalia, daughter of "Beto", who proudly sold her own mini Comic Zine!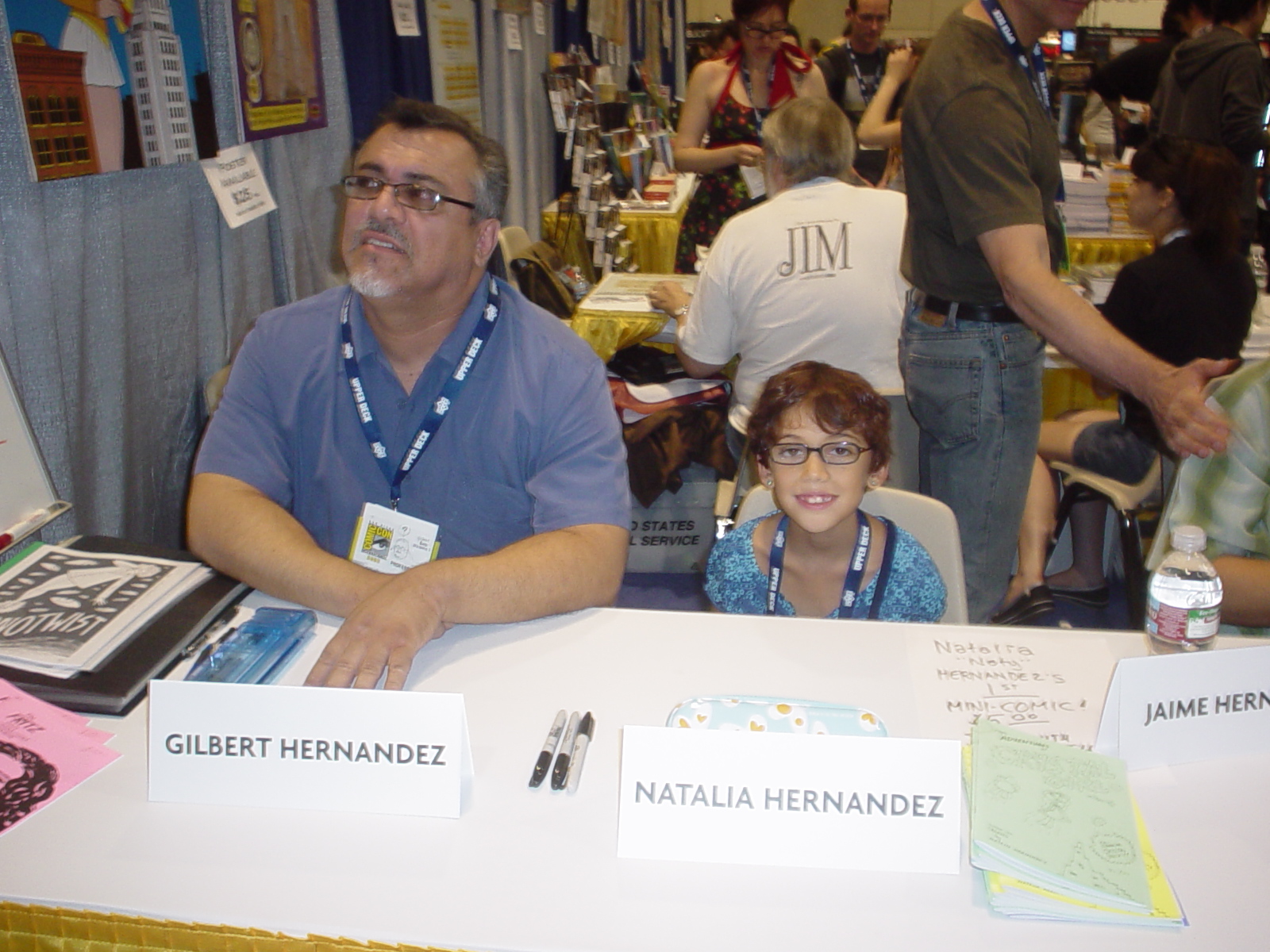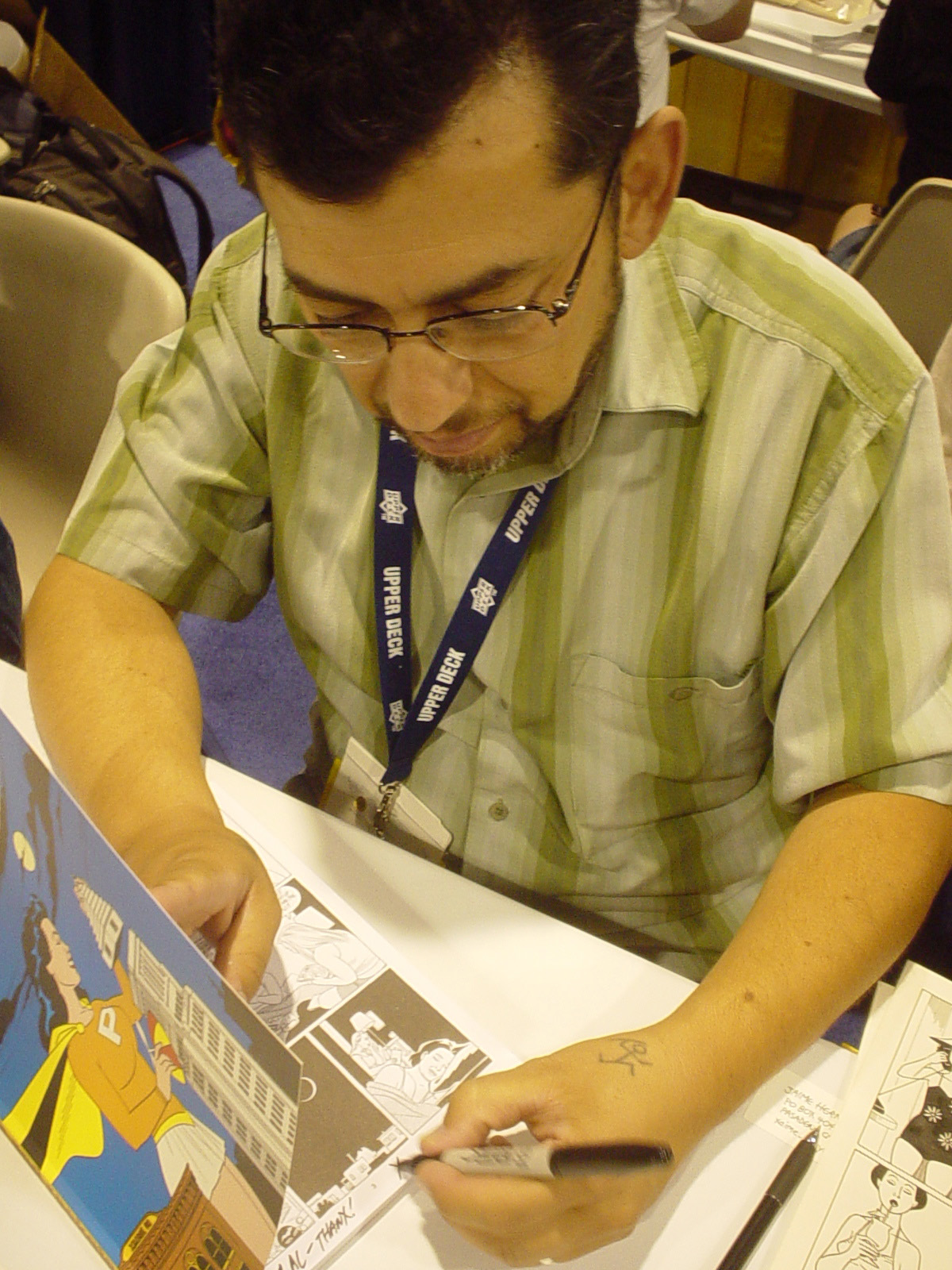 Jaime's writing in my book: "TO AL – THANX.." XAIME",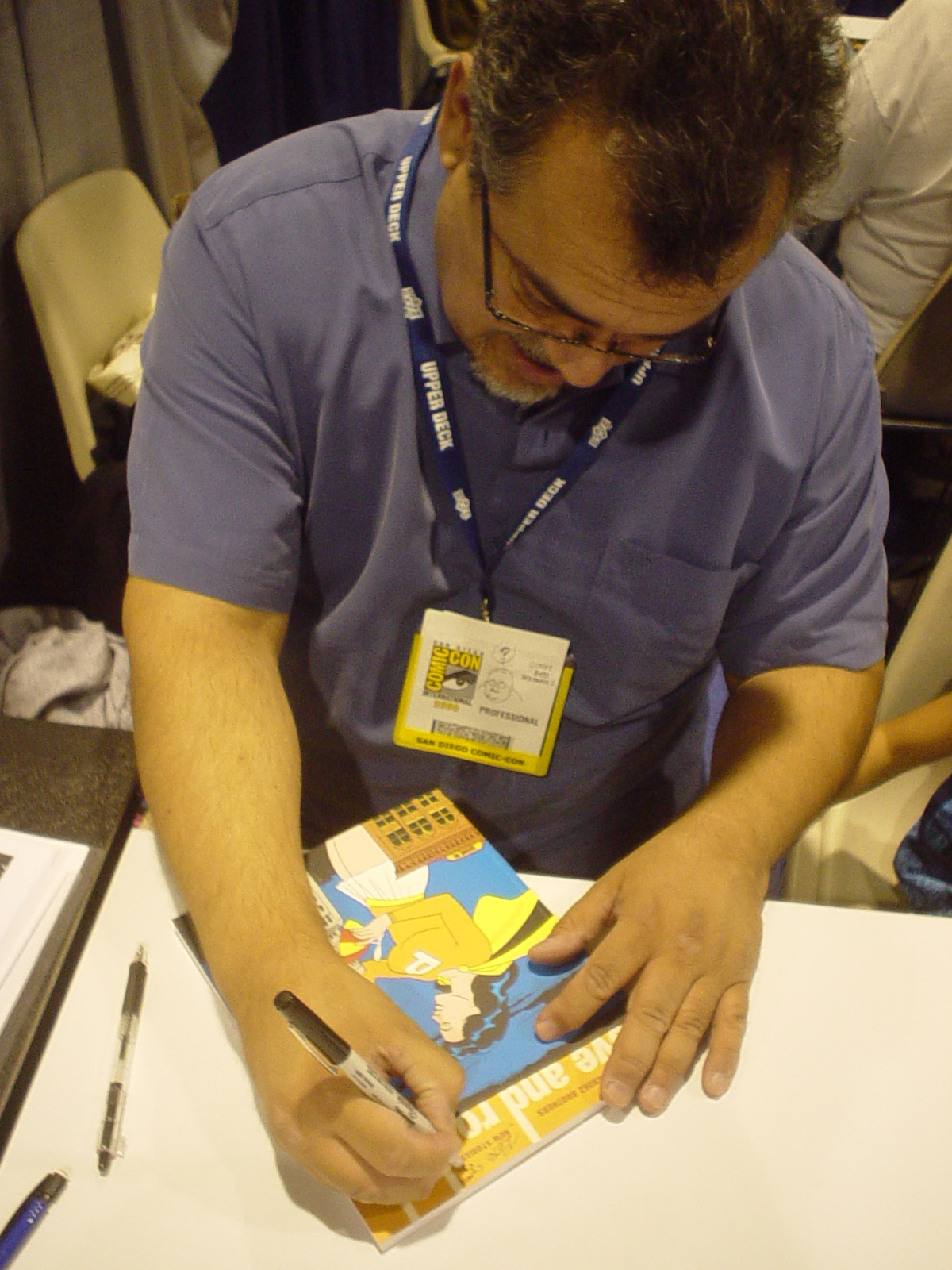 Gilbert Hernandez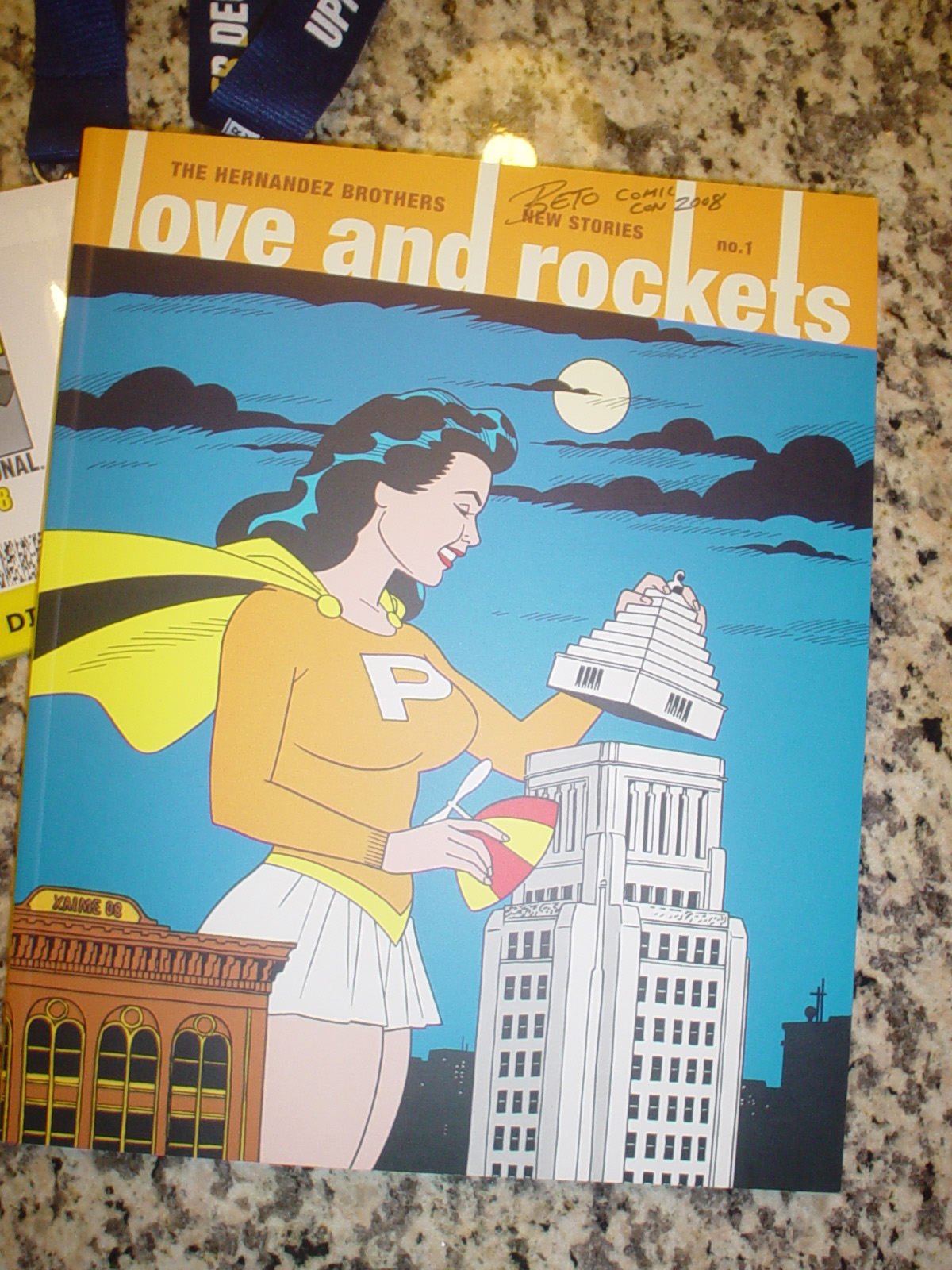 A true Eastside success story of homegrown talent, local E.L.A. boy EGO PLUM musician, composer and creative madman behind The Ebola Music Orchestrawas recently tapped by the NICKELODEON CARTOON TV Network to compose the musical score for a newly animated cartoon series titled: MAKING FIENDS, premiering this October 2008. The show was showcased at this year's Comic-Con to approving crowds And EGO PLUM's musical contributions are nothing short of amazing. (Que Danny Elfman, ni que nada!) Highly Recommended.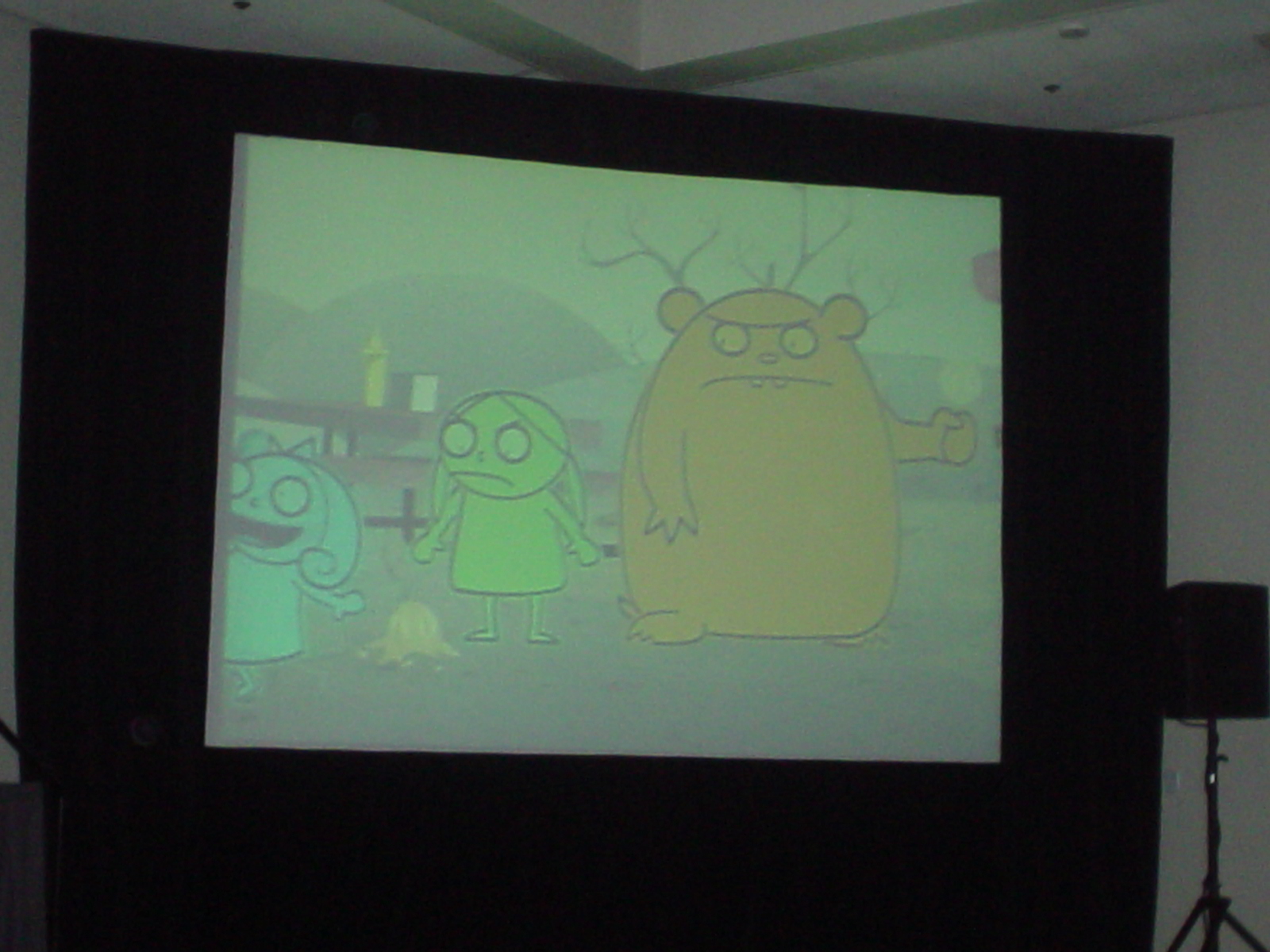 Special Comic Con screening of "Making Fiends" from Nickelodeon Cartoon Network.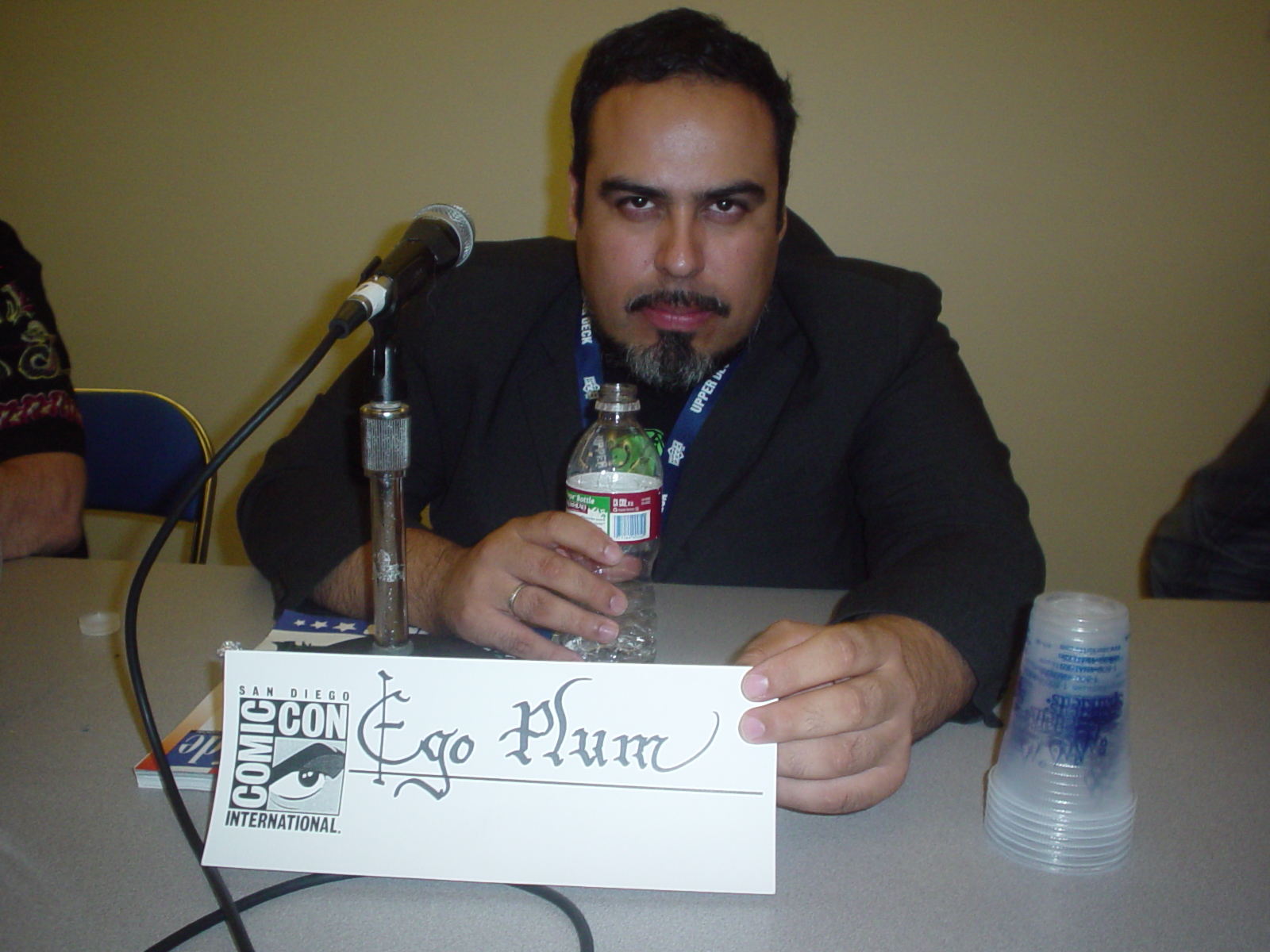 Ego Plum
Notes:
I was standing in a queue to meet Sergio Aragonés. Lined up in front of me was a young, diminuitive, Emo/Goth looking young woman. She approached Aragones with her sketch book under her arm, and asked him to autograph one of the blank pages. After cheerfully signing and doodling in her book, he asked her if he may look through her sketches. She agreed somewhat shyly and Aragones flipped slowly through her pages of drawings. From my vantage point I could see that her sketches were filled with various depictions of penciled self-portraits, girls drawn with anguished expressions, severe lines, red bloody splashes everywhere. I watched Aragones furrow his brow deeper and deeper as he continued to turn over page after page of dark, pain filled drawings. Finally, he looked up at her and with a polite smile asked: "Is your life really this Horrible?" She seemed embarassed and giggled some awkward explanation. Aragones then handed her back the sketchbook, and with a wry smile added; "….Life's not so bad!".
We caught the sneak preview of the upcoming (Pixar?) release TRON 2! Upcoming for 2009: Land of the Lost with Will Ferrell, Watchmen, Star Trek: Beginnings and much more….see u next year!