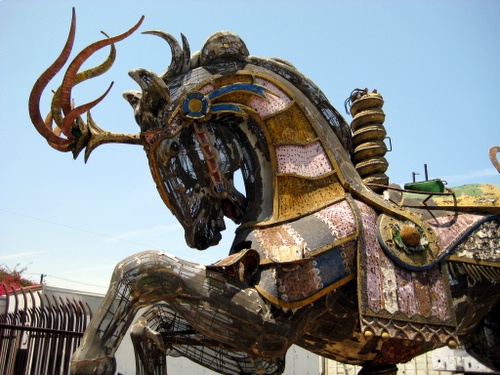 (This post was submitted by a reader of the site, some text dealing with the whole Eastside/Westside "debate". It might have already been said, but it's good to remember this info.)
Recently, I received an email posting about a new magazine set to launch soon. What's wrong with that you ask? The magazine is going to cover the new "eastside"…..say what?!
Traditionally, Angelenos have referred to Los Angeles by two major halves: Westside and Eastside. In recent years during the process of gentrification, demographic shifts, and social trends, there have been some efforts in renaming geographic areas from its traditional identifiers.
As the areas of Echo Park and Silverlake began to emerge in the 90's as hip and trendy neighborhoods, some people have been on a quest to rename these locations and its surrounding areas as the new "eastside."
The "trend" of referring to this part of the westside as the new "eastside" began to emerge and take root during the early 90's when trendy folks, artists, Westside liberals started to move into the areas of Silverlake and Echo Park. They wanted to differentiate themselves from their counterparts in West Hollywood, Santa Monica, West LA and Beverly Hills. They began to refer to this section of town as the "eastside" with disregard to the traditional boundaries that has deep defining meaning to the people that live in these areas.
Living on the East and West has deep traditional and cultural history to this city. The original divide came during the early formation of our city, when your race and financial status determined where you were going to live. This meant entire ethnic races and laborers where herded to the cheapest and most unfavorable parts of the city.
The dividing line which separates the Westside and the Eastside has historically been Broadway in downtown LA. The Westside is the geographic area west of Broadway all the way to the coast, and the Eastside is the area east of Broadway. About a mile east of Broadway, The LA River – which flows north and south – has always served as a strong environmental marker that reinforces the distinction between the East and West.
If these trendy folks don't realize this, all they have to do is read the writings on the walls. The homeboys and homegirls in these barrios, have lived with the banner of the local geography with their blood, sweat and tears.
————————————————————————–
Post written by:
Ben Higa
Urban Journalist / photojournalist