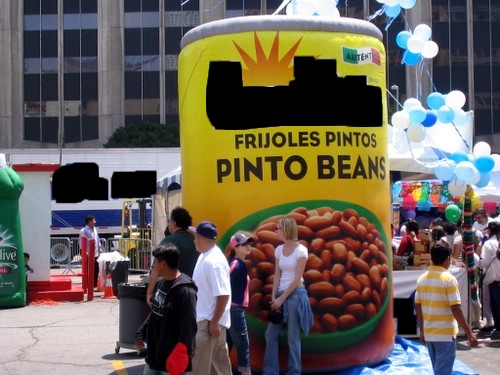 The last time I visited Fiesta Broadway, I told myself I would never go back to this vile, commercial, and utterly contemptible event. It's basically an Advertisement Circus surrounded by a few musical acts in various stages so you have to walk the gamut of corpo-sponsored suggestions. Trust me, the whole event sucks. Yes, it really does; this is supposed to be a Cinco de Mayo event but the fuckers don't even offer alcohol, and if you happen to look Latino, don't bother trying to go to the Broadway Bar, it'll be closed for a "private function". (Or bring along a gaggle of your gabacho friends, things might look a lot better then!) So yeah, under no circumstance should you go to the Fiesta Broadway this weekend.
In an utterly reproachable and wicked maneuvering by the Fiesta organizers, knowing full well that my disdain for their crap festival would cut their attendance records by nearly half (give or take a few thousand), they went and scoured my website to find a weakness. The bastards figured out that I'm a die hard fan of Ramon Ayala, a performer whose tickets cost over $100 the last time I wanted to see him. And now they've gone and added him to the lineup for this whole crappy venture: yes, Ramon Ayala, the King of the Accordion, will be playing for free at the crappy Fiesta Broadway this Sunday, April 27th! And to fuck shit up even more, the website doesn't list when or at what stage he will be playing, what an outrage!
Fiesta Broadway Organizers: you suck. Ramon Ayala fans, I'll see you there. LAEastside readers that want to meet up, I'll be the Chicano Looking Vato with a twinge of contempt on the brow. Don't worry, I'll be easy to spot!
For those that want to hear some of the genius songs of the man, click here for Puño de Tierra. Or here for Tragos de Amargo Licor.
UPDATE: I heard from a little pajarito that Ayala will be play before the last performance at the Broadway and Olympic stage, sometime around 4pm. Ay nos vemos!