Inspired by  the "My Favorite Weekend" column in the LAT Calendar, I give you my version of:
 MY FAVORITE E.L.A WEEKEND
BY AL DESMADRE
EASTSIDE PENDÉJO
Hiking in the Hollywood Hills with my Labs? Brunch in Malibu? A movie at the Grove? Shopping in trendy Los Feliz boutiques or Pottery Barn? Wine bars & Sushi? NO MÁMES!!!
This is my favorite East L.A. Weekend:
SABADO GIGANTE
Saturday morning I'll usually call my Compadre Fermín to come over and give me a jump start. We'll work on the car till noon or until we get hungry then we'll call over the  Shopping Cart Guy with The best Elótes and Chicharrónes in the neighborhood. My compadre will usually run down to Safety Liquors for some cold brews and we'll kick it old school with some 8-tracks of Oldies but Goodies Vols. 1-10 and some Johnny Chíngas while we wash, detail and primer his bomb. Lately, I've been having problems with my car's muffler, so we might head over to "EL PEDORRERO" on Whittier Blvd. for an inspection.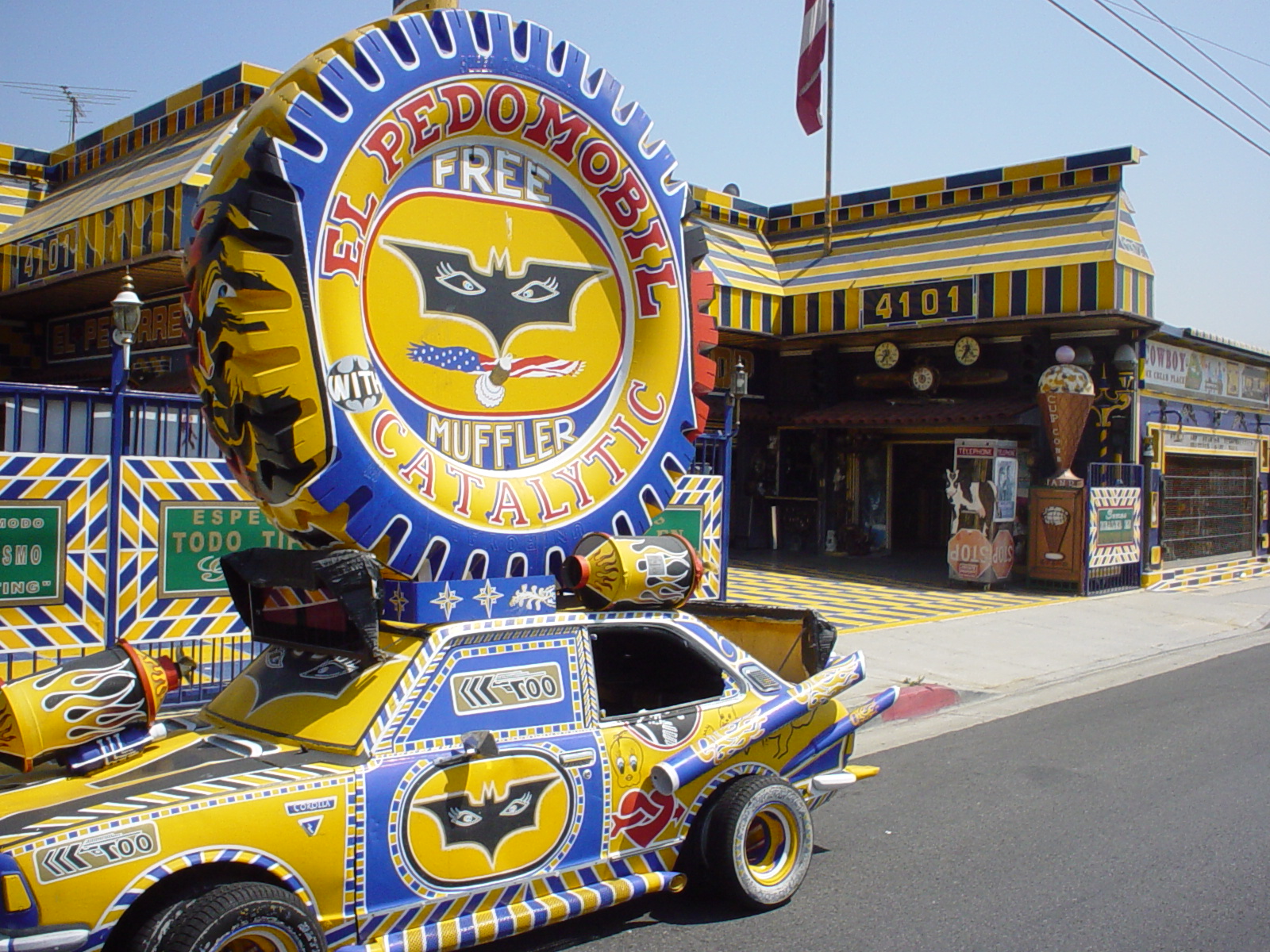 DINNER & A MOVIE
That evening we'll gather the family for dinner and a movie out on the town. We arrive and place our orders with our "Burrista" at TACOS EL KORITA just off of Olympic Blvd. As we dine, we browse the extensive sidewalk selection of the latest movie releases for sale on pirate DVD for only $5.00 a piece. Most are good quality, with very few backs of heads visible at the bottom of the screen, and there's never any late fees with MEXFLIX.
 
AY QUE BUENA!
Later that night, I'll usually tell my Viéja that I'm going over to my Compa's for some beers. Instead, he & I will head over to NICOLA'S on Goodrich Ave. Because whatever Escándalo happens at Nicola's, stays at Nicola's, that's all I can say about that. Before sneaking back home, we'll stop off for after-hours Bean & Cheese Burritos at J&S in Montebello.
 LA CRUDA!
Sunday morning I wake up with a gacho hangover, but like a trooper, I'll grab my large empty pot and drive over to Juaníto's for Menudo and Tamales to bring home.  After breakfast, the family usually grabs soap and water and washes all the Juaníto's Menudo & Tamales I had spilled all over the car's interior.
 DOMINGOS ALÉGRES!
 If we don't have a Piñata or Quinceanéra party to go to that day, and if I don't have to make a visit to BAD BOYS BAIL BONDS to spring out a relative, Me and the family will all get in our  Sunday best clothes, (for me it's a new ensemble from "Los Tres Hermanos" and my old lady will insist on wearing those stretch pants that make her ass look like two Hoppity-Hops stuffed into a pillow case) and we'll all go to the ELAC SWAP MEET. Afterwards, we'll stop at TEXAS DONUTS for a good tragazón.
Later that evening I'll mellow out by lying on the couch in a stupor with two more Cahuámas while my wife goes grocery shopping at "El Super". I'll ask her to pick me up some Tostadas de Ceviché from the "Mariscos El Chino" truck. Meanwhile, the kids watch yet another rerun of "HANNAH MONTANA". I wish Telemundo would create it's own version and call it "JUANA TIJUANA".