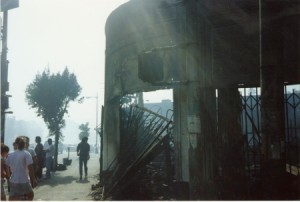 Two days after the riots started, somewhere near Normandie-photo taken by me
16 years ago today was the beginning of one of the biggest social upheavals in this city, The Los Angeles Riots (or Uprising for you KPFK listeners).
Whenever the riots are remembered, the discussion focuses on dichotomous forces: Black vs. Whites, Blacks vs. Koreans, Blacks vs. Police etc. What is rarely mentioned is that for some (this includes people of all ethnicities and races), the riots were the best time of their lives. I'm not trying to discount the death, violence or heavy repression that went along with this event. I think most of that has been well documented. However, I have many friends that participated in the riots and describe a festival atmosphere. They will wistfully recount tales of three day drunkenness, street parties and a sense of liberation. If you don't believe me, it's because these people were never asked their opinion or asked to share their stories. When they have, their perspective has been totally discounted. Just a different viewpoint on an event that's been described as one of the worst times in Los Angeles history.