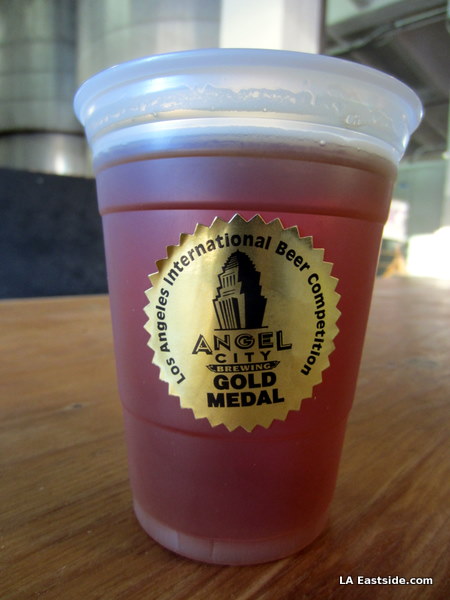 I've heard mention here and there about Angel City Brewing moving to El Centro but it wasn't until I finally saw their sign up on Alameda that I saw how close and convenient a location it might actually be. Time to do some grinding research.
Click ahead si te interesa el mundo de la cerveza.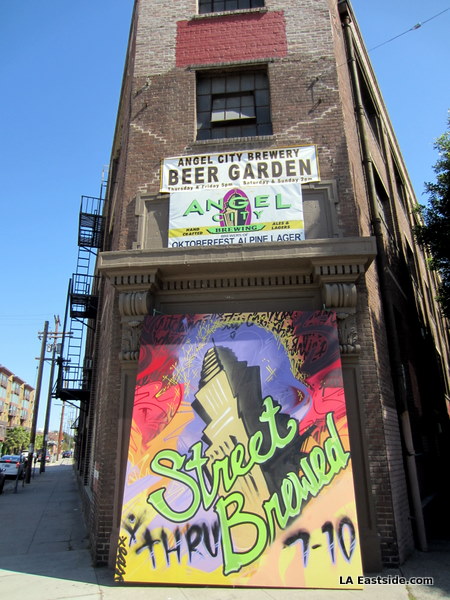 This is what caught my eye. Even though I had heard about this brewery moving from their Alpine Village location, which I visited and saw from the outside since they were closed on that day, I admit I haven't been too impressed with their  available products. They have a huge banner that dominates the 5 skyline at that LH interchange, where the smokestack reads The Brewery. But "The Brewery" in Lincoln Heights is now only an art colony that brews gentrification exclusively. And maybe some bad art on the side.
I thought that art colony had made their peace with their LH location, being in the ghetto that only thinks about potholes and such, but some recent ads on KPCC shows that they still pretend to be part of downtown LA. Even though I like some people and friends that live there, I will continue to spit on everything the "art colony" represents until they get their shit together. But enough about bad news. Maybe this real brewery will want to remove their ads from the land of OZ.
I looked up the hours, figured out something convenient, and on a day after work I find some pleasurable drinks to drown out the misery of the work day. They had a few options on tap but they have others that will eventually get there. The Che lager I can do without, for a few reasons. Rename it Riots 92′ Ale and I will buy a barrel! You need to keep your Revolutionary tendencies a bit fresher.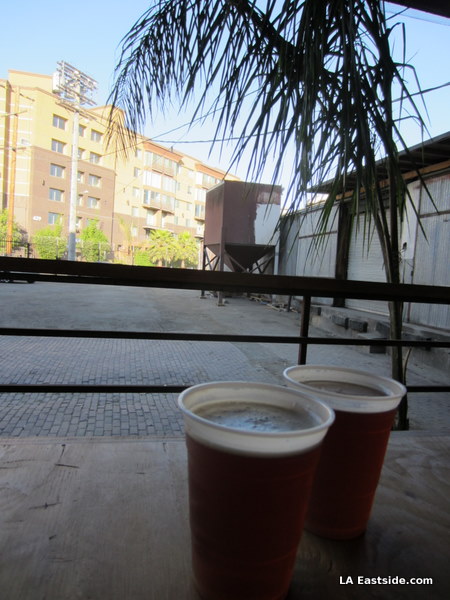 Two Charlie Parker's please! Its a flavorful and hoppy brew in line with what I like to taste. Beer is served in plastic cups which isn't the best way to enjoy beer. But I'm mostly crying about my carbon credits going up! Horror! Currently they are only open Thurday -Sunday, usually after 5pm.
They have quite a few big tables and enough space to fit more than a few of your homies. I asked and yes, you can bring your own food to enjoy with their beers. Cemitas, tortas, and burritos, can now be properly paired with beer. Oddly we ended up sitting near the brewers and brewer's assistants. Some were getting juiced up to hand out flyers at the Downtown Art Walk.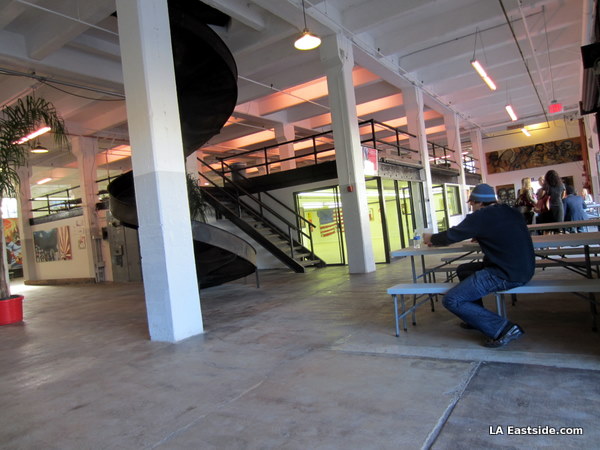 Not sure what this place used to be but there's a big slide smack dab in the middle. You are not supposed to ride it, apparently it is becoming problematic.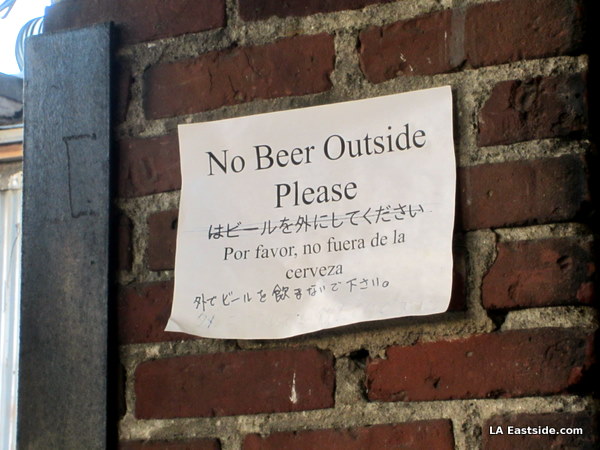 This is what happens when you rely on the internet for translation instructions. "No fuera de la cerveza", que que?
All lined up and ready to be drunk.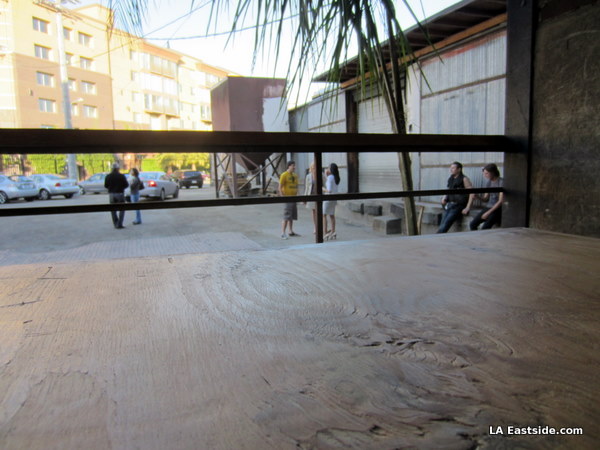 The smoking area seems to be in the parking lot. It wafts in to the regular area. Now is the time to invent the Smoking Pinto: the car you can smoke in! Yes, a Ford Pinto. Why not?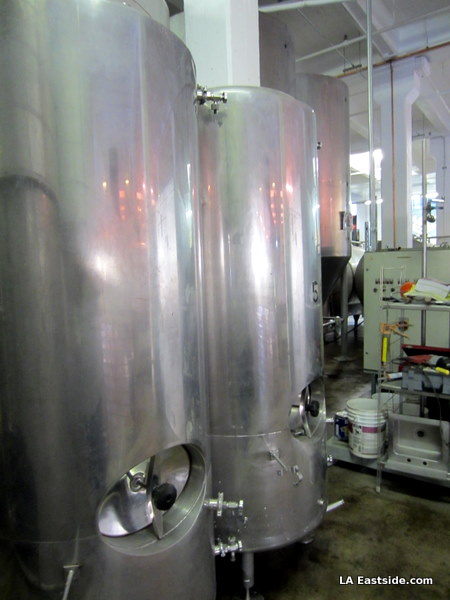 We got a brewery tour out of this excursion too! The brewery actually isn't up and running though, they still have to connect a bunch of equipment together.
I think these are the mash and lauter tuns. Not hooked up yet though. They ramped up the brewing before the move but they expect to be brewing here within a month.
The working closet. This not-part-of-the-brewery-tour is where all the random pieces of stuff is most likely to be.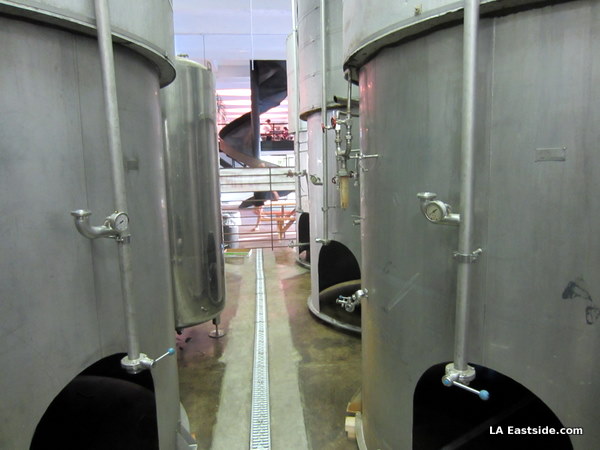 Fermenting tanks waiting to ferment.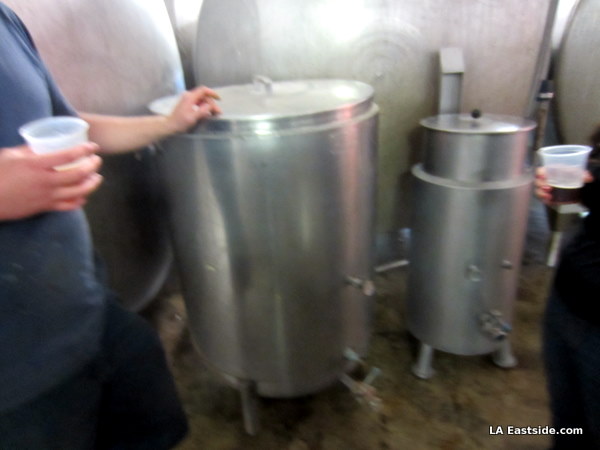 I think this was the yeast break, where yeast will get stored for use in other batches. Joe our tour guide said they would be open to sharing yeast with homebrewers, I hope that ends up being true cuz that sounds good!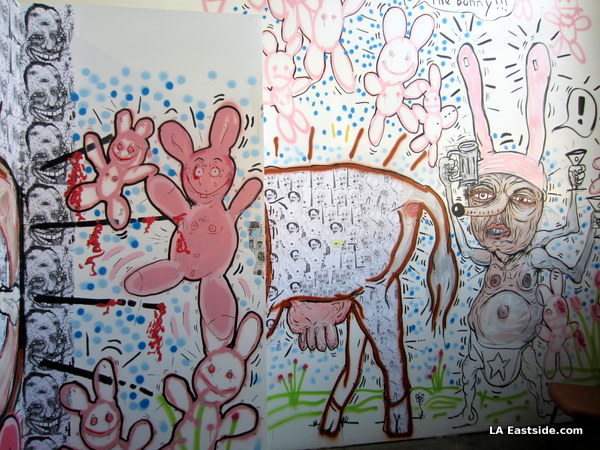 There's an art gallery in the center of the place. They also have some weirdo art in the men's bathroom.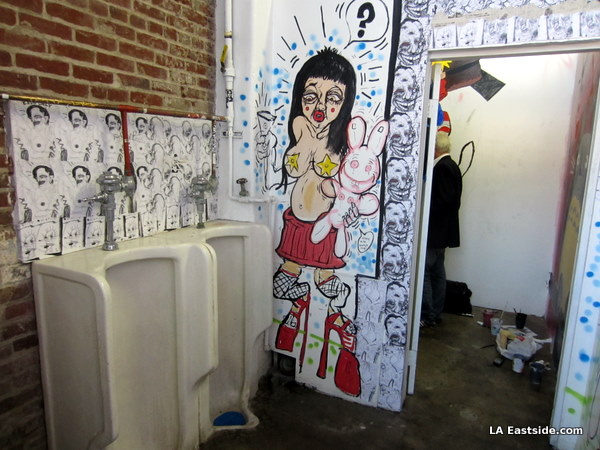 That's kinda creepy.
Yet more art in the WC.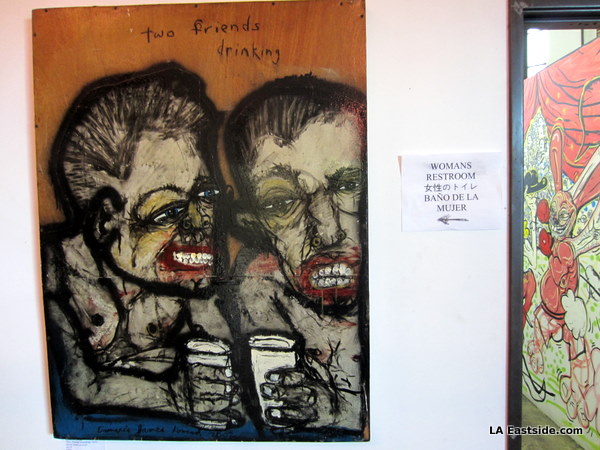 Let's check out "Bano de la Mujer".
Either woman don't make art or they don't frequent beer places. Or maybe they are smart enough to not put their art in unsavory places.
The art gallery is underneath a sitting area up top. This is a big space, I can see it being a meeting point for lots of people. Speaking of unsavory places, this spot seems to be be a hit with the lawyer and prosecutor crowd, though they tend to migrate to any open space in downtown la.  I hope Eastsiders start using this space as their own rather than just let the Downtowners have at it. Or worse, the Echo Park-Silverlake Hipsters and the USC student hordes. $5 a pint, we can afford a seat! Err, for a little while.
Later I spot a redeeming sign.
The upstairs area. A few tables but lots of space.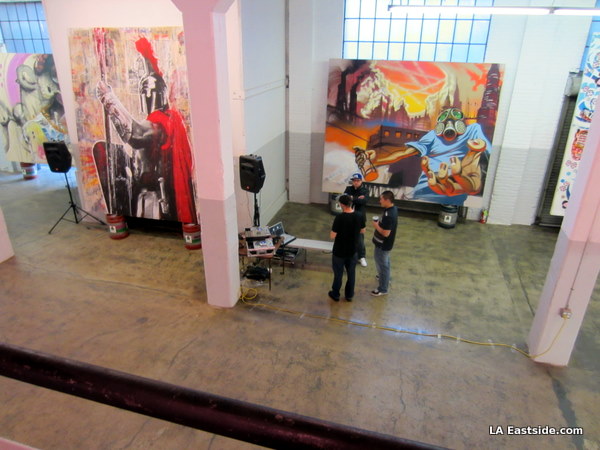 DJ wonders wtf I'm up to. Just taking a pic, sir.
The taps from above.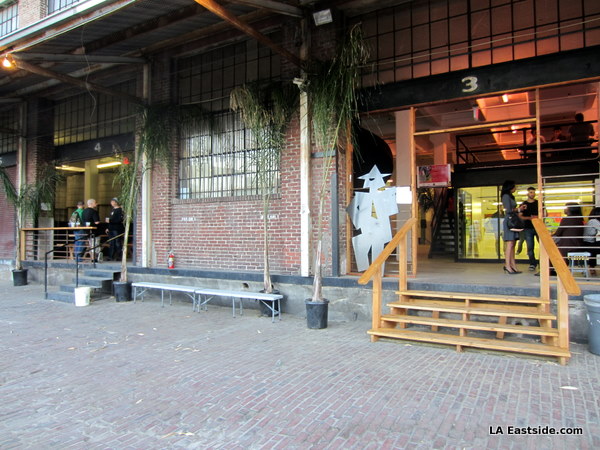 I like the wide open doors, can we please call on end on the dark and dank drinking rooms?
They also have a parking lot up the street.
They are just getting started but I'm already in.
Angel City Brewing
216 South Alameda St.
Los Angeles, CA 90012
www.angelcitybrewing.com