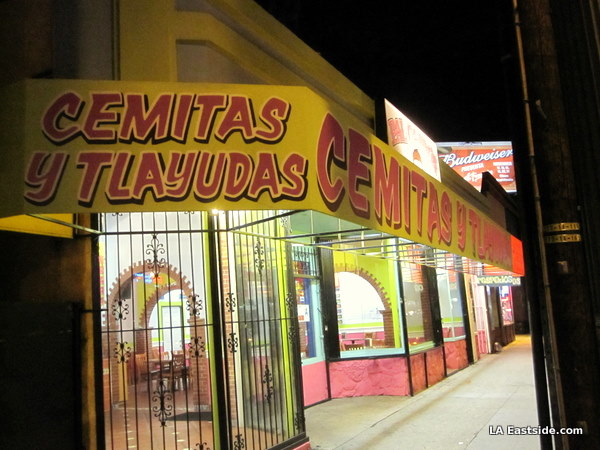 Woo. Hoo. It's 2011. BFD. Probably gonna be full of the same old BS all the way until Dec. 31. Most likely. What to eat until then? Well, a torta is always a good staple sandwich to have, a basic unit of life giving sustenance and sometimes the source of a bit of gustatory pleasure. Let's see some options I've had recently around the general vicinity of Los Angeles in case you might want to consider squeezing them into your busy, likely to be lousy, year ahead. At least you'll have lunch to look forward to! Err, maybe.
First up, a much mentioned new Cemitas place (at least online) over in Koreatown: another outlet of Cemitas Pal Cabron.
The menu on the wall didn't mention any veggie options but that's easily resolved by telling them what you want: una sin carne, por favor! They call this option "La Tuya" cuz they just want to dis you and your mother if you don't chew on their meat. I sat down and what do I see on the tv? None other than my tocayo going at it with Don Ramon!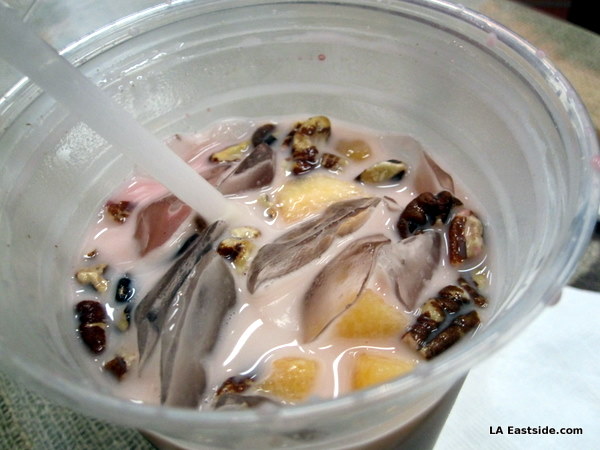 I ordered an horchata, they do a good Oaxacan style drink with nuts and fruits. It goes nicely with their Puebla style tortas. As does water.
"La Tuya" which goes for $4.99. The horchata was $2.25.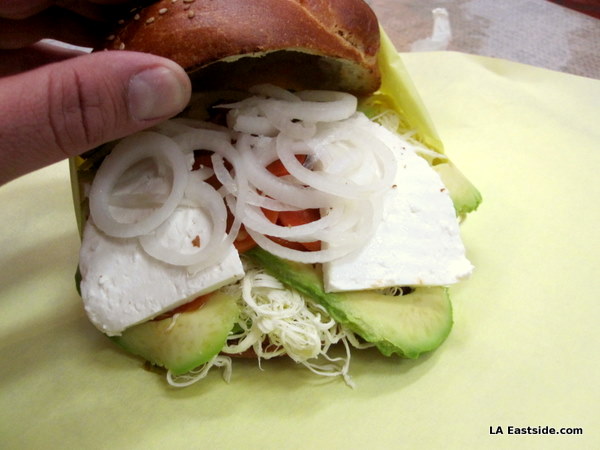 Queso Oaxaca and queso panela along with avocado, cebollas and jalapenos on a cemita bun. It is a very decent tasting sandwich. I'd eat it again. But I ain't gonna get a yelp account to comment on it.
Pinchi Don Ramon was giving me a hard time, I had to head to the other patio.
Cemitas Pal Cabron
3337 1/2 W 8th St.    213.427.0601
Los Angeles (Koreatown), 90005
www.lascabronas.com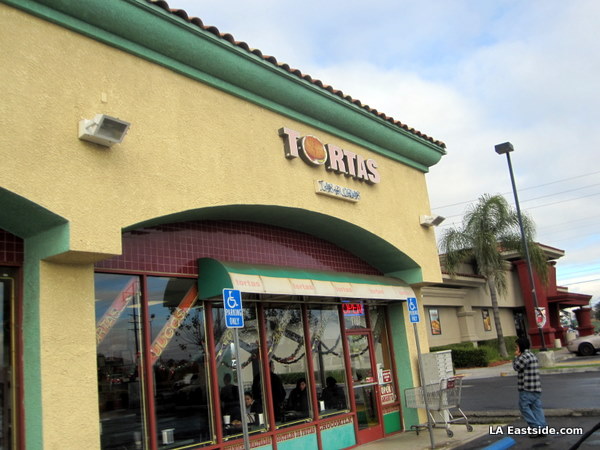 And by the other patio I meant Colton. The far, far patio. I will not bore you with the the inanity of how I ended up here, I'm gonna save that for when I get a fucking book deal to tell/sell you boring, boring stories about such things. You can't have it all for free you know!
They have a nice selection of Aguas Frescas. I'd tell you how they tasted but that would cost you extra. C'mon man, these blog thingies don't just survive on freebies you know. We all have to make a living. I can't just tell you that their aguas are pretty good, I need to monetize this content. Oh wait, I didn't mean to say the aguas are good, that's subscriber information only! I have no opinion on their drinks, unless you send me a quarter in the mail, then I liked it.
Damn, this making a living via a blog is gonna be rough. But it's surely a feasible idea, no? Maybe the Jarritos soda PR dept can pay my gas bill. Ima ask them.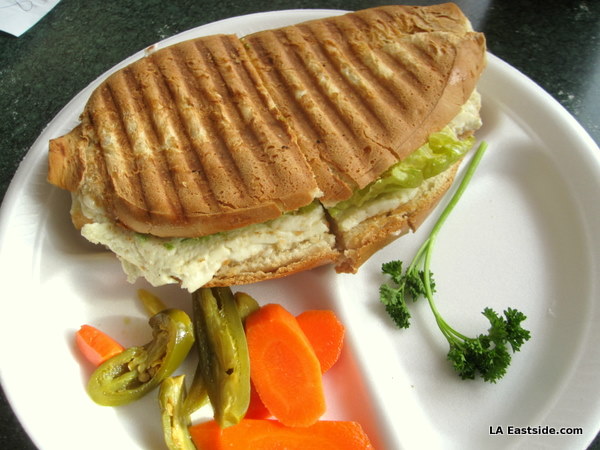 I will assume you are sending your subscription checks in as we speak, thus I can tell you more about this fancy looking grilled torta. I think this was a telera a moment before the panini or George Foreman grill hit the bread. The grilling did give the bread a nice toasty and sturdy texture, making it less prone to the soggy falling apart syndrome that befalls most tortas.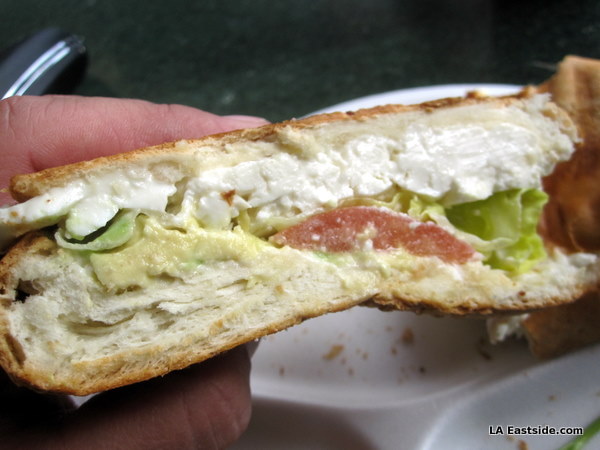 Smushed together are panela cheese, tomates, lechuga, aguacate, and I don't think much else. Good but lacking. Where are the damn beans man?!? What kind of dystopian future are we in when you can't expect beans, the poor man's meat, to be in your basic sandwich?Oh how I fear for the future of the children.
Tortas Las Glorias   909.370.1320
1197 N Mount Vernon Ave
Colton, CA 92324
And finally to the Eastside we go on this torta excursion, with yet another Cemita option by a truck called Los Poblanos. It parks near the corner of Spence and Whittier, and strangely competes with a bunch of other Cemita eateries for your business. That little stretch of Whittier from Lorena to Indiana is Cemita central, with trucks and businesses offering the same sandwich everywhere, as if that stretch of Boyle Heights turned into Puebla Norte. Maybe it has.
I had mine to go and it came in a brown paper bag. When I ripped it open this was exactly what I saw, a Cemita half wrapped in paper, half spilling out in erotic fashion. It was almost obscene.
That does look tempting. For practical purposes, I had to push the quesillo back into the torta, even though I liked the way it hung out there like it just didn't care. This Cemita had a bunch of papalao packed in, that extra bitter herb that surely my cilantro hating friends will hate even more. A supreme layering of ingredients and bread that results in a tasty combo. Very simple. Very tasty. And making a visit to Pal Cabron unnecessary.
Los Poblanos Truck
Near the corner of Whittier and Spence.
In Beautiful Boyle Heights!
I like these Cemitas that are currently dominating the torta landscape, they are tasty, filling, and unique. But I still miss my basic bean, rice, aguacate torta that is becoming less visible around our city.
That concludes this State of the Torta update. No doubt a new one will be coming soon!