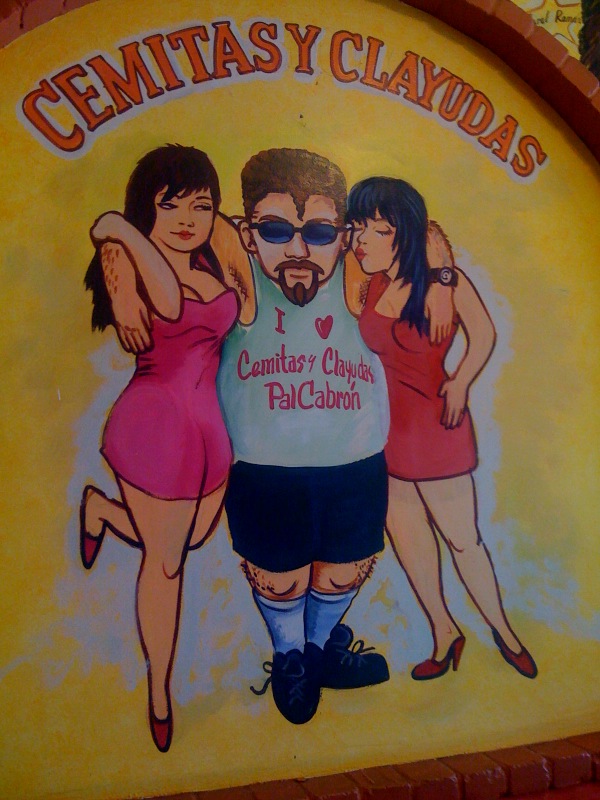 Chances are some readers have already heard and/or eaten at Cemitas y Clayudas Pal Cabron. I've known about the spot for a while and have read review after review about the place from food blogeros/as in cyberztlan since it opened up. It's awesome that people are discovering new restaurants and foods and are spreading the word about their goodness to their networks, but for a lot of us, the amazingness of cemitas is nothing new, specially for me since my dad is from Puebla, the birth place of the cemita, so he knows where to get the good stuff. In a way, I almost feel that my review isn't really necessary because it's been written about soo much already. But, I know that at least one person will read this and say to themselves, "hey that looks good. Let's go to Hunting Park and try them out." If that happens, well then I have done my job. Whatever that is.
Part of the charm at Pal Cabron is the charactertures on the walls and the names of the various cemitas on the menu. Remenisent of all those sexy comedias from back in the day. I remeber telling my friend about this place because she's a cemitas conosur and I thought she would love the place. Her reaction to the place after I described it to her was that she didn't want to eat bootylicious food. And I thought to myself, bootylicious ? It's the perfect way to sum it up, and that's a good thing.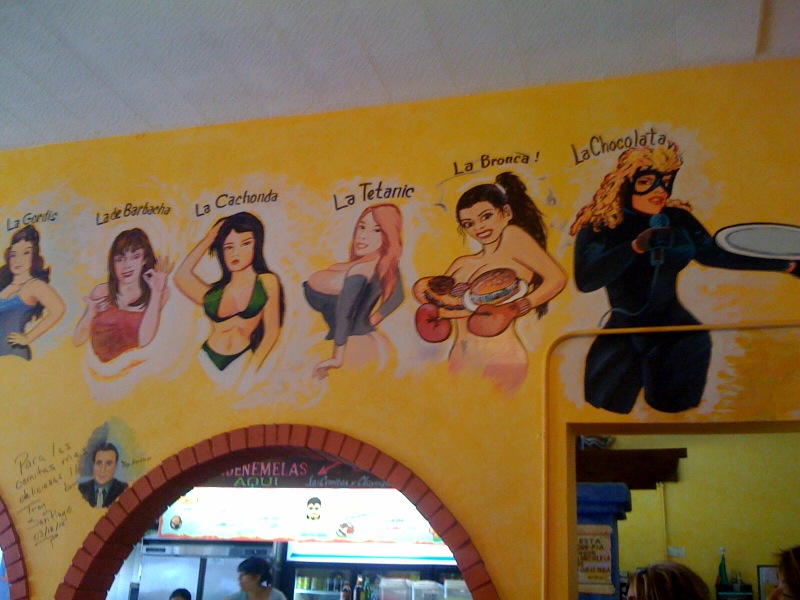 Bootylicious and delicous mmm, mmm. The place is intimate and welcoming. This time around, not only did I bring my friend Kris, but also my comadres La Cindy and La Rebeca to help me give the menu a round about. The restaurant is a sister chain from the oaxacan restaurant Guelaguetza, so I knew that they wouldn't disappoint.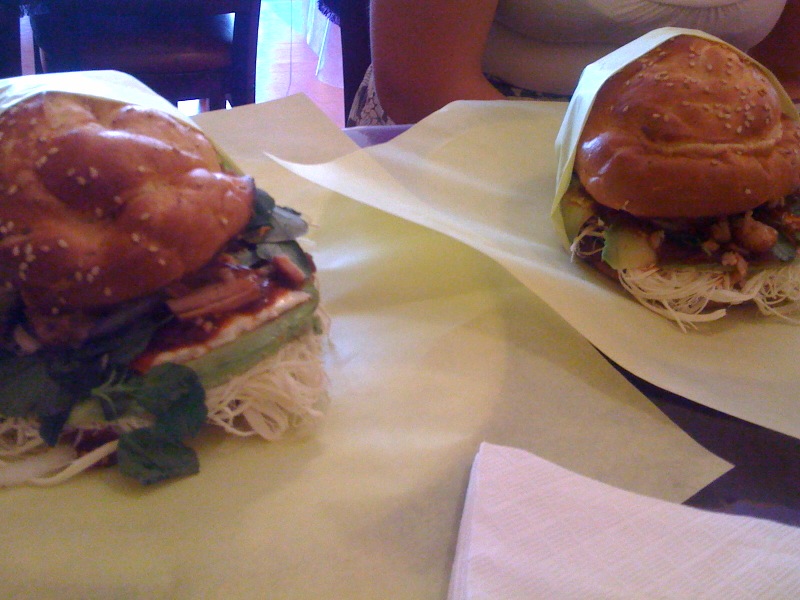 (Excuse the less than flattering pictures )
In total, there's 13 variations and also the option to create your own anyway you want it, so if you're picky about what's in your cemita, there's something here for you too. So what's the difference between a cemita and a torta ? They look the same you say ? Well first off, don't you dare speak of such blasphemy. These are two street foods of a different breed, both in what goes in them and the bread that is used. Tortas, for me anyway, are from Mexico and cemitas are from Puebla. So, comparing the two is like saying Mexicans and Salvadorians are the same people, which would get you jumped ese, trucha. Cemita bread is made of different ingredients, has a darker color and is topped of with sesamie seeds. It varies from bakery to bakery but it's unmistakable and is nothing like a bolillo. Cindy and Beca got carnitas or "La Chupis." All the cemitas here have a basic foundation of aguacate, Mexican queso, cebolla, chipotle and papalo. Which I'm not a big fan off. The carnitas were dripping with juicy goodness and had a healthy helping of meat in them.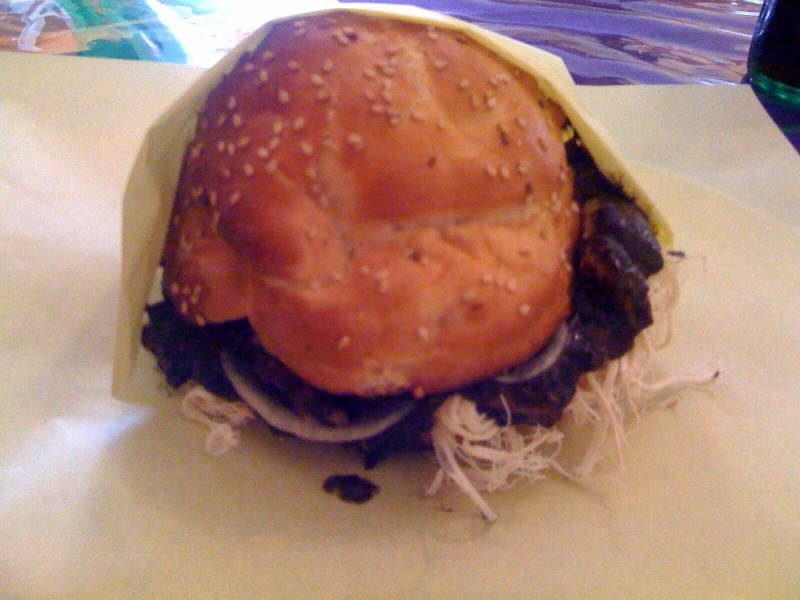 I had "La Chokolata," which is black mole with chicken. Mmm, mmm now that's some good eating. The mole was of course delicious and messy. The bread was freshly baked and soft to the bite. It was like eating a could with mole and chicken inside. Nom, nom, nom …..
"La Mas Cabrona: has a little bit of everything and is a mouthful as you can see. The aguacate is over flowing along with the milanesa the beef and queso de jamon. Kris loved it, but his only gripe was that the mixture of milanesa and ham conflicted with each other, not allowing for a full release of flavor. Well that's because he's still new at this eating cemitas business.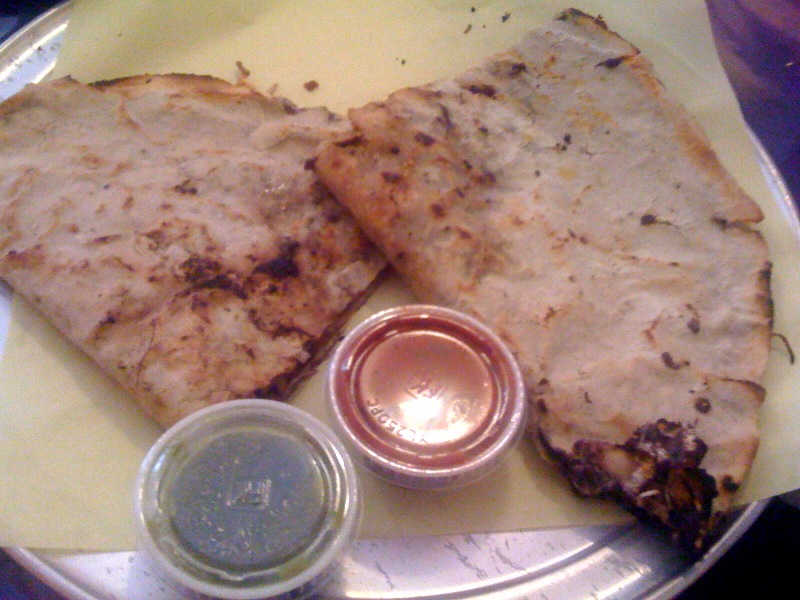 Even though Kris and I had a cemita of our own, we split a clayuda de chorizo, which this picture does not justice for. The cheese, black beans and rechicken we're off the hook and the toritall, hand made of course was the crispy and nicely toasted. The red and green salsas proved a nice little kick to spice things up. Fulfilling to say the least. They also have clayudas de beef, oaxacan cheese and pork and one huge clayuda that basically has everything and is served like a pizza. Definitely something to be shared among more than one person.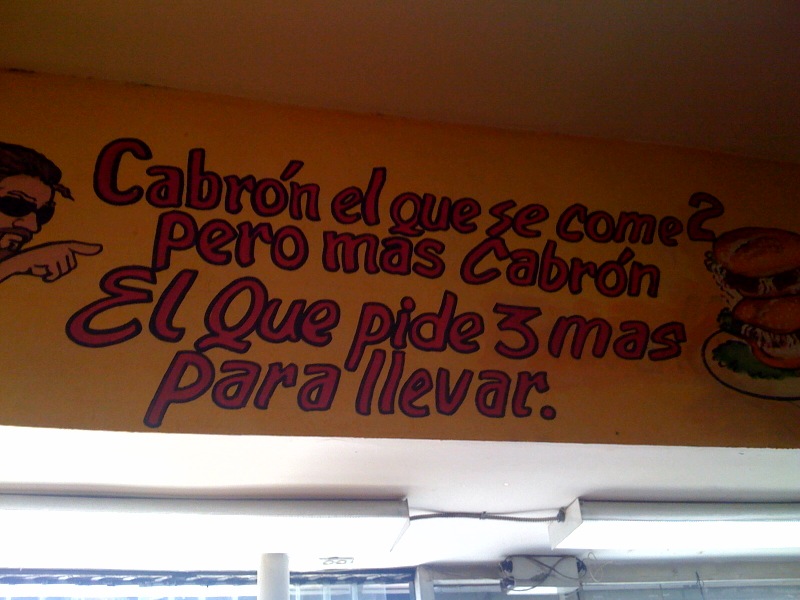 There's a few other things on the menu that I didn't get to try, like their Micheladas, but that'll be on the next visit for sure. The restaurant has great food and great vibes, specially with all the art on the walls. Definitely a spot I recommend to those of you who've never had a cemita before. They're incorporation of social media has helped them get the word out faster and brought in new customers that would normally never know about places like this or head to Hunting Park for that matter. And even though I know where all the good cemita spots are here in Boyle Heighs, I'm gonna side with P3000 on this one and keep them to myself. If you know, you know. And if you know, shhhhh, don't tell no body.
Cemitas y Clayudas Pal Cabron
2560 E Gage Ave
Huntington Park, CA 90255 323 277 9899