An Eastside Treebear in it's native habitat

Welcome to the first Botanitas of 2011! It's true, I haven't much kept up with this poor excuse for a social events calendar. All you hungry-for-fun LA Eastside readers have had to figure out what's going on on your own. But with all the Eastside-centric Facebook groups that exist now, I'm sure you've all had other sources to inform you of the happenings around town. But yeah, I hoped you missed Botanitas, just a little…

:::::NEWS:::::
Lincoln Park's Art Deco Gateway

I'd heard from my friends working at Lincoln Park that this project was underway but frankly, I thought it too good to be true. As a long-time student of Plaza de la Raza, I'd pass through this gateway often. It was sad to see the crumbling art deco details and the neglected and unrepaired masonry. I'm hoping the "original grandeur" is being respected.
Complaints that a Lincoln Heights area park has been allowed to deteriorate, may soon turn to praise as Los Angeles city workers put the final touches on a $500,000 upgrade to Lincoln Park.

Since August, workers have been busy transforming the Lincoln Park Gateway, located at the entrance of the park in front of Plaza de la Raza, back to its original grandeur.
Lincoln Park Gateway Gets $500,000 Face Lift
:::::EVENTS:::::
If you live on the Eastside and like music associated with punk and/or ska, you have a couple of choices for live music tonight.

Anarcho Punk Fest, Saturday, January 29, 2011
First, the Anarcho Punk Fest 2011 has come to Los Angeles! A full night of loud fun for your ears and some radical politics to go with it. Music, speakers, vendors including PM Press and even liquor if you have cash and an ID. It's all happening for $7 at The Blvd, Whittier Blvd in Boyle Heights.
Bands: Phobia, Resist and Exist, Arctic Flowers, Surrender and Secret Sect.
More info here.
The 3rd Annual LOS ANGELES SKAWARS 2011, Saturday, January 29 · 2:00pm – 5:00pm
Self Help Graphics is playing host to the year's largest Skacore show, it's smartly called SkaWars. What you never heard of Skacore? See you take a little bit of hardcore and a little bit of ska, well you get the point…I took some friends from out of town last year and we enjoyed ourselves, lots of great bands and good energy. If you don't believe that it was fun, look at this photo of my friend dancing: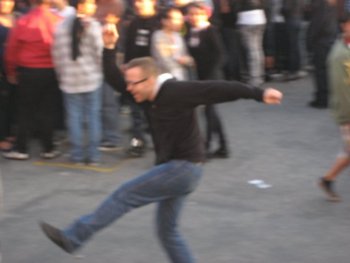 He looks like he's having a good time, no?
LOS ANGELES SKA-WARS in East Los With SEKTACORE!
Evoekore Media Presents…. The 3rd Annual. . .
LOS ANGELES SKAWARS2011
SATURDAY JAN 29TH 2011 @ S.H.G. OUTDOORS
…With Live Performances By:
SEKTACORE!
VIERNES13
LARESISTENCIA
RED STORE BUMS
RASKAHUELE
MATAMOSKA – MAFIA RUSA
CEREBRO NEGRO – LOS ARAMBULA
LOS RUDOS – DSKARADOS – LOSKACHE
THE DELIRIANS – PAYASOS ASESINOS
LA LIBERACION – CONSIENCIA NEGRA – L.A. CROOKS
BLANCO Y NEGRO – THE GRITTYS – SR. PEPPERS – LIBERTADORES
DOORS: 2PM / ALL AGES / 2 STAGES / 22 BANDS / RAIN OR SHINE
BAND MERCH, OFFICIAL SKA-WARS T-SHIRTS , FOOD & DRINKS WILL BE SOLD!!
AT Self Help Graphics Outdoors
3802 Cesar E. Chavez , East Los Angeles 90063
Strict Security – All Ages – No Alcohol Respect the Hood and Each other
ADMISSION INFO::
TICKETS: $16 PRESALE – $20 at the door
Tickets Online: GROOVETICKETS.COM
More info here.
…………………………………………………………………………………

No Love Lost, Friday, February 4 · 7:00pm – 10:00pm
Hey, who's a fan of the show Hoarders? I am! Every time I watch it, I immediately start throwing stuff away or I start making piles of donations to give away to Out of the Closet. Sometimes I wonder though, are my clothes gonna end up in the trash? Or worse, in a country where people shouldn't be wearing our lame fashion? Well, now you can put them to good use and donate them to NO LOVE LOST: A DONATION CENTER FOR MISCREANTS, NO-GOODNIKS AND MAYHEM. "Giving as fetish," I like it!
ADMISSION: RAID YOUR CLOSETS. BRING THE SPOILS.
GIVING AS FETISH. CLOTHING AS FETISH. FASHION AS FETISH. FASHION FASH-ION. LICKING MIRRORS. ROLLING IN CLOTHES. GUTTER DECADENCE. DIE, GOODWILL DIE. UP WITH ILL WILL.
NO LOVE LOST: A DONATION CENTER FOR MISCREANTS, NO-GOODNIKS AND MAYHEM
FREE WITH CLOTHING DONATION // EXUBERANT PERFORMANCES // SENSUAL SOUNDSCAPES // MASSIVE PILE OF FREE CLOTHES // CHAMPAGNE BALCONY
LOCATION: Los Angeles Municipal Art Gallery 4800 Hollywood Blvd (ie: the People's Palace)
7-10pm
ORGANIZERS: Edith Abeyta, Heard(LA), Cake and Eat It Collective
CONTACT:
info@cakeandeatit.org
323.809.6358
More info here.
::::::::::::::::::::::::::::::::::::::::::::::::::::::::::::::::::::::::::::::::::
Have a good weekend! Forecast says rain for Sunday.