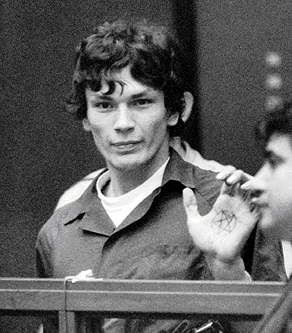 [audio:https://laeastside.com/wp-content/uploads/2010/08/Night-Prowler.mp3]
The summer of 1985. The hottest in L.A. history. During those boiling hot nights, the darkness brought no relief. Only sleepless fear, bloody nightmares, and cold sweat. Doors and windows were double checked, and newly installed security bars imprisoned us within our own homes. The "Night Stalker" had become the living specter of our collective fears,.. and no one was safe.

Born and raised in El Paso, Texas, a young drifter and skilled burglar named Richard Munoz Ramirez stepped from a Greyhound bus at 6th and Los Angeles street and soon blended into the human cesspool of downtown's skid row's underworld.  From this home base, his touch of evil would reach into the sanctity of random and scattered south land homes, transforming nightmares into steel cold realities. He would leave his bloody mark on our city with an infamy to match the most brutal and violent episodes of our generation.

The Night Stalker's path of murder and rape crossed very close to my very own East Los Angeles neighborhood. We felt his shadow lurking on our streets and at our back windows. A self professed predator for Satan's favor, he prowled and savaged in the neighborhoods of Monterey Park and Whittier among others and no one could anticipate where he would strike next.
When the sun rose that day in Los Angeles, August 31st 1985, it was one of those mornings so brutally hot, that you got out of bed already sweating…..
We awoke that morning and finally saw the true face of the Night Stalker on the front pages of all the newspapers and on our tv screens….Richard Ramirez,…drifter…identified….
Armando Lojero with a copy of the LA Herald which shows Richard Ramirez. Lojero, the owner of the Wyvernwood store on the corner of 8th and Evergreen, reported that Ramirez took the newspaper from the stand in front of his store after seeing his picture on the first page.
.…The events leading up to that morning have been the subject of my past year's research. During this period I've been fortunate to have had extensive conversations and invaluable information first from Mr. Philip Carlo, author of "The Night Stalker, The Life and Crimes of Richard Ramirez", who said to me: "Al, no one in this world knows more about the "Stalker" case than me." And secondly, I had the great pleasure of speaking at length with retired Sheriff Homicide Detective Lieutenant Gil Carrillo, lead detective on the Stalker case who along with Det. Frank Salerno, gave of themselves to find this killer almost to the point of a nervous breakdown. The pair were the first detectives to interrogate Ramirez at Hollenbeck Police Station right after his arrest.
Author Philip Carlo spent over 100 hours with Richard Ramirez at San Quentin's Death Row, He was able give me unique insights based on Ramirez' own words. Here is an excerpt from my interview with author Phil Carlo:
Al Desmadre– When Richard got off that bus in L.A. that morning and saw his photo on all the papers, how did he react? …
Philip Carlo– I know exactly what he did. When the police finally identified Ramirez as the Night Stalker, it was through a single fingerprint he left on the outside of a rear view mirror of a car he stole.  That car was found in Mission Viejo and eventually tied to him. Once the fingerprint was fed into a new computer, the first name it spit out was Richard Munoz Ramirez.  While that happened, Ramirez who was in Arizona visiting his brother Robert, got on the bus in the middle of the night to return to Los Angeles. The day was hot. The day was August 31st 1985. That night, on his way back to L.A., there was a storm and a lot of lightning and thunder. And Ramirez was sitting there at the back of the bus not knowing that he was the most wanted man in the world. Not knowing that every cop in Los Angeles was looking for him. But he felt, because of the lightning and thunder,  some evil premonition. Something that told him there was trouble. That Satan was angry at him. It was more or less a fleeting thought, but how true it really was…….
Next, my interview with Lt. Gil Carrillo at the East Los Angeles Sheriff's Station proved to be so amazing, that I was literally spellbound at one of the most shocking and revealing crime narratives I have ever heard. This interview I have managed to preserve on videotape and will be included as part of my upcoming 25th Anniversary Night Stalker Walking Tour. More about that a little later…

Detectives search for clues left by the Night Stalker
Car stolen by Ramirez near Chinatown and used during murders. Car was later found abandoned near Wilshire district.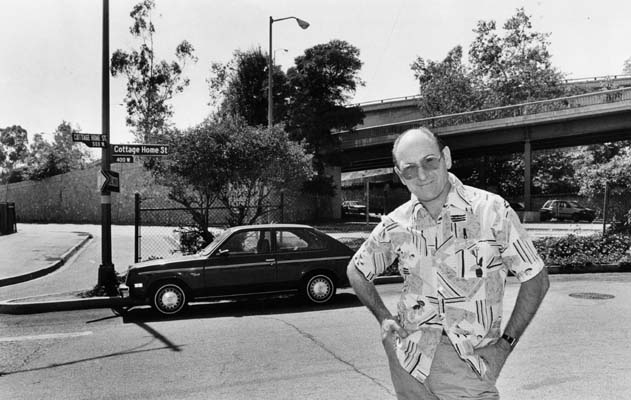 This is the owner of the car at the spot from which it was stolen. Ramirez would frequently steal cars to get around the city to commit his capers. One car he stole had been parked at the old Velvet Turtle restaurant located on North Hill Street in Chinatown.

Ramirez' last run ended in East Los Angeles that morning, on a typical Eastside avenue filled with Saturday morning Raza going about their business. Until a killer in their midst made the street explode into a scene of furious street justice. Ramirez had attempted to steal a car on that street and threatened and punched a woman in the process. And as we all know, "You don't FUCK with a Mexican's woman, and you definitely don't FUCK with a Mexican's car!" Or as Lt. Carrillo put it to me,.."Al, There are some good Mexicans and there are some bad Mexicans,..the good Mexicans keep a "Pípa" (metal pipe) by the front door, and the bad Mexicans carry guns,….Ramirez was lucky he ran into some good Mexicans that day…" Some luck. Richard Ramirez now sits on Death Row.
In order to commemorate this infamous date in Los Angeles crime history, I have organized a walking tour and retracing of the Stalker's last steps; "The 25th Anniversary Night Stalker Tour" With numerous stops and sights beginning in Downtown's Skid Row and a trip to the "Eastside", culminating on Richard's street of broken Satanic dreams;…Hubbard Avenue in E.L.A. Along with never before revealed details and materials from the case, speakers and witnesses will relive their "Night Stalker" experiences from that era. Space on the tour is limited. Full details about this event scheduled for Sunday August 29th 2010 are available on the tour website at:
http://nightstalkertour.blogspot.com
Jose Burgoin, at left, had chased down Ramirez after he tried to steal this sweet red Mustang belonging to Faustino Pinon, right. Photograph by James Ruebsamen. photos from L.A. Times archives and courtesy of Philip Carlo collection.
No way he was getting this car…..Faustino Pinon and Jaime Burgoin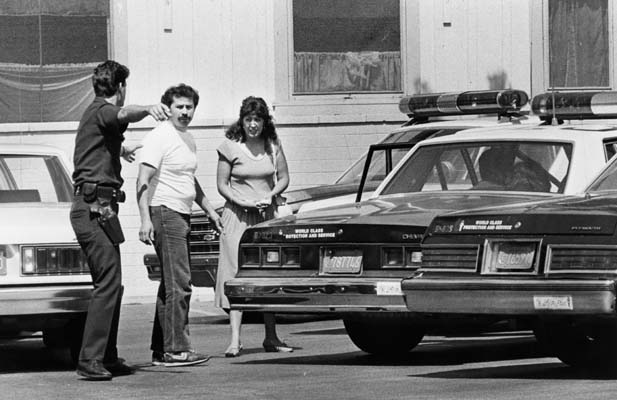 Manuel and Angelina De La Torre. Ramirez tried to carjack her. When she refused to turn over her keys, the Stalker punched her in the stomach. Photograph taken by Chris Gulker.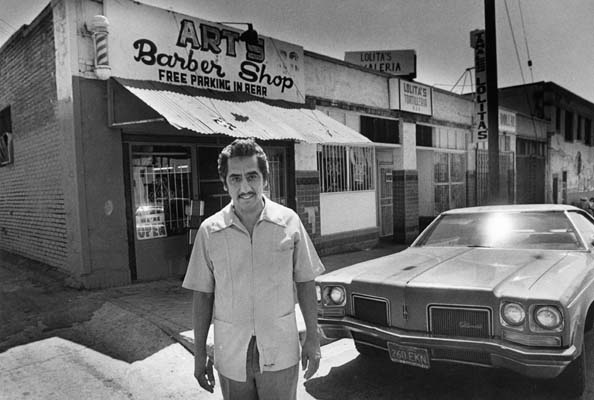 Arturo Benavidez, owner of Art's Barber Shop called the cops after Richard Ramirez tried to jack this occupied car in front of his shop. LA Herald photo by Leo Jarzomb.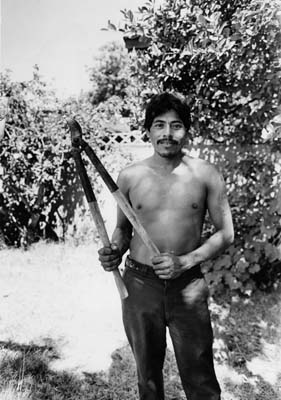 Rosalio Dimas shown with his trusty garden clippers. He tried to hit Night Stalker Richard Ramirez with it as the Stalker was running through his yard but missed. Ramirez ran the equivalent of a 2 mile sprint that day from downtown to East Los. You won't believe the escape route Ramirez took that morning..esta Cabron!  Photo by Leo Jarzomb.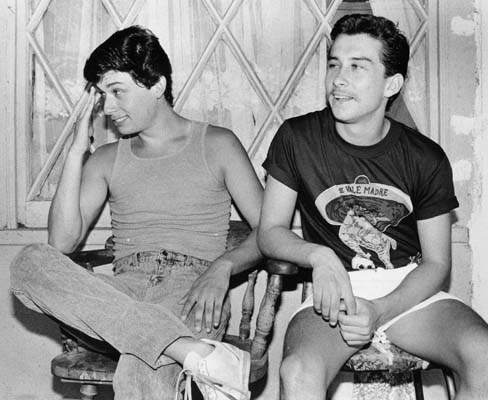 Jaime and Julio Burgoin residents of East Hubbard Street in E.L.A. Kick back after a hard day of helping capture the Night Stalker. Photo by Mike Sergieff.
The crowds all gathered at Hollenbeck Police station to try to get a peep of "El Maton"
The Night Stalker in custody. Boo ya.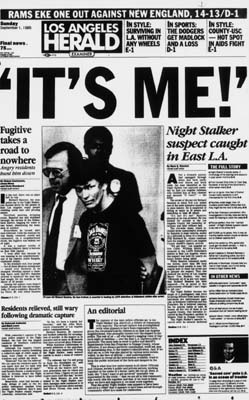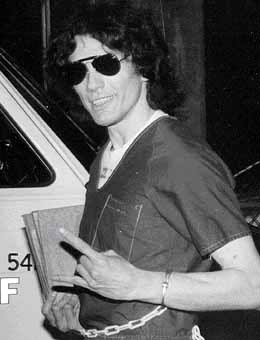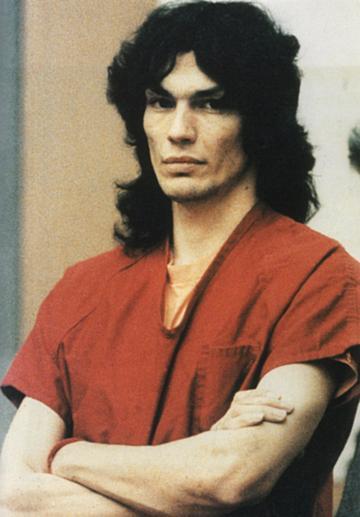 Ramirez was convicted of 13 murders and was given the death sentence. Lt. Carrillo thinks Ramirez is good for about 6 more killings, but the Stalker ain't talking. He now exists in San Quentin Prison for the rest of his life where he was married on October 3, 1996 to Doreen Lioy, age 41, a freelance magazine editor for Teen beat magazine who fell for Richard during his trial.
Original drawings, signed by Richard Ramirez the "Night Stalker"
nightstalkertour@gmail.com
eastsidedesmadretours@yahoo.com