I know one of my birthrights is being one of the people  of the sun, but my DNA has definitely dealt me the "thrives in shady areas" genes.  No joke.  My grandfather Jose Delgadillo would walk to the store in 100 degrees (Lemon Grove, CA) with a long sleeve Dicky shirt & pants, a sombrero, umbrella and shades, because he had an allergy to the sun.  One of my favorite parts of the summer is attending friends' backyard patio parties.  Especially because most of my friends are artists and create their outdoor spaces as if they are creating a great work of art.  Its perfect for me —-NO sun and a yearly changing green canvas.
I got inspired to do this piece after I spend the 4th of July at Artist Raul Baltazar's house.  Raul is known for his murals, political performances, personal fashion style (he put the 'Chic' in 'Chicano'), his furry Tochtlli 7 the Aztec bunny, and for being a source of much of my writings in the 90's.   Yeah,  I don't know why it took me so long to write about him on LAeastside.  Everyone knows he's one of my muses. He grew up in El Sereno, now relocated to Echo Parque. On arriving to his July 4th BBQ this year, I see an unknown man tending luscious rows of various vegetable plants in Raul's yard. As Raul is helping me unload my car, I whisper "Who is that?" looking towards the gardener—and Raul says matter-of-fact, "Oh, I started a community garden in my yard. All the neighbors come over to tend the vegetables."    
That is so Raul, no personal boundaries, so communal, so Chicano-Zen. I admire that, wish I was like that.  At one of his houses he had a trampoline that filled the front yard, where (after a few drinks) he and his dates would jump until someone fell and got hurt.  At the same house, his roommate had wolf puppies in the back yard and when one of them bit my leg, they tried to convince me that the wolf  bite was my rite of passage on the red-road.
Raul's sculptures play espantapajaros in his yard.  Some of them deconstructed portions of his drawings–like the man in blue pants & shirt with no face decorated with a fake fur cape/head piece (on the left) or the Pompadour hair-do facing the street (on the right).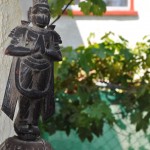 Buddha and Shiva are in his garden too, and some large wooden shipping crates that serve as an impromptu garage in pieces throughout the yard.
A white faux fur covered sculpture whose shape resembles a dried cow skull is coupled with a Japanese animation ceramic head. Pictured on right (sort of hard to see) guests are welcomed onto the porch by a gold spray painted Buddha resting next to a torso of Santo Niño de Atocha with a sculptured crocodile-ish head by Raul.
On the porch patio, we could see the fireworks over Dodger Stadium, enjoy friendship and a few chellas.
Ok—but how could you have a perfect Chicano garden without an informative message for the neighborhood?  Yep, that's how Raul gardens.
Artist Jose Ramirez (also from El Sereno) and Filmmaker Sara Aguilar get the prize for the greatest yard transformation.  A few years back when Jose got this deal of a fixer-upper house on a hill in City Terrace, the back yard was a complete downward slope. Each year they host an open house and each time the gradual transformations they have made throughout the years are impressive.  Taming the hillside by creating reinforced terraces, enriching the garden soil and a carved out basement studio have turned this house into an eastside hidden gem.  Jose, a trained ceramicist. would naturally think to add uniquely recycled sun dried clay squares  to his garden path for visual texture.
Above, a view of  the whole landscape.   Fruit trees, banana plants, flowers, cactus and scrubs overlook a small valley.   A glazed tile trail reveals Jose's usual paint palette. I love how artists can take an inanimate object and make it beautiful again.  This house resonates life and love in abundance.
Produced while attending UC Berkeley, one of Jose's early ceramic sculptures rests easy on his eastside LA's car-culture land.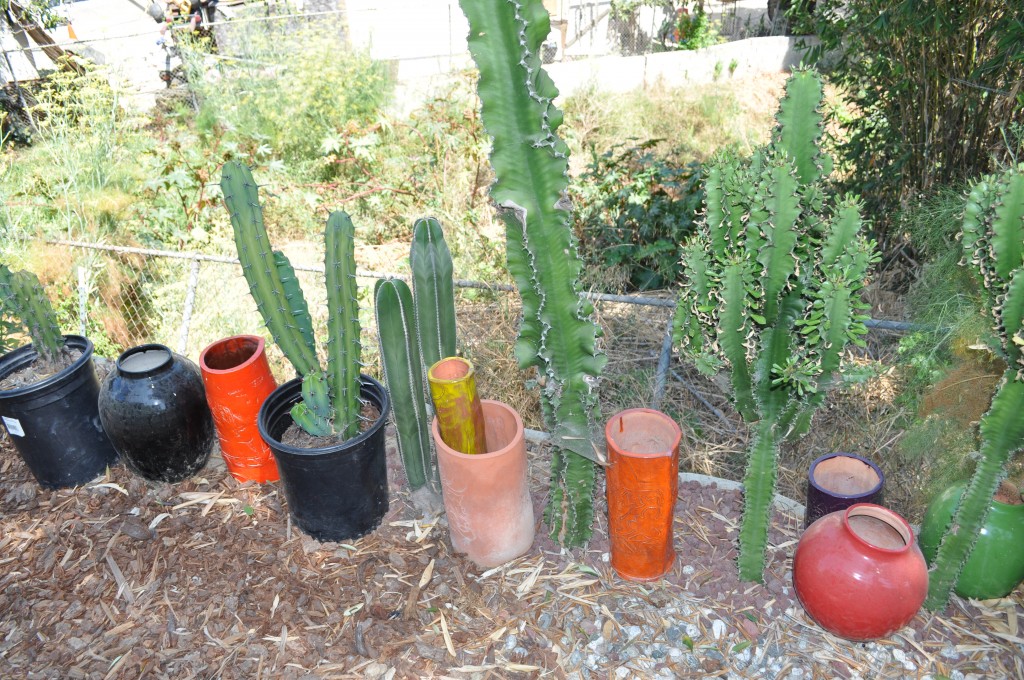 Colorful pots directly out of the kiln, create a Ramirez style harmony with the cactus.  Beyond the fence the untamed slope still thrives through the neighbor's yard, hosting weeds, regional grasses and wild plants that combine with nursery bought ones.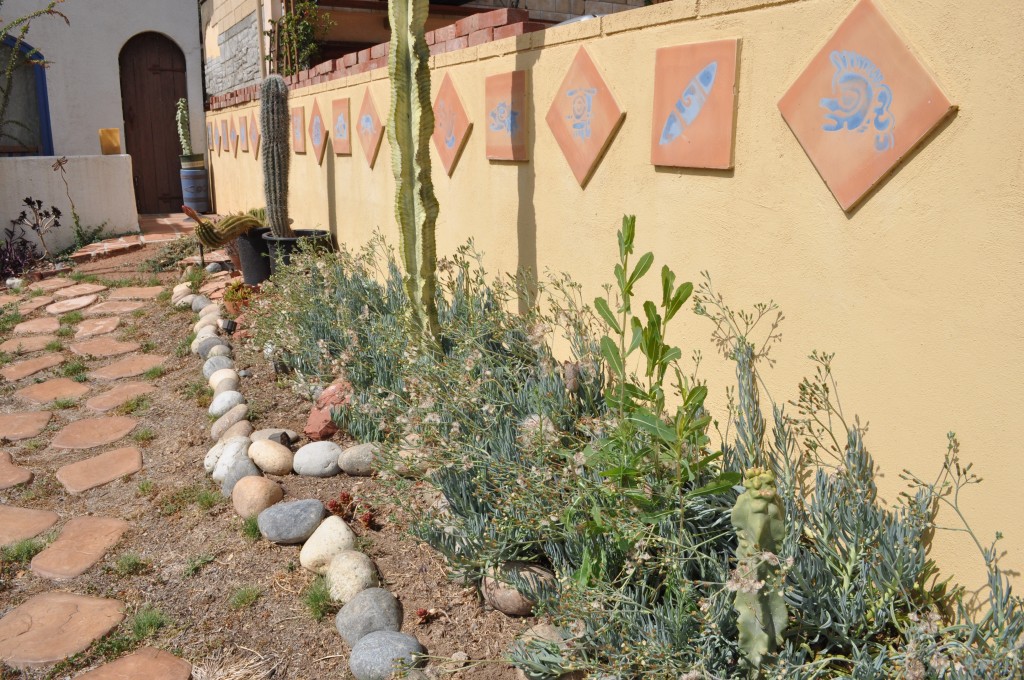 Artist Leslie Gutierrez Saiz and husband Stephen Saiz own this Spanish style home in Eagle Rock, a conveniently short drive over the hill to their jobs in Burbank.  Leslie grew up in East LA,  a few blocks from Self Help Graphics & Art, and Stephen another El Sereno native is the current President of the Board of Self Help.   You can see that their hearts are eastside focused from their aesthetics, evident in their garden beds and outdoor decor (note the spray painted Mechica glyph tiles on their retainer wall).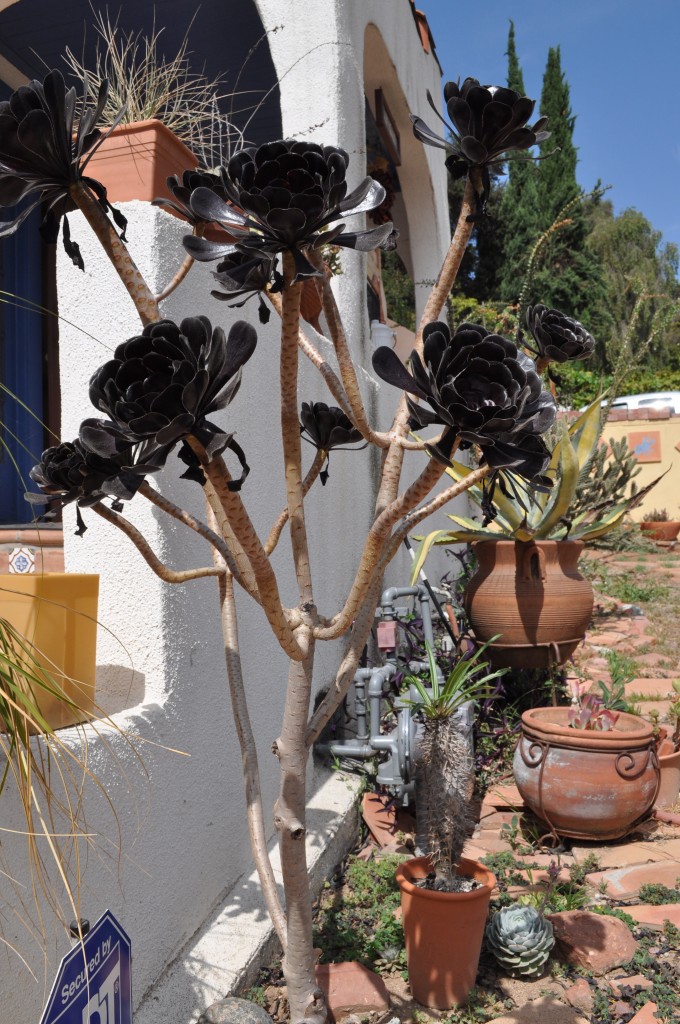 What I like about their gardens is the combination of potted plants next to buried plants and especially the low maintenance, modern drought  garden which gives heaps of visual interest through the use of textual rocks and pavers.  Stephen is the main rock gardener, organizing the various sections of the yard in individual pleasing arrangements. Their collection of different types of cactus and succulents are not only beautiful, but so appropriate for those who are concerned about the ecology.
The parkway tree is the star,  surrounded by small boulder border and silver succulents.
Potted cactus plants create a border along the drive-way.  In a nicho (on one side of the house) they created a small homage to Eduardo Oropeza's famous broken tile work.
Collections of clay pots different in shapes and sizes–together make an interesting mobile garden bed.
Les & Stephen turned their garage into a downstairs gallery and shaded work space.  The upstairs serves as Les' design studio, with a balcony that faces the street.  On the roof is an open lookout patio for star gazing.
A small dining area for the morning sun and cafecito.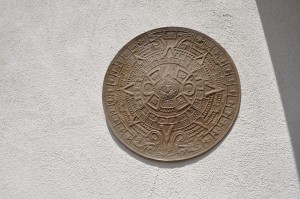 And…that's how the eastside is done in Eagle Rock—Aztec Calendar and all.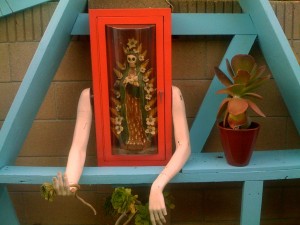 Rigo Maldonado is an installation artist.  Although he lives in Santa Ana and grew up there, his artistic interests bring him often to ELA for artistic camaraderie and collaboration.  One of  his goals is to move to LA, where he lived during his undergraduate life at UCLA.  Presently Rigo lives in a home owned by his parents that is smack in the center of downtown Santa Ana with a foot traffic of newly arrived Mexicanos and hipsters en route to the Santa Ana Artists Village.  As close as he is to all that swell art (we saw a Thomas Kinkade exhibit there once–ay ay ay)—Rigo relates more to the eastside flavor.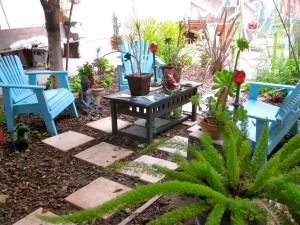 Rigo's birthday is the first week of June and each year we gather in his beautiful garden to celebrate him.  You can just imagine what an amazing buffet of food is served at his parties—delicious and exquisite to look at.  Above, he bought a weathered set of seating at a garage sale for less than $50.  After the Rigo treatment of turquoise blue paint, they look like expensive patio furniture.  See?  That's what it is to be an artist, you can see something in things that most people think is junky.  Usually this  seating area is the outdoor smoking lounge. He is so proud of his drought garden of transplants from everyone else's garden.  All free.  Cactus make the best garden for someone who has little time for watering, weeding and trimming.
On the retainer wall, Rigo built a shelf unit that looks like its collapsing.  It holds potted plants and sculpture collections, that overlook the out door dining area made of painted office furniture.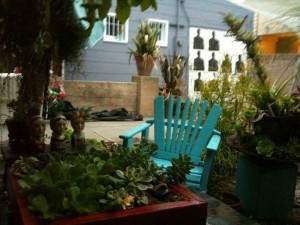 A detail of one of the rescued patio chairs and cacti.  In the background, used posters from a shooting range that he found in their dumpster. Now they are an out door backdrop for pictures and wheat paste art.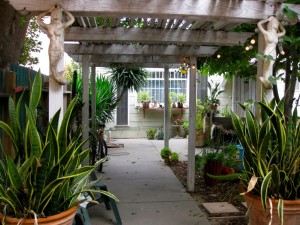 This pergola had been part of a Santa Ana church garden.  When they began renovations on the church, the pergola was not part of the new plan.  Rigo asked them for it—free!  Well, he and his family do  much for that church, so it was more of a barter.  Now, the pergola makes a distressed yet dramatic entrance to Rigo's patio (the mermaids are another garage sale find).  Did you know that the City of Santa Ana made a rule that garage sales could only take place on one day of the month?  Before that, people had garage sales going on everyday.  Hey free store front, k no?  If you like garage sales, its worth the trek to Santa Ana for their city wide garage sale Saturday.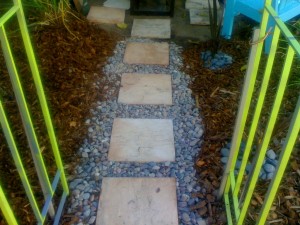 A walk path into the garden sticks to the blue overall color scheme with the gray-blueish Mexican river rocks and gray pavers.
I have been to other patios worth noting and maybe part of a sequel to this blog.  There are so many ways to care for the land.  Home gardening or creating a beautiful place to relax and contemplate in, is one of the most instant gratifications.  I think what I like about my friends gardens is that they were created with zero budgets to modest budgets—but they were all designed and worked on by the people that now enjoy them. I have a small parkway garden, planted a  tree  and have some potted plants.    Just that little amount of effort has made my home lively and has added to the cosmetic beauty of my street.  I even do a little gardening at work—park ways, potted plants–total eastside.