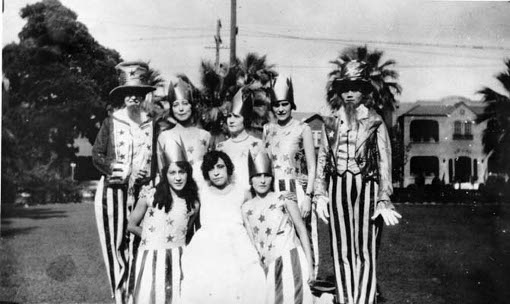 Mexican Americans on Fourth of July, 1923. Photo courtesy of LAPL
Botanitas is an ongoing feature bringing you stories and news from various sources, upcoming events and other bits of ephemera that might be of interest to LA Eastside readers. Suggestions welcome!
So where will you be this weekend with all your illegal fireworks? Hopefully that wasn't your uncle's house that got busted with all those cuetes in El Monte, what a waste…tsk, tsk..won't someone think of the children?
As my Chicana mother always told me, California wasn't part of the U.S. when the U.S. got independence from England so we don't really gotta put our heart and soul into celebrating Fourth of July. But what Mexican is gonna give up a good reason for drinking and bar-b-queing? Dang, we invented bar-b-que, the word comes from the Spanish barbacoa, so however you feel about this "independence day" of ours, make it a good time!

Farce of July
If you really wanna be a sourpuss about it and give a political f.u. to the patriots, check out the annual Farce of July happening at La Tierra de Culebra in Highland Park on July 4th. The festivities include music, a tianguis, spoken word and activities for the little mocosos. The event goes from 3-10pm and is located at 240 S. Ave 57, $10.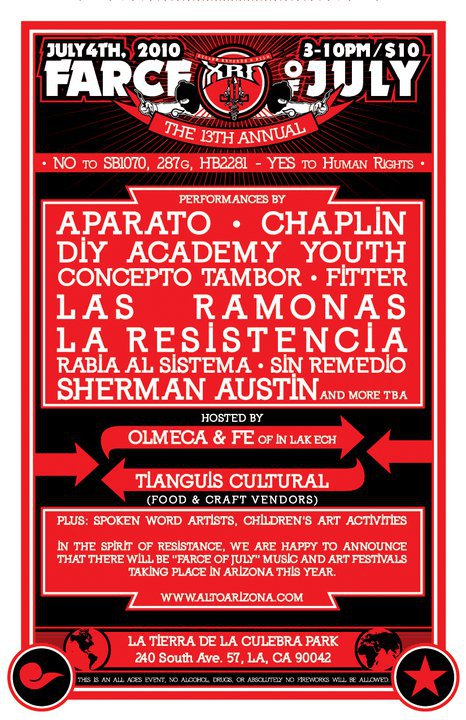 Xicano Records and Film Presents the 13th Annual "Farce of July". At Tierra de la Culebra Community Park: 240 South Ave. 57, Los Angeles California 90042. The Festival will begin from 2pm to 10pm- all ages. The event is a fundraiser for a Los Angeles' Com…munity Art campaign for human rights and solidarity with Alto Arizona campaign against discriminatory bill SB 1070.
—–
1.8 Million Dreams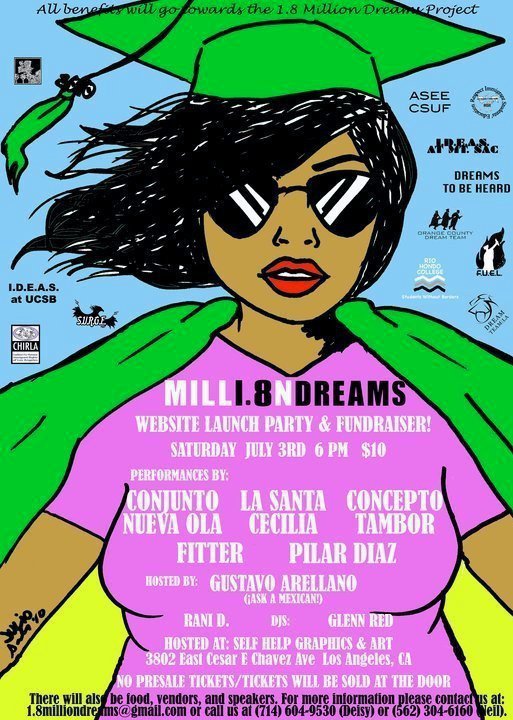 Live performances by:
Conjunto Nueva Ola
La Santa Cecilia
Pilar Diaz
Fitter
Concepto Tambor
Hosted by: Gustavo Arellano ("Ask a Mexican!")
DJs:
Rani D. (Soul in the Park)
Glenn Red (AfroFunke, Eclectica)
Entrance fee: $10
TICKETS WILL BE SOLD AT THE DOOR
All benefits will go towards the 1.8 MILLION DREAMS Project
1.8 Million Dreams is a collaborative project that serves as a creative multi-media outlet for undocumented students (in the U.S.) to share their stories. Additionally, this project serves as a resource for those currently working on undocumented student issues at the state and federal level.
—–
::OTHER EVENTS::
These are for next week but it's always good to plan ahead.

Corazon del Pueblo
FROM THE BARRIOS OF LA TO THE BAY–
JOIN US in a night of cultural resistance in solidarity with the people of Arizona and beyond!
CONCIERTO SIN FRONTERAS
Barrio to Barrio, State to State, and Nation to Nation
We demand an end to the racist legislation being put forth in Arizona — and a stop to the continuous cycle of oppression geared towards all poor and working people across our borders!
We believe in all people's right to life and happiness. Corazon del Pueblo strives to achieve this immediate goal by enriching our communities through free educational art programming, with a model built on self-sufficiency and self-determination.
We aim to create a network of resistance through a common culture of music, soul, art and liberation!
*music*poetry*spoken word*teatro*vendors*
FEATURING:
Blues Experiment • Olmeca
Cihuatl-Ce • Guerrilla Queenz
E.C.E.K. • Bloom Vicarious • Different Folks (Bay Area)
Los Maya (Bay Area) • DJ Carlos Ramirez • Ghetto Galactic
G-Saleem (Oakland) • Mikhael (Bay Area) • Jamesia Eleven
700 LB Gorilla • Inner City Dwellers • Aparato
Scott Rodarte (of Ollin) • Viet Ruse • Nada Mas Basura
Orgullo Cafe
Poetry by: Ruben "Funkahuatl" Guevara, Gloria Endedina Alvarez
Abel Salas, Matt Sedillo, Bus Stop Prophet, Mike the Poet, Erick Huerta, Xitlalic Guijosa Osuna, Sammy Carrera, O Smith, Janet Gonzales, León Arellano.
*–JOIN THE RENAISSANCE–*
SATURDAY, JULY 10TH
6PM to 2AM
-LA CASA DEL MEXICANO-
2900 Calle Pedro Infante
Boyle Heights, CA 90063
—–
Ego, Destruction, and Facebook-Salomón Huerta

A Zócalo/City of Los Angeles Department of Cultural Affairs Event
Interviewed by David Pagel, Chair, Claremont Graduate University Art Department
WEDNESDAY, JULY 14, 2010, 7:30 PM
Salomón Huerta is known for revealing identity by obscuring it. He has painted collections of finely detailed portraits of the backs of heads, florid but unemotional masked lucha libre wrestlers, and unassuming suburban homes stripped of individuality. Huerta, who was born in Tijuana and raised in Boyle Heights, has exhibited at the Whitney Biennial, the Gagosian Gallery, and LACMA, and is beginning to paint new works with no unifying theme. But Huerta remains committed to his unusual creative process — destroying each piece several times with a sander, and then repainting on the same canvas. Huerta visits Zócalo to discuss for the first time his method and what it says about art, ego, and creativity.
Museum of Contemporary Art (MOCA) 250 South Grand Avenue Los Angeles, CA
Parking $9 w/MOCA validation at the Walt Disney Concert Hall garage, enter from Lower Grand Ave.
Info here.
—–
::NEWS::

Libraries, parks, who cares?

Did you hear how this shortsighted city of ours cut a number of positions and people from some of the most useful City departments? The libraries and parks are suffering due to staffing shortages, reduced hours and some crazy disrespect. Starting July 19th, libraries will be only open five days a week. Many City-run childcare centers have limited services due to most of their staff being eliminated. Expect kids to be running wild in the streets this summer.
Everyone from Chicanos to Chispics to regular old Mexicans are sad to admit that the person who took this city straight down the drain was one of our own. Hardly anything to be proud of. Just goes to show you, it's the position as much as the person and Villaraigosa has positioned himself into a very strange place. Maywood, here we come!

Freeway Cats
You might have read how one of LA Eastside's favorite street artists was recently arrested for beautifying and bringing a bit of joy to other wise dull and boring freeway walls. The Freeway Cat artist was recently arrested, he was turned in by tips and informers, you know, snitches. May the curse of the kitties strike them down! We will all miss those Freeway Cats. All my best to the artist and here's hoping to speedy and favorable solution to his legal predicament.
::WORLD CUP EXTRA::
First USA, then Mexico and now Brazil is out of the 2010 World Cup Tournament. This World Cup is a regular WAH! fest. The pity party continues…Let's just cross our fingers and hope Argentina does not go through, they play Germany tomorrow.
The day after Mexico lost, I was talking futbol with the cooks at Troy's Burgers in El Sereno (they make the best veggie burgers, by the way) and I was saying how sad and upset I was that Mexico lost. The cook turns around and says to me very seriously, "It's not that we lost that's terrible, it's that we lost to ARGENTINA!" Indeed!
Have a super weekend!