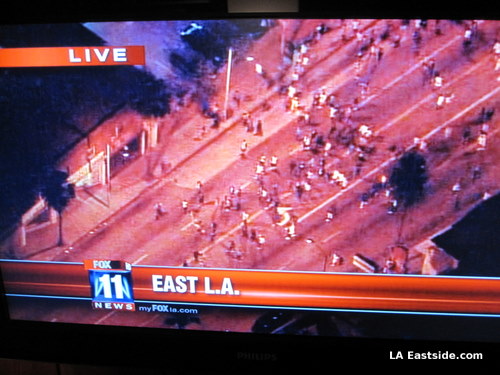 While the media pundits start on their predictable perspective regarding the celebrants of today's various sporting events, I'm going to offer a counter explanation. For whatever its worth.
If you grow up in one of the various under served communities (aka poor) of Los Angeles then you'll know all about social control, the method by which they keep humans in check. The city offers no social space, no gathering spots for celebration, no common grounds on which we can all gather to mark a significant moment. What to do? You make your social territory. You reclaim the space in which you can connect with others, consequences be damned. Thus, the motley congregations the helicopters are following tonight.
Isn't the bullshit LA Live complex supposed to be our new destination spot, the center of LA cultural life? So why are people not being allowed to expend that jubilant spirit in this so called center of Life? Because its just another corporate park meant to further profits, not to enhance our social lives. Yeah, there was lots of stupid people out there tonight acting like jerks, but I put the blame squarely on a city that makes no concessions to human needs, that demands euphoria only come with a paid ticket.
In backwards Mexico, they have El Angel, a random spot where everyone knows they can go to celebrate, to expend energy, to be amongst others that just want to scream and shout for a few hours. In LA, they've got nothing. Just a sidewalk and whatever street you can use for a few minutes, 'til the cops come to take the party away.
No doubt there's some jerks doing stupid things out there. But this wouldn't be happening if you treated LA citizens like human beings with human needs. If we had a proper social space to congregate, our own Zocalo so to speak, then maybe we would be better equipped for something as joyous, and mundane, as the victory of a local sports team. Instead we get bullhorn messages regarding an illegal assembly and an order of dispersal. Just don't be surprised when the jubilants shout out a wholly understandable 'Fuck You'.