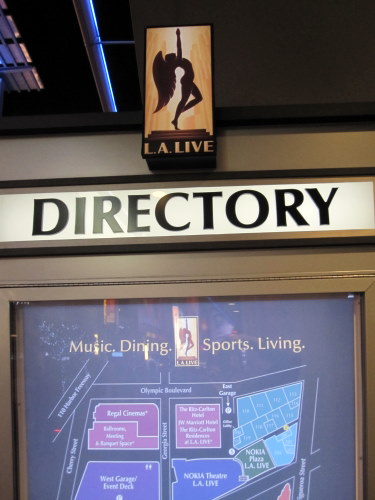 A few days ago I caught a link by LA Observed that mentions some of the supposed worst "eyesores" in El Centro. Well I happened to be downtown on that very day, and I'd like to submit the following location to the list of eyesores. Yes, LA Live. A most inappropriate name. Well, unless you were trying to zap some sort of "life" into a monster. But at least the icon of a pole dancing stripper seems to work. They've bothered to make a map, not that you'll ever need to refer to it.
Click ahead for some pics of this so called "Living."
[audio:https://laeastside.com/wp-content/uploads/2010/03/acropolis.mp3|titles=acropolis]
I highly suggest you click on this suggested soundtrack. No doubt they will start using it there soon.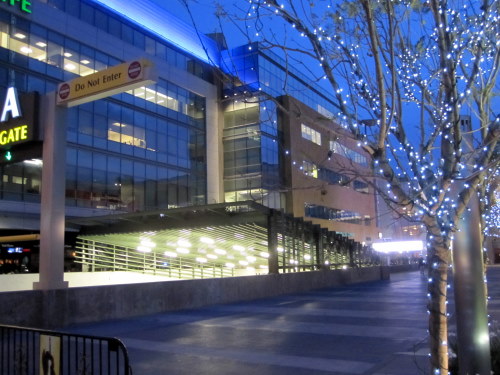 When this attraction (ha!) opened up it seemed everyone wanted to get a look. I knew I wasn't going to care much for it, the shopping mall way of life doesn't work for me. Still, I figured I'd eventually take a look just to see what all the barullo was about. Basically it's just another way to waste your money. Dressed up in pretty little lights.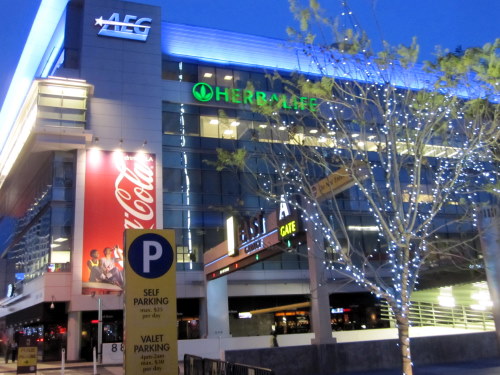 When a tree uses more electricity than an average plant, you know something is wrong. Hey, get ready for ads too!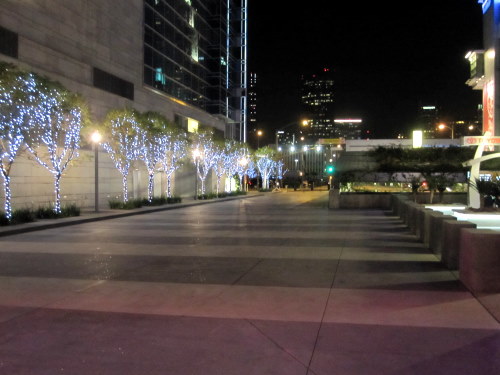 Not to seem cheap, they dressed up all the ornamental trees in xmas lights. And look at that inviting concrete plaza! For this we gave up $246 million in tax breaks?
Commercial ads AND giant monitors broadcasting even more ads. This is the corporate vision of an adult playground, designed with only the corporations interest in mind. This shit isn't even half-way inviting to your average human.
Not that they want the average human to come out and play. They've figured out how to keep the riff-raff away by that time tested exclusion method of appropriate pricing. Restaurants are super expensive and no eloteros in sight for a quick bite. One simple meal and a boring Alice in Wonderland movie later, I'm down $70. No wonder most of the crowd seemed straight outta Orange County.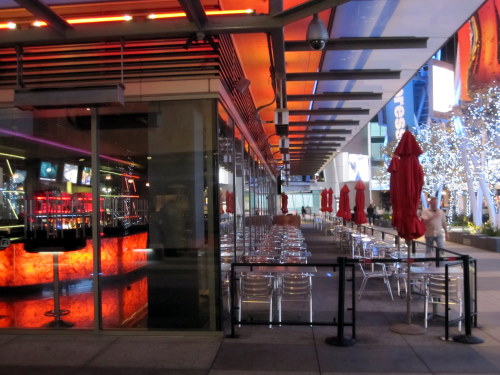 It was quite crowded when we got there, all the restaurants were busy. But by around 9:30 it had mostly cleared out, this one place already had the stools up on the bar. Oh boy, what a nightlife.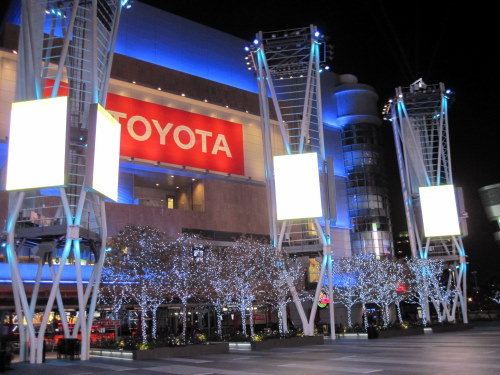 Steel contraptions. Bright screens. Corporate messages. Invisible ghost trees. Getting us ready for our dystopian future.
And right on cue, a mustachioed version of Big Brother starts talking about some banality. They even have this one segment that goes "hey you — yeah you" trying to get your attention to yet another babosada. It's not enough that they've built an imposing environment for rats to get to their cheese, they still insist on prodding you along the way to your next cash extrusion destination via visual harassment. How fucking humiliating.
I wonder if they sell Soma? Soma….soma….soma….
From the amount of Kings jerseys, I assume they were playing tonight. I wonder how long it will be until I step foot inside the office supply center. I'm not in a hurry.
If they carried t-shirts that said "My Mayor Looted Our Public Funds And All I Got Was This Lousy Totalitarian Concrete Park" then maybe I'd check out the gift shop.
"Everything is fine. You like LA Live. You will come here to play. Being here is your choice. Do not change the channel."
Yup, that's exactly what the smiling couple said.
Down the rabbit hole they went, only to find out it was just the Conga room. Figures.
Yup, I was the chump for giving it a try. But let this be a warning to you.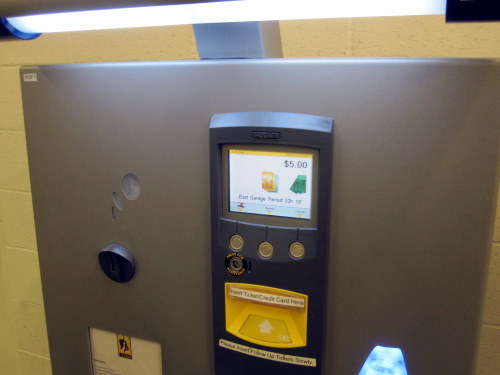 The final agent of control. Ticket please. Money please. Thank you for participating in our process.
You have now been entertained.