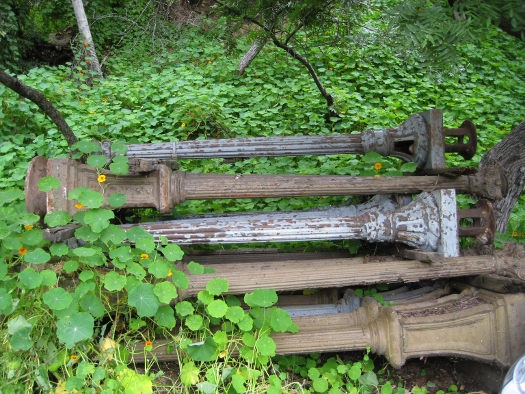 These old lamposts being devoured by creeping nasturtium vines were spotted outside the back gate of Heritage Square Museum in Lincoln Heights/Montecito Heights (the neighborhood designation is variable). The nasturtium has been growing wild there for at least twenty years and it's amazing to me how large and prolific the vines grow.

This small grassy area filled with walnut trees, sycamores and some oaks was once part of the series of parks that bordered the Arroyo Seco Parkway (now known as the 'Pasadena Fwy'). However, at some point in the 90s, the park was fenced in to discourage transients and homeless camps. Perhaps too, Heritage Square preferred the privacy.
It would be lovely to somehow create a trail along the Arroyo Seco so that those of us who enjoy walking can easily move through the Northeast LA area. According to the good folks at LA Creek Freak, an Arroyo bike path is being planned for the area slightly south of here. I'd much rather our City spend it's limited funds on these kinds of projects instead of 'Star Trek' bright LED lights and unnecessary and costly new bridges.