If you've grown up in the United States as an "other" or you just happen to look like one, you are probably quite accustomed to the regular indignities of not being one of them. Somehow you manage. You just want to get by. But then they do something so utterly outrageous and in your face that yer like "Fuck This, No Mas!" They push the indignities over that line you were hoping to avoid. Arizona did that recently, making any friends and family that look "other" open targets to harassment. It's not like harassment wasn't the norm before, its just that now it's a protected and legal practice.
Fuck that.
Sometimes, enough is enough. Time to take it to the streets to show our collective disapproval.
Warning! Lots of pictures ahead.
Yeah, its almost 11 and I should be in downtown already, but for a protest you have to power up! A breakfast of chilaquiles and huevos will do just nicely. Scarf it up cuz the bus is coming!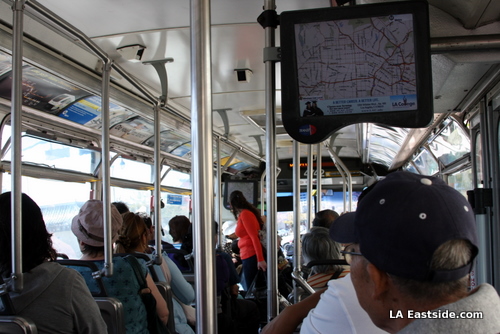 Of course you take a bus to a protest. It's the sensible thing to do.
We get off the bus somewhere on Hill and this sign greets us. Tempting, tempting, but we have a march to attend!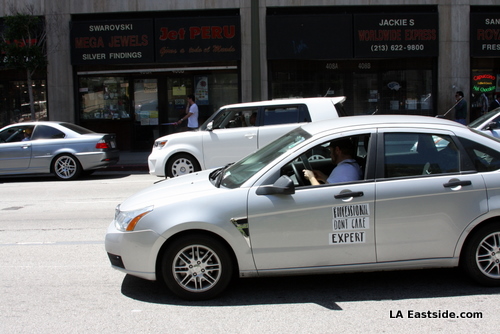 Some dude on his Ipad with signs saying Professional Don't Care Expert. Dude, you don't need to advertise what we already know.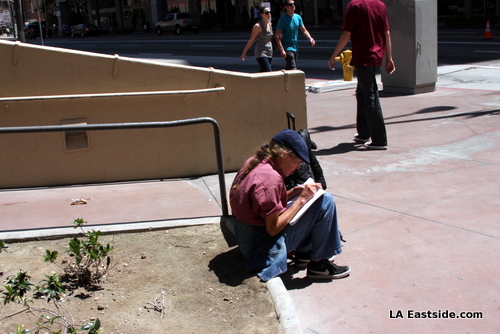 Old school photographer working the pencil shutter.
I see it now!
As a friend said, Arizona's ears must be burning, cuz everyone was talking shit about that police state.
Lots of US flags around. I could critique this but I recognize its a safety response, so whatever.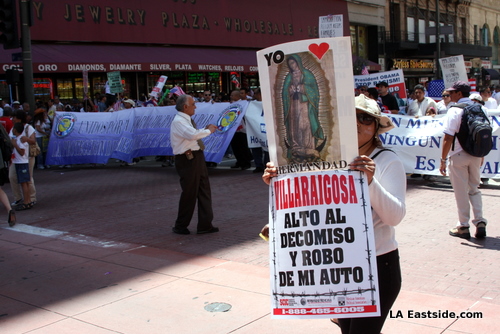 The mayor was both friend and foe at the march. But we all know he's just lame.
Taggers 4 Immigrant rightz.
Viva May Day! International day of the worker!
The ambulantes were busy this day.
This guy was selling flags with a special comfort handle for $2.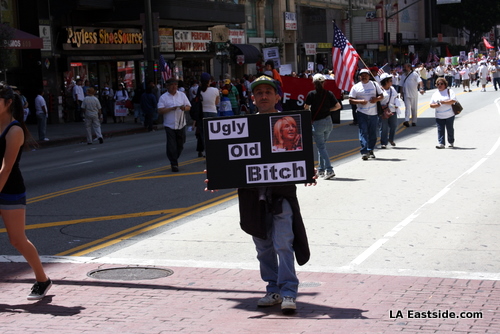 That's a mean thing to say about the Arizona governor. But it wasn't a lie.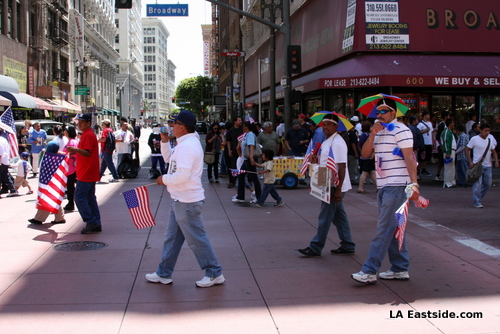 Styling the umbrella hats.
Paletero making bank.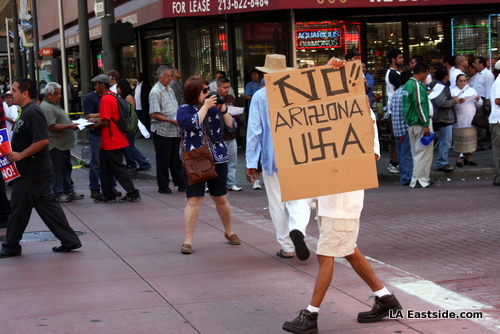 Many equated the asshole AZ law to Nazi Germany. But they're not requiring people to wear "undocumented" badges. Yet.
Ice creamero in action!
Viva Zapata, in tattoo.
Yup.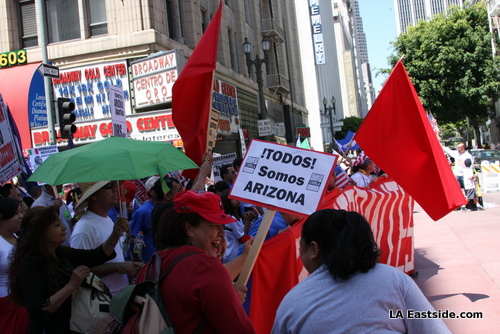 Lots of laughing and good spirits, despite the seriousness of the issue.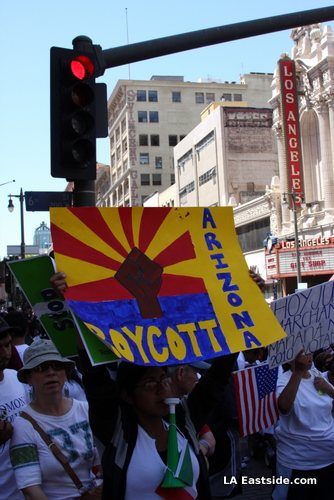 The boycott is well underway.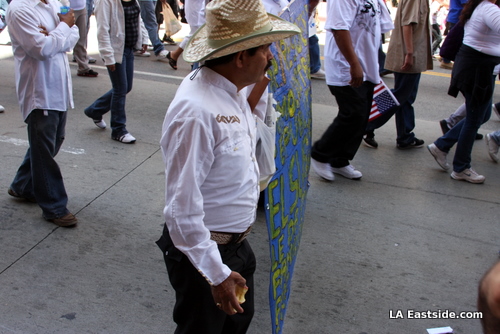 Paisano marching and eating his apple. Gotta keep the energy up.
Tons of commie groups were out there, as to be expected. I didn't see any pro-capitalism groups. Maybe they're happy enough to get their message out via Larry Mantle.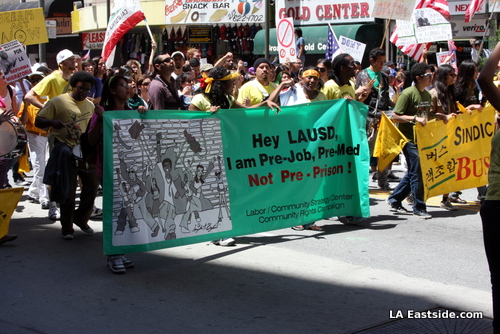 Not Pre-prison!
Oaxaca in the mix.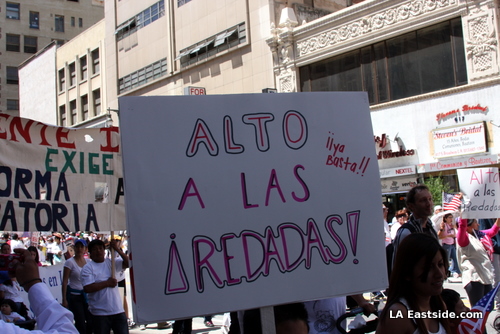 Don't Raid me, bro.
Frente Indigena makes their demands.
Stern demand in a cool graphic!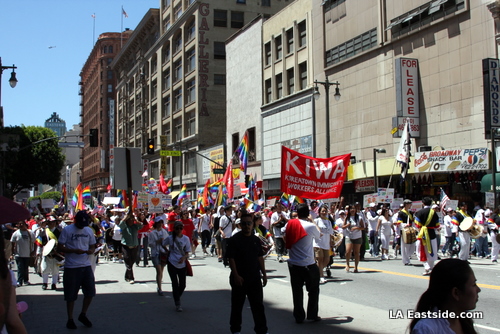 KIWA coming down Broadway.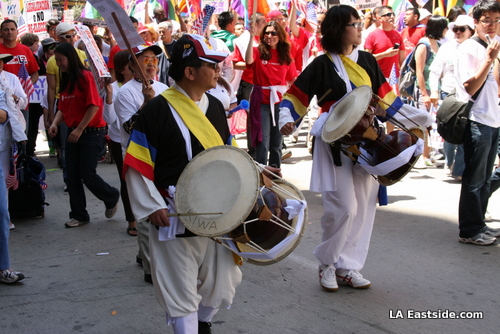 Korean drummers bring the beat.
Rainbow power. And hey, look! Exit through the Gift Shop is showing!
Damn that sellout mayor!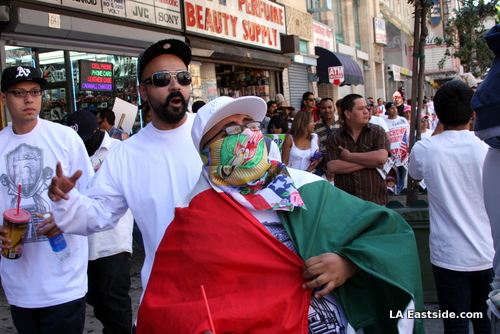 Wrapped up in all kinds of signifiers!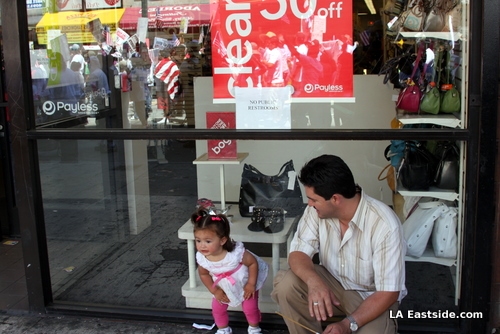 Someone objects to the "No Public Restroom" sign.
Queers show their love.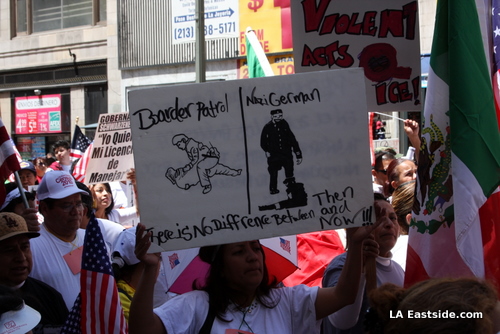 Border Patrol = Nazi German. Well made sign too!
Cesar Chavez was all over this march.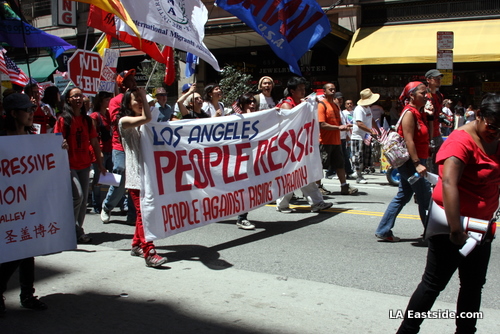 People do Resist rising tyranny.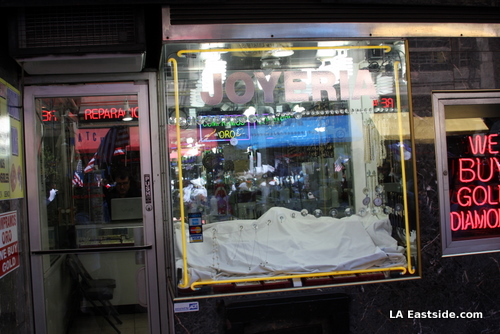 Jewelry store covered their wares with a blanket. Like I really want your crap gold.
Sure, why not?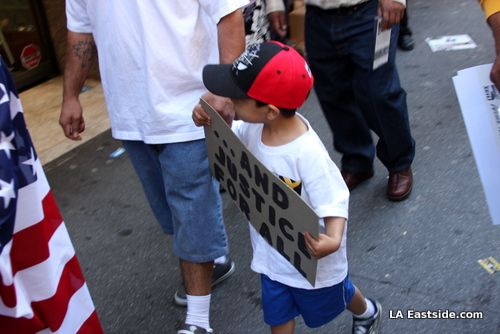 Youngster into Justice for all. Soon he will see there's no such thing.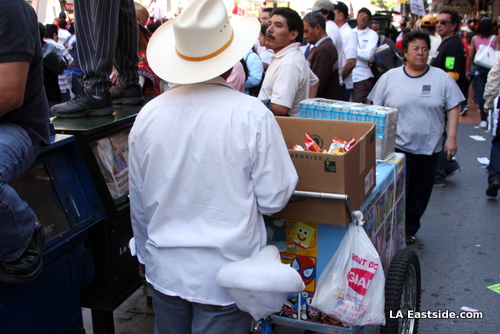 Paletero man with an improvised bike cart. LA paleteros are not as lazy as the bay area ones.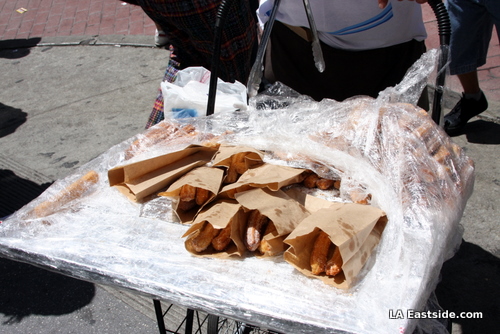 Churro man with some pre-bagged dough sticks. I should have bought some, but I strangely didn't consume a single thing. Chilaquiles hold a power that lasts!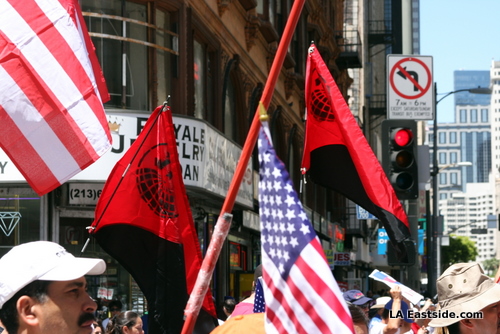 IWW in the streets!
Jesus was a topic of discussion, on signs and theater marquees.
The popular bacon wrapped hot dog also came out to support workers and immigrants.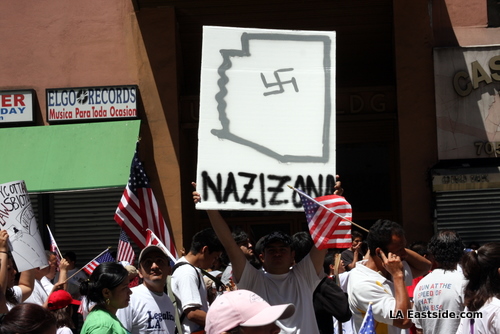 Nazizona. Clear enough.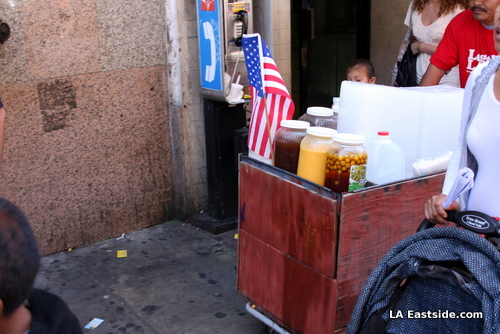 Raspado guy with the biggest chunk of ice I've ever seen.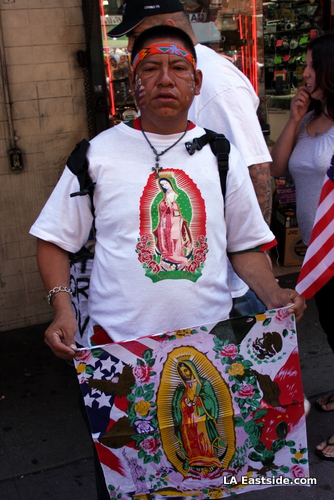 I was taking a pic of something else and he decided he wanted to be in the shot.
The candy apple-ero.
With some chile coated candy apples! Mexicans love the chile.
La clase obrera no tiene fronteras! And look at the worker intimidating the boss. Awesome.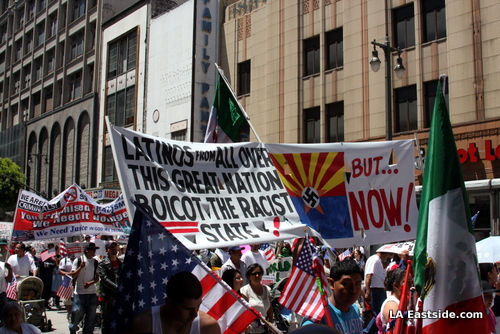 A call to all Latinos in this great nation.
The most serious raspado vendor ever.
At the end of the march, the RCP tried to rile up the few people that were paying attention. I heard something about their missing leader Bob Avakian. How can such a small group so single handedly make the concept of Revolution so boring?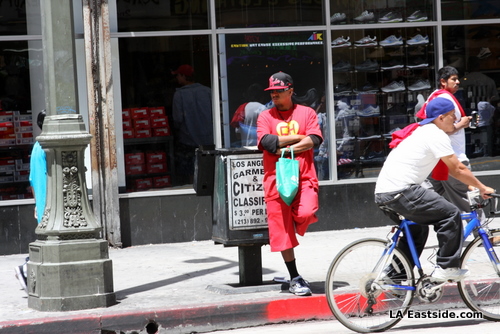 El Chapulin Colorado was not impressed.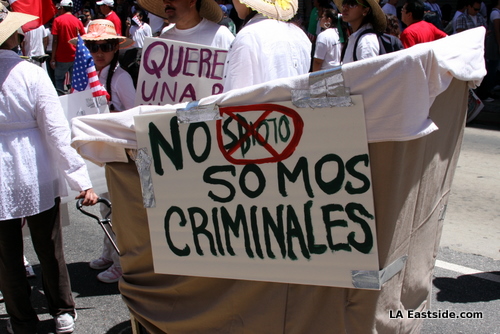 We are not criminals.
Dodger Fans Boycott on Facebook. I think this is the page. I'd say boycott the Dodger's just cuz baseball is boring!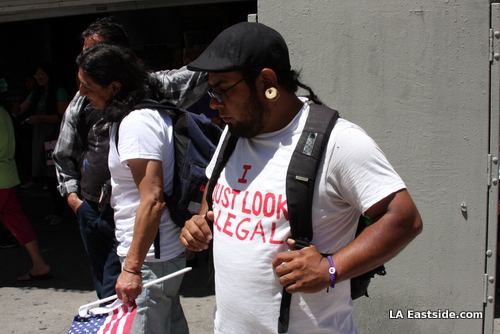 Contemplating the facebook boycott, a man that looks legal.
Y siguele con los weenies en tocino.
The Mayor on a t-shirt? Who would want to wear that? I bet they sold very few shirts.
Fuck Arpaio. He gets called out as a chavala on this sign.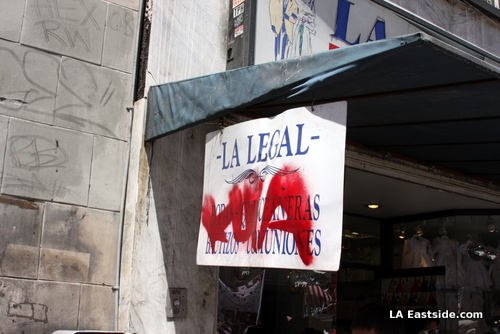 The shops on Broadway have their say on the situation.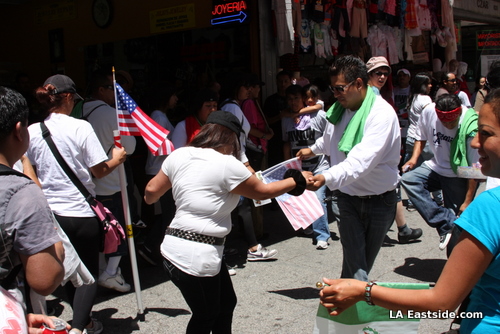 What's a protest without a bit of dancing?
Siempre en movimiento!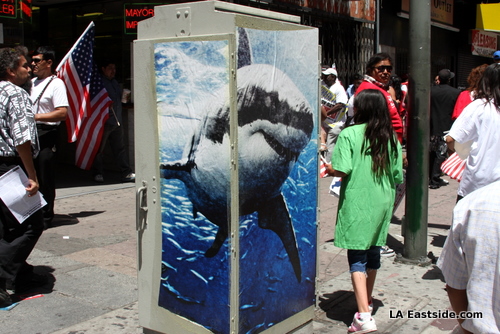 May Day Shark.
Some pamphlet promoting collective suicide. It would be a USC fan.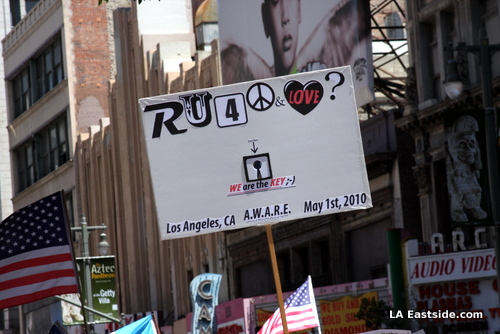 Are you for peace and love? It took me 6 minutes to solve this riddle.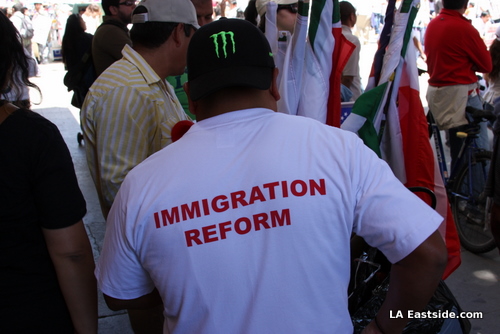 I am topical but undecided.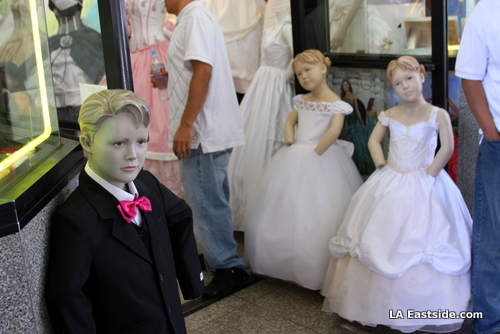 Canadians were trying to look like Americans, with mixed results.
Religio-nuts with a message that isn't very clear.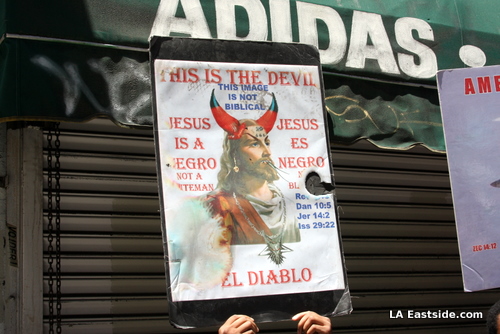 All I gather is that Jesus is the Devil. But we already knew that.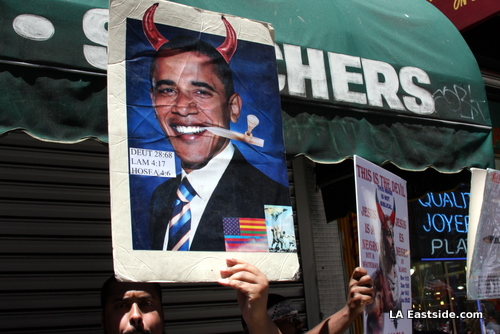 And the crack smoking Obama is too.
These two were on a collision course, neither would budge.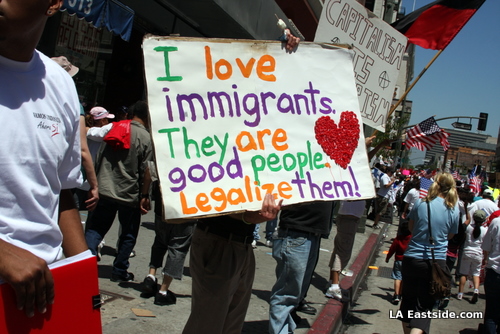 Macaroni adorned sign.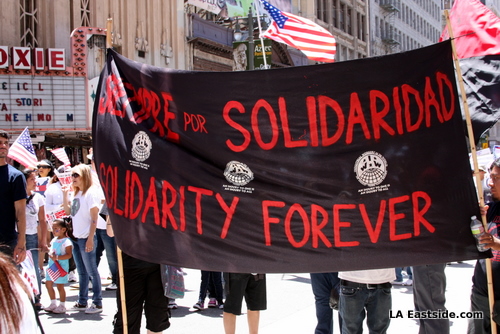 Solidarity Forever.
Some sort of impromptu lecture. Damn they are patient.
May Day is no excuse for not getting your regular dose of chi-chi mags.
Nieve de fresa to the rescue!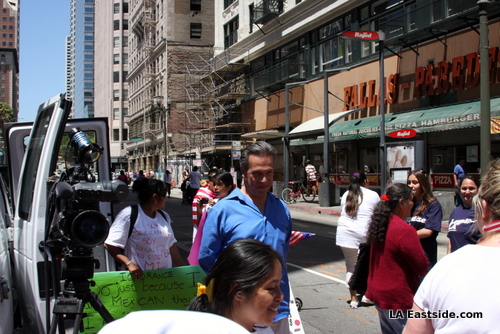 Univision reporter is all famous for a few minutes.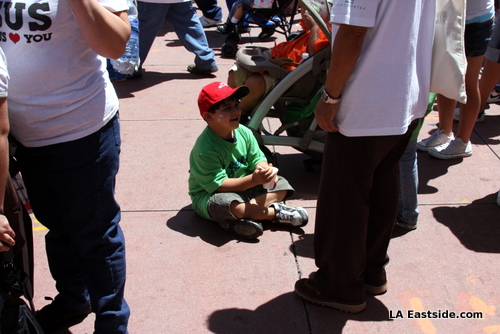 Oh oh, the kids are getting tired.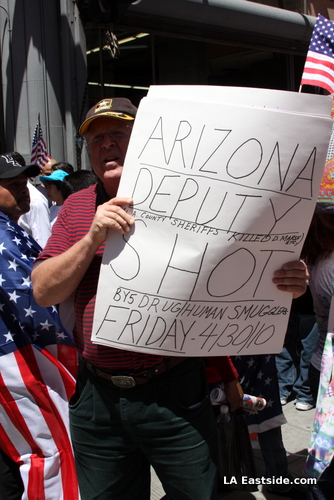 Some guy was strangely ecstatic about a deputy being shot. No word on how the Sheriff is doing.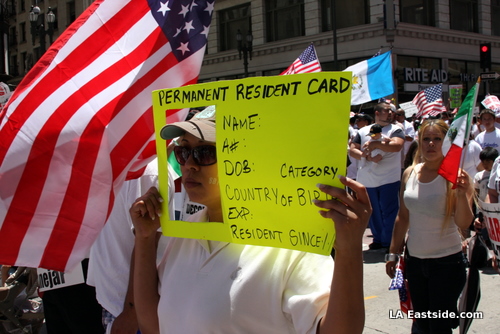 Interactive sign.
Hair styles of the 80s. For your mid-march reading enjoyment.
I liked these shirts.
An earth flag. Useful for when we go take over other planets.
Gelatinas for the people.
Ha ha! I'm sure that's exactly what many are thinking.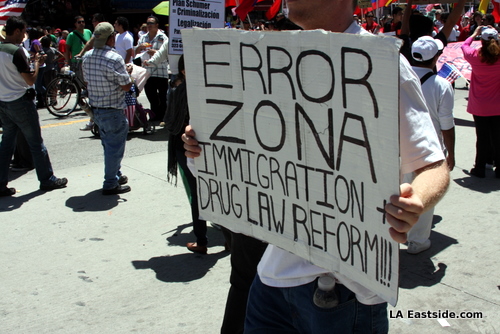 More Arizona bashing.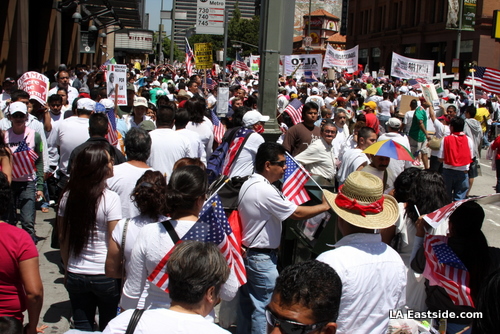 Although it wasn't as big as the anti-HR4437 from 2006, there was still quite a large turnout. I'd say more than 100,000 despite what the police are reporting.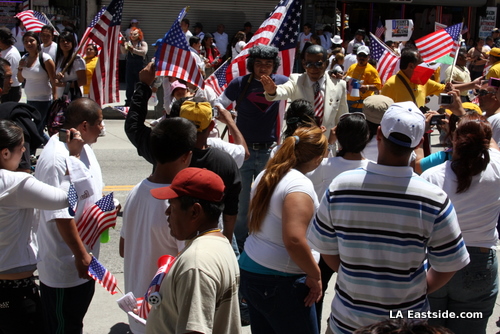 Everyone wanted to take their picture with Obama.
Caped crusaders aka Super Luchadores.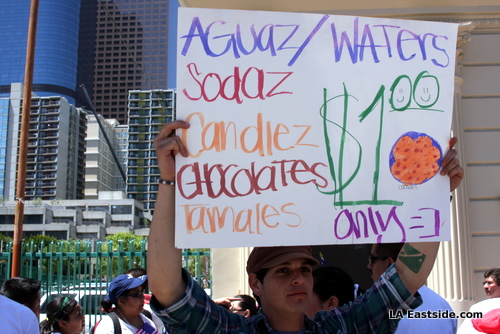 Oh wait, that's not a real sign!
I understand completely. I was starting to feel the same way, but I didn't bring my man sized stroller.
I took a seat under some shade and watched the march go by.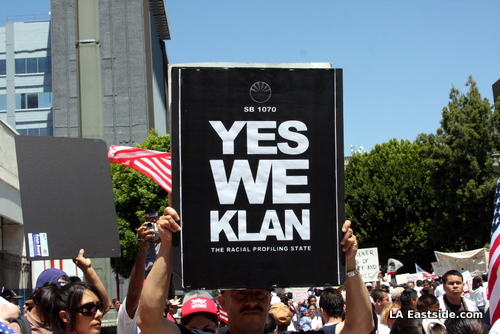 AZ, the racial profiling state. Catchy.
We will ignore the misspelling but the message is clear enough.
On on that happy note, it was time for some refreshments.
See ya' next year May Day!
Update! Bonus! Update! Pics I forgot!
Can you believe that with over 100 pics I still forgot to upload a few? I believe that I can be that stupid. But you'll never believe how lucky you are to get even more terrible photos! Ha ha, yer screwed.
Here we begin with the fotos i forgot.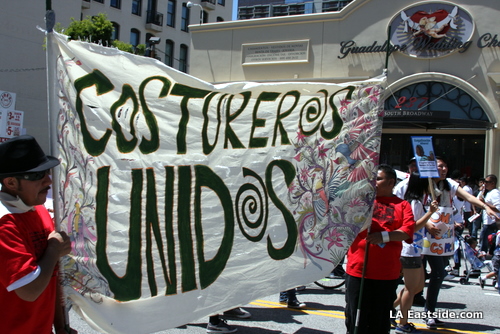 Of course the costureros would have a pretty sign.
An injury to one is an injury to all. A statement that reminds us of our class solidarity.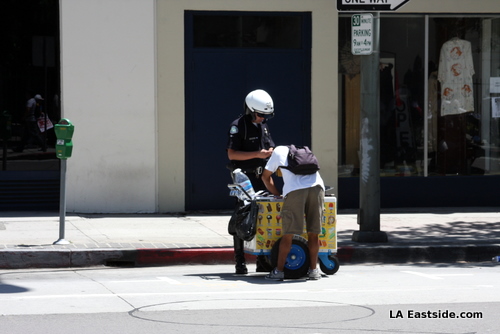 It was a warm day. Even the cops were buying paletas.
AM radio might not be the place for well reasoned discourse.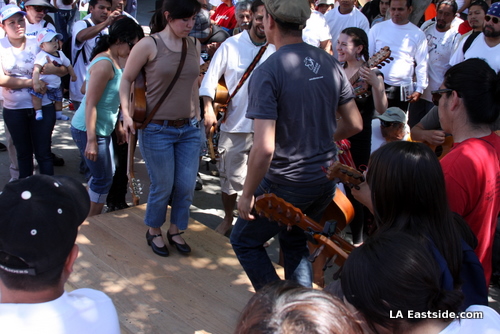 Am impromptu zapateado, in the style of the Veracruz.
Our gabacho brothers stood up for our rights!
I love these shirts, though I don't have the courage to wear one.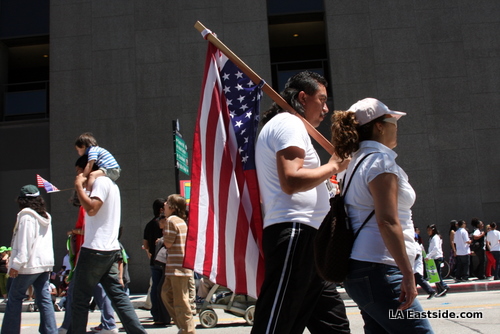 Even the mullet wearing Mexicans were up for a May Day march.
Solidarity amongst the others.
Someone said this was Martin Sheen. Whatever.
City hall as viewed from a crowd of others.
Shadows with a message.
Some bigoton hides his bigotes.
I want my license to drive. Weird that this is no longer an issue, considering that it hasn't been solved.
A representation of an alien.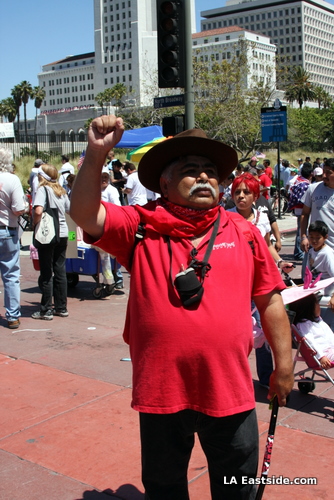 The fist of determination.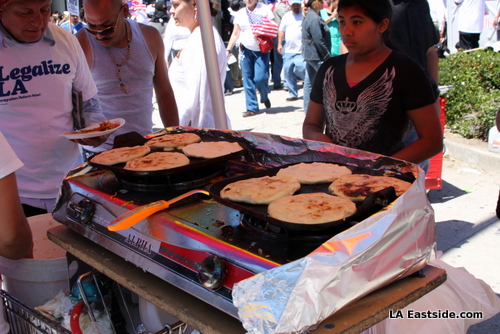 Pupusa making in progress.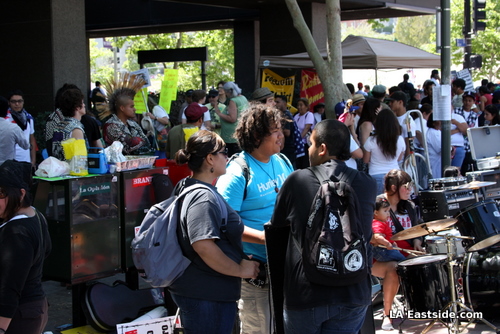 For some reason the punk show had been canceled. Lack of permits or some sort of similar excuse.
Orange Juice-ero en chinga to get his next stash of oranges.