Hey my people – I been on the food blog tip lately, and today I present a good spot for all you marisco lovers. Mariscos 4 Vientos is a food establishment located on the Eastside. This spot is interesting mainly because there are about five, 4 Vientos locations within  blocks of each other. Why? I am not sure, but I am guessing it is because the crowds of people that go get their marisco fix daily.
More after the jump
My first encounter with this spot was a few years ago when a homie introduced me to this "marisco truck." He claimed it was a secret spot for bomb ceviche and cocteles de camaron. The truck was parked on the side street part of Evergreen and Olympic between a few warehouses. He had mentioned to me that the other truck which was down the street on Olympic was not as good, even though it was the same 4 Vientos,. So for about a year, I would just get my cocteles at the truck, and eat it on a warehouse dock half a block away. As you know, if you buy from a lonchera you got to find a spot to sit and eat just about anywhere. The spot was not seeming too secret because it was so crowded with long lines. I started to see people I knew hitting the spot as well. Then when I finally read a blog review for this spot, I knew it was more popular then he assumed.
Like a year ago I even invited a famous journalist and Eastside blogger to try out the truck. I told him I would blog about it back then, but lagged it after I seen it had a great review on LA Taco written by OxDx ,who also considered it his secret spot. I was like ehhh why bother, but I decided to do so now because I discovered a different side to 4 Vientos.
2009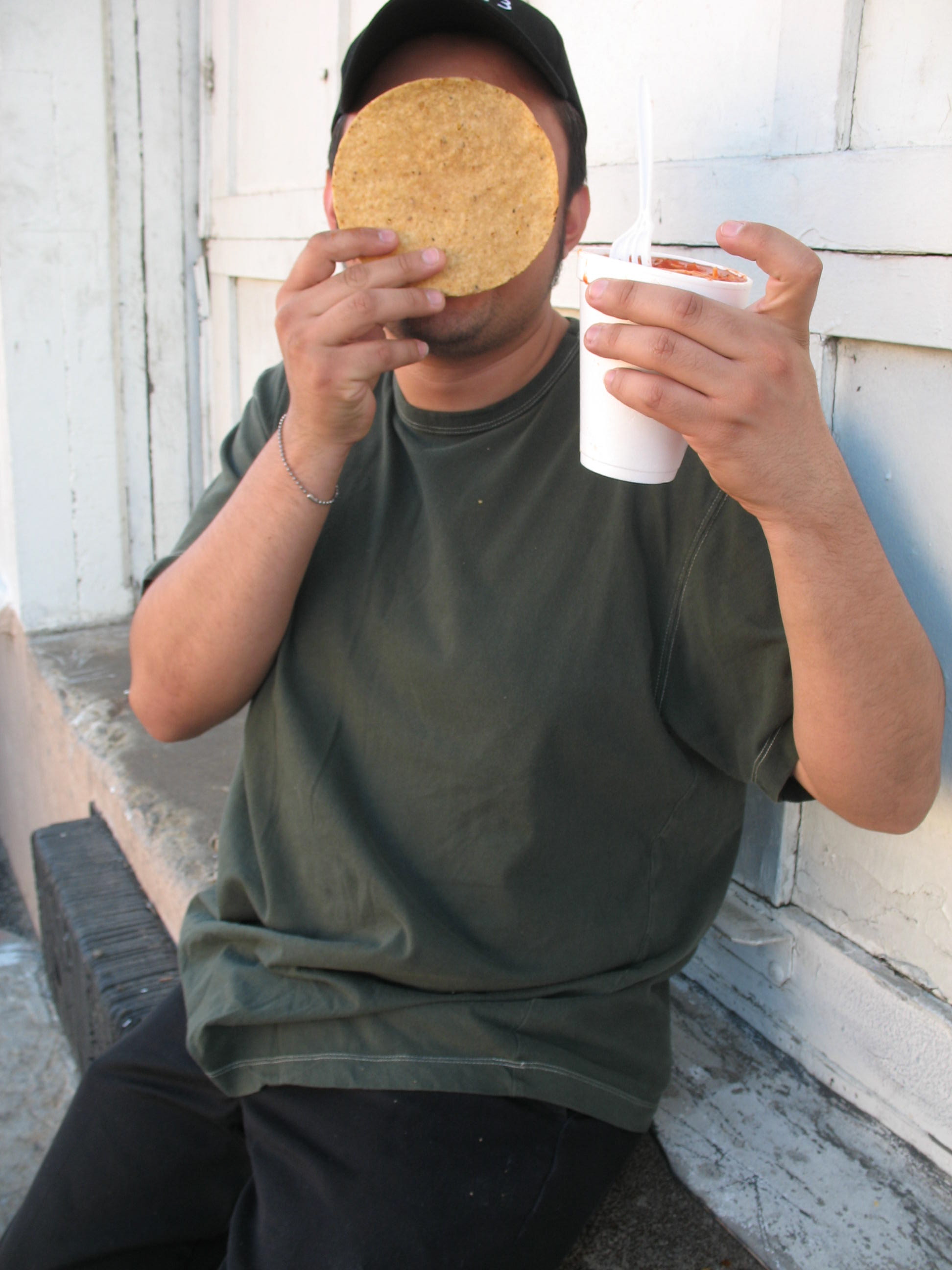 Famous journalist
This fried shrimp taco is a specialty of 4 Vientos, it really makes this place stand out, they are so good! And the salsa they put on top is wonderful, a mix of chiles, tomatoes and pescado.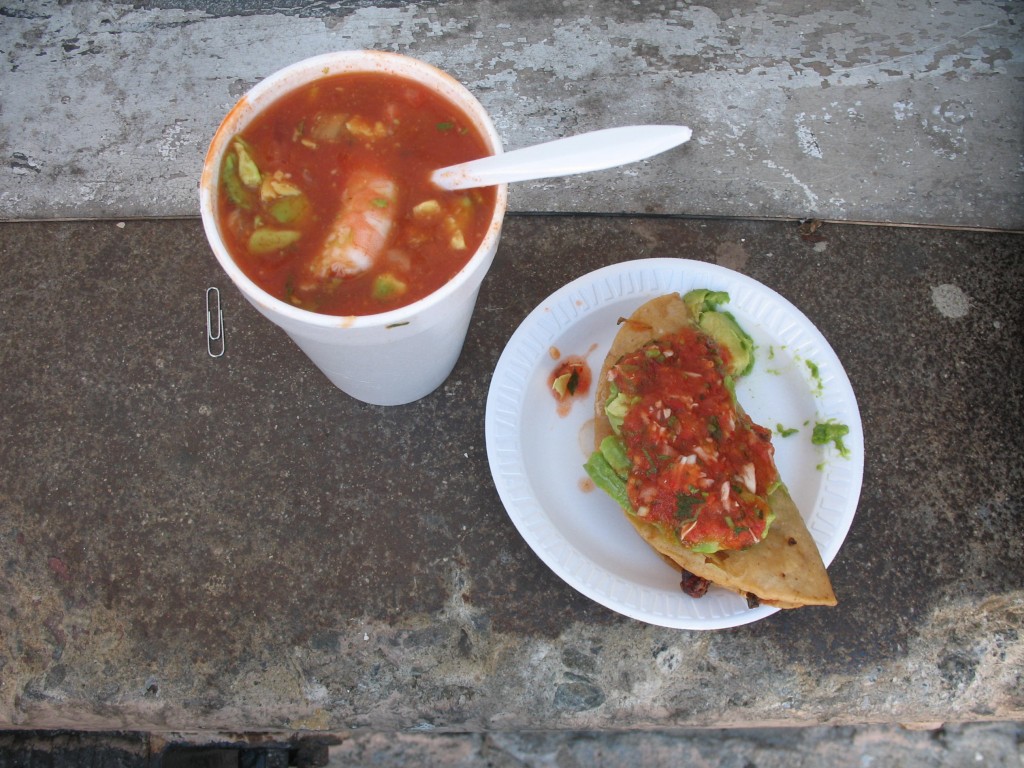 If you eat at the lonchera, please say "to go" instead "para aqui" it is just a better deal.
About two months ago I was invited to eat at 4 Vientos by a few friends. When they first mentioned eating there, I really had no idea what they were talking about. I had never bothered to learn the name of the truck, I would just refer to it as the "marisco truck with the bomb ass cocteles." After talking about it, I realized we were going to the same area, but instead of eating at the lonchera we went to the actual sit down restaurant a few blocks away on Olympic and Lorena.  Once we drove down to that spot, it was still confusing because there are actually two 4 Vientos right across the street from each other on Olympic and Lorena! Of course we went to the one who sold beer.
The little restaurant is indoor/outdoor, but most people sit outside in the quaint patio surrounded by palm tree umbrellas. The first time I went it was a weekday which was better in a sense because it was not as crowded.  If you decide to go on a weekend be prepared for long lines but it is worth it once you get seated and enjoy the atmosphere. Tamborazo music fills your ears as you munch away on your tostada de ceviche. There are also mariachis and single senores singing tunes of your favorite ranchera.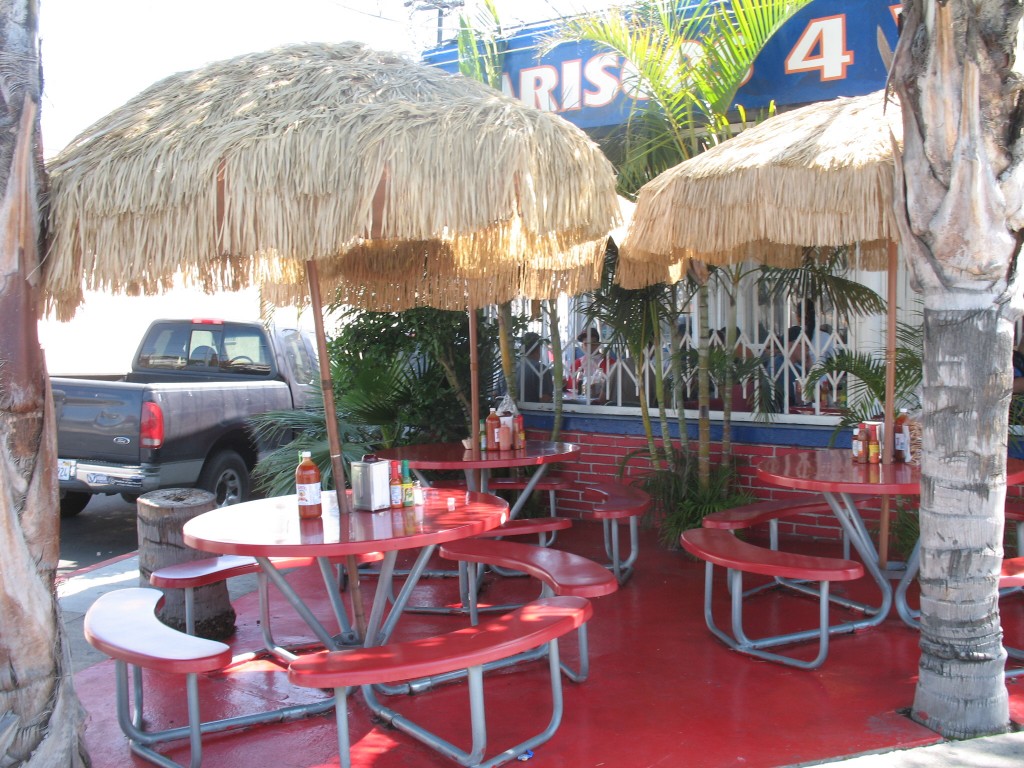 Below the "Cerveza Preparada"  contains Tapatio, Clamato, and limon topped with pulpo and shrimp – it is so good.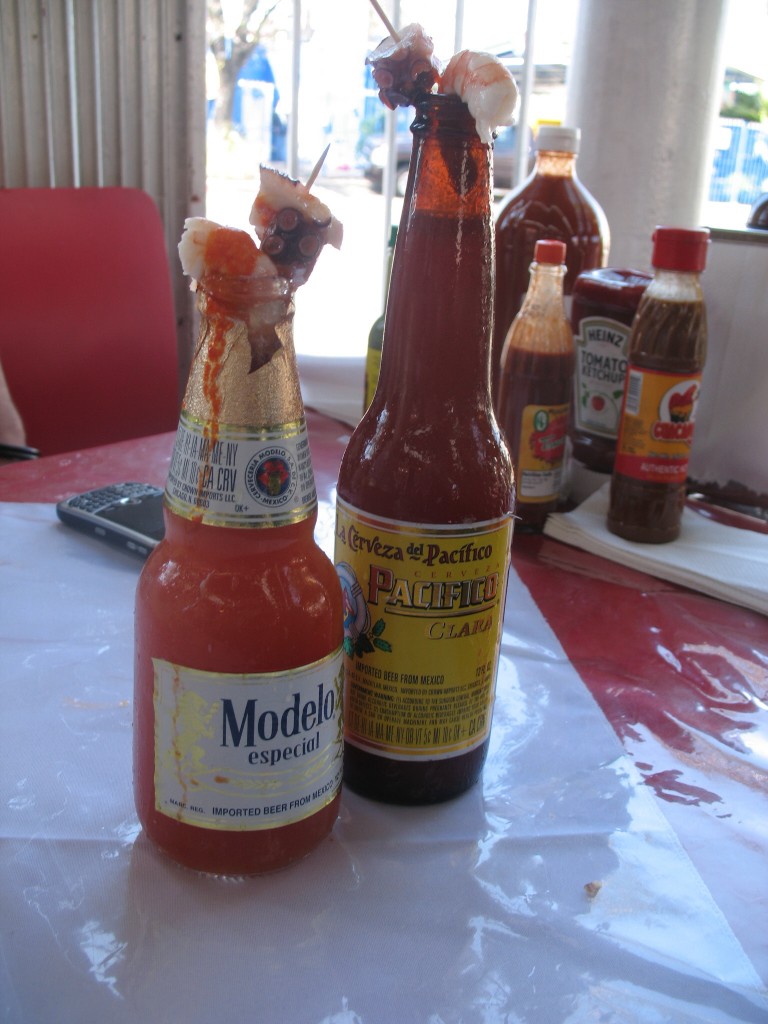 It was my first time trying oysters that I can remember, but I really liked them. Next time I hope to find a pearl.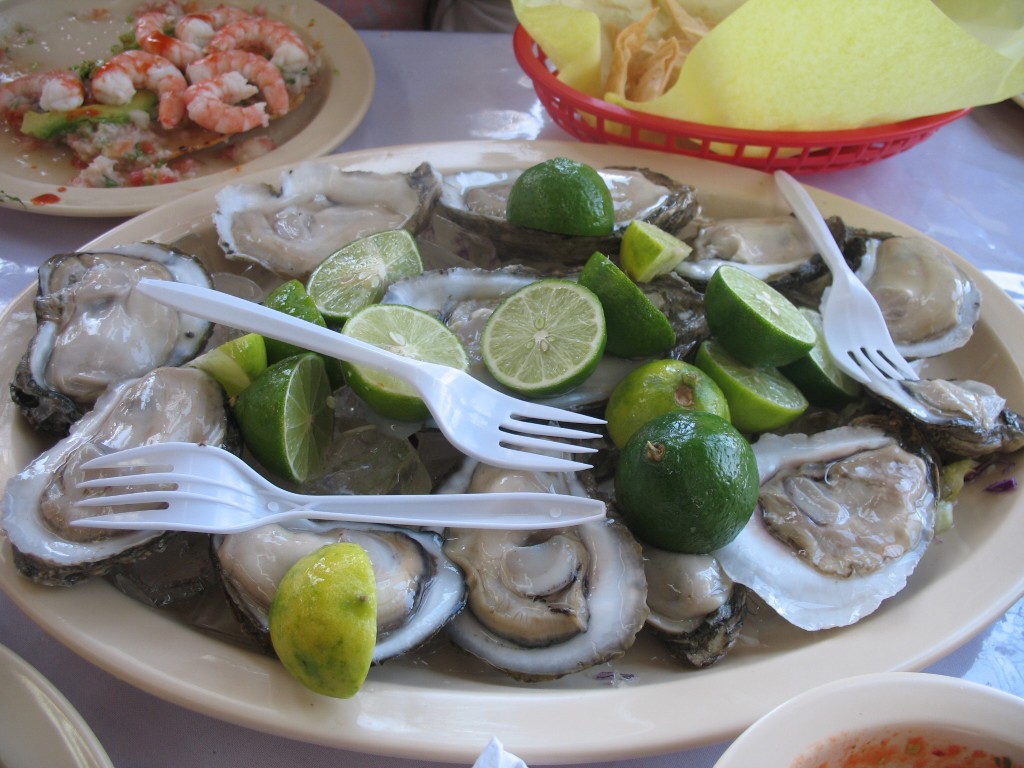 You got to hook up your oyster with some lemon, sal, Tapatio, salsa, beer, or what ever you like!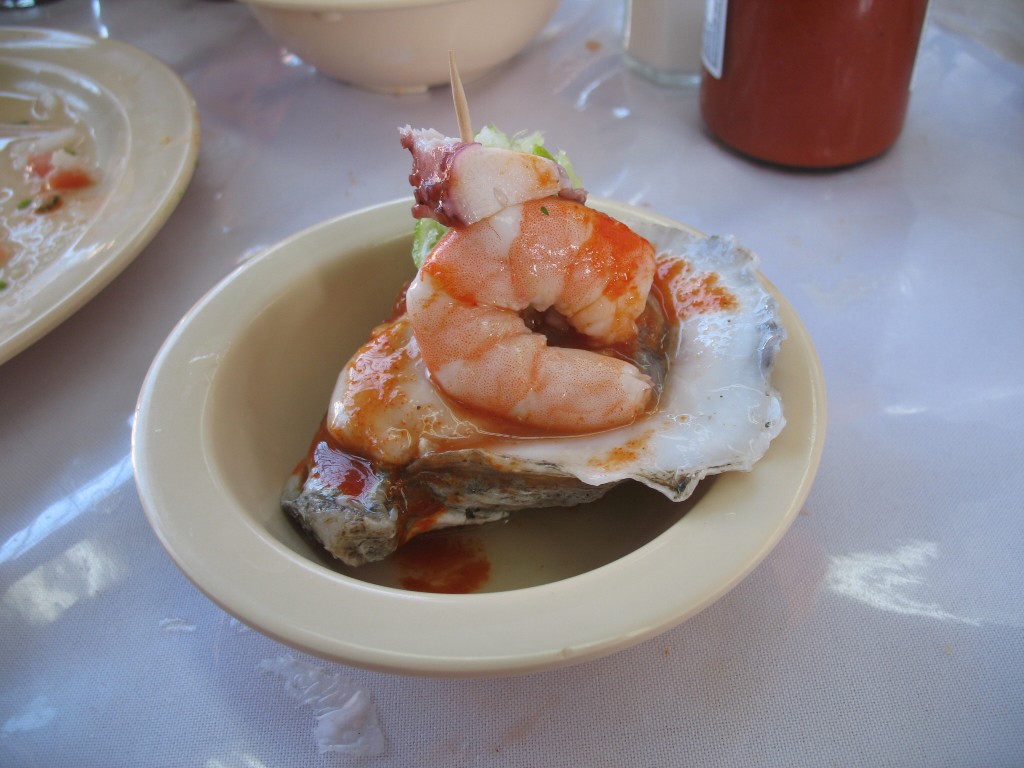 —————————————————————————————————-
Below the first tostada is agua chili roja which is shrimp marinated in a red chile sauce. This one definitely became my favorite.  There is an agua chili verde which I also tried, but it was way too spicy even for me, so I prefer this one.
——————————————————————————————–
My lovely friend really enjoyed her ceviche de pescado.
————————————————————————————————–
Shrimp Ceviche
———————————————————————————
The campechana's are very generous, they hook you up with lots of shrimp, oysters, and octopus. They def don't skimp out on the food here.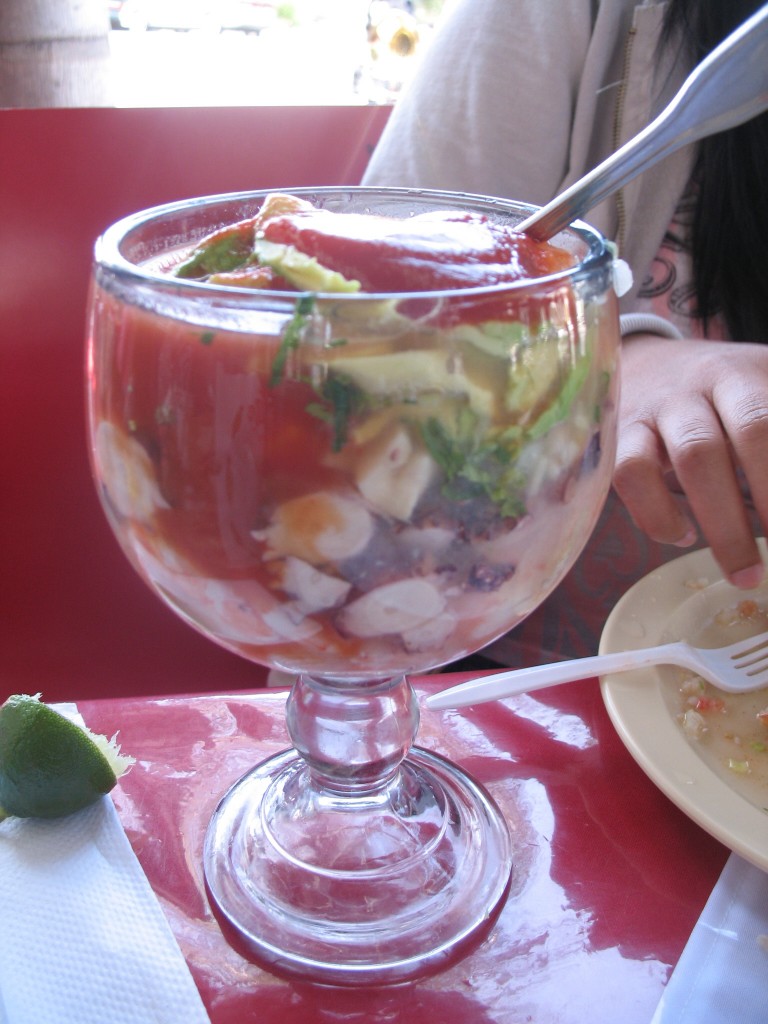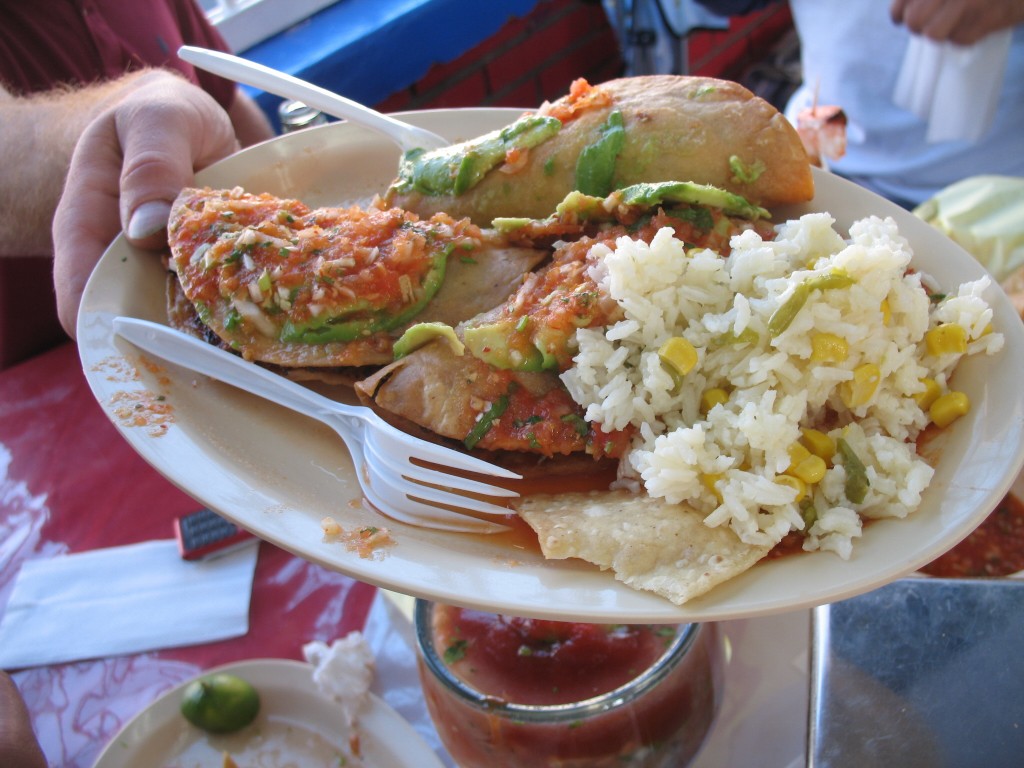 More fried shrimp tacos and rice
————————————————————————————————–
My other favorite is the "Tacos de Pescado estillo Ensenada" breaded fish topped with a mayo sauce, onions, tomatoes, cilantro and shredded cabbage. Throw some limon and Tapatio on there and you are set!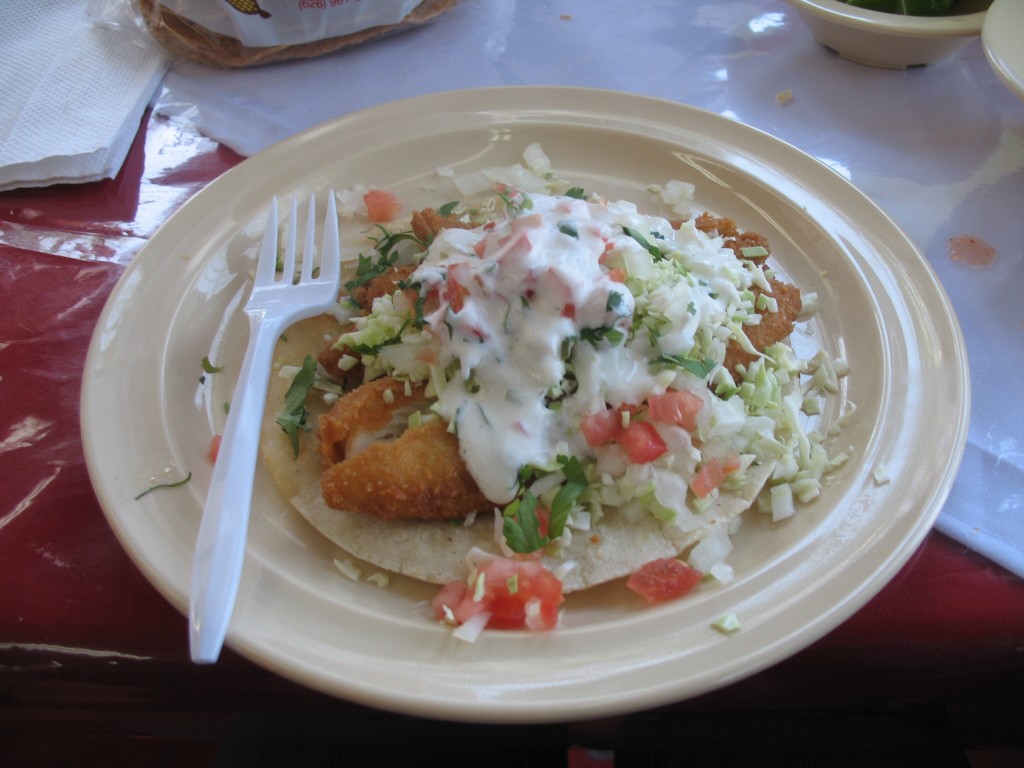 I grew up near the ocean and been to many marisco places but this Eastside spot is definitely on top of the list.
Just to break it down again, there are 5 locations on Olympic. First, on Olympic and Evergreen there are two trucks and a restaurant on the corner, a few blocks down is Olympic and Lorena and the two remaining restaurants. They all should be pretty much the same except the one we went to is the only one that sells beer. The best part is, the prices are cheap! Probably the cheapest I've seen for mariscos ever. There are food like combination plates, mojarra fish, caldos and more.
Hope you enjoy,
Alrato
Doña Junta
Mariscos 4 Vientos
3332 E. Olympic Blvd
Los Angeles, CA 90023
(323) 269-3605