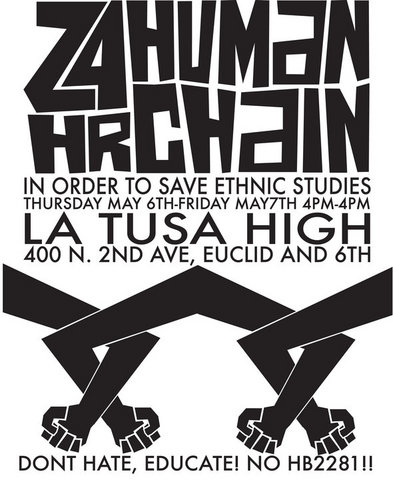 Cultural and Ethnic studies classes are under attack by the same forces
behind the current immigration laws. HB 2281 has been passed and signed by
governor Jan Brewer and is intended to eliminate Ethnic Studies within
Arizona's public schools. In opposition to HB 2281 the students are
organizing a 24 HOUR VIGIL and HUMAN CHAIN on May 6 – 7 from 4PM to 4PM. We
need all the support we can get from the community to counter these attacks
on culture and education. These are ways to help contribute:
– Food donations
– Candles
– White shirts
– Contribute Time shifts
Please Email   MEzology@gmail. com for more information
From The Social Justice Education Project
Call to Action,
There have been two legislative bills introduced with intentions of not only
eliminating ethnic/raza studies but also eliminating non-citizen children from
our public schools. Both of the legislative bills are supported by Arizona
senate and house representatives who have never placed themselves in
ethnic/raza studies classrooms. They are straightforward blatantly hateful and
intentionally discriminatory to all Latinos/Chican@s regardless of citizenship
status.
HB 2281 (bill attacking ethnic/raza studies) states that any course, class,
instruction, or material may not be primarily designed for pupils of a
particular ethnic group as determined by the State Superintendent of
Instruction. State aid will be withheld from any school district or charter
school that does not comply.
SB 1097 (bill attacking non-citizen students) states that the Department of
Education will collect data on school districts' populations of non-citizen
students and their identities. Data will include research on impact of
non-citizen students' enrollment, and cost to taxpayers per non-citizen
student. Based on these data reports the State Superintendent of Instruction
can withhold state aid for those non-citizen students.
As several of us may already know, Arizona's State Superintendent of
Instruction, Tom Horne, has come out publicly in support of
legislation similar
to this and may very well be behind these two bills. The legislative bills can
be found online here:
http://azleg.gov/formatdocument.asp?indoc=/legtext/49leg/2r/bills/hb2281p.htm
http://azleg.gov/formatdocument.asp?indoc=/legtext/49leg/2r/bills/sb1097p.htm
For those of you sincerely concerned about the right to a quality and
significant education for all students please take a moment of your time to
contact members of the senate and house in protest of these bills and share
this email.
Russell Pearce
(602) 926-5760
Pamela Gorman
(602) 926-5284
Steve B. Montenegro
Phone Number: (602) 926-5955
Frank Antenori
(602) 926-5683
Doris Goodale
(602) 926-5408
Jerry Weiers
(602) 926-5894
David Gowan
(602) 926-3312
David W. Stevens
(602) 926-4321
Judy M. Burges
(602) 926-5861