For a long while, I've been questioning the intended efficacy of public protests. I often wonder if the days of marching and holding signs and the persuasive effect they used to have on those in power is long gone. Public protests still serve a purpose though, they create a sense of solidarity with other like-minded folks, walking on empty streets with thousands of other people is an interesting way to take in the city, creative sign slogans are entertaining and inspiring, and protests can sometimes turn into riots. With these things in mind, I headed Downtown this weekend for the Anti-Nazi Protest with a Bay Area friend in-tow. I wanted him to experience Los Angeles style oppositional politics, a sorta intro to "This is how we do it."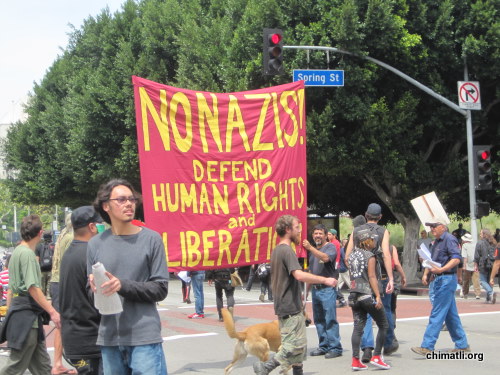 Some crowd shots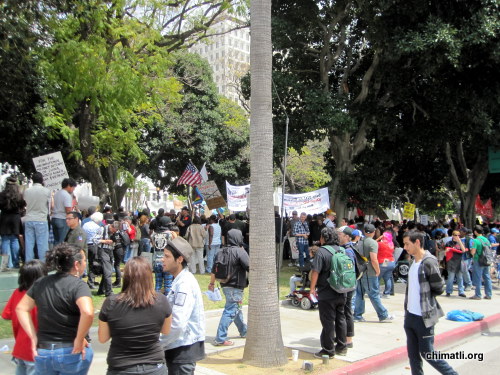 We arrived early and the Nazis hadn't shown up yet but the cops were there, bunches and bunches of them. Walking to the protest, a Chicana in a car yelled to me "Are you going to the protest? Be careful cause the cops have tons of plastic bracelets to arrest people." I heard one cop talking on a walkie-talkie saying "There couldn't be a more perfect day for this" with a big smile on his face. Oh yeah, you're all getting paid overtime while our local libraries and parks are cutting hours and staff because the city needs the funds to pay the unwarranted massive police presence (80% of the city budget goes to fire and police). Must be nice.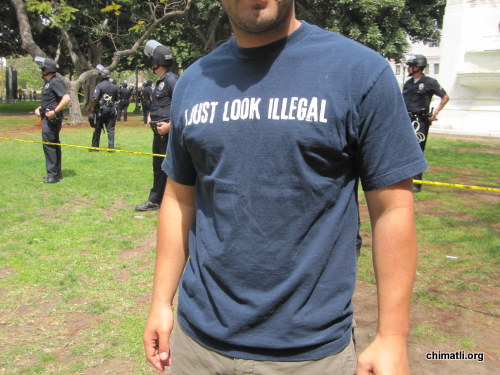 "I just look illegal" – I loved this guy's shirt. I wonder if they're available in Arizona?
Haha, he's sagging
Awesome!
I thought these guys might be some Nazi provocateurs but I think they were undercover cops.
Wins fanciest-banner-of-the-day award
Before the Nazis arrived, there were some scuffles and protesters ran from one end of the action to the other as a couple of maybe-Nazis were recipients of overzealous street justice. The cops charged into the crowd in riot line formation, very military like. After a bit, everyone dispersed and started getting antsy again waiting for the jerks to arrive. To pass the time my (White) friend made a sign to try to bring some humor to the afternoon. It read: "Dad, quit being a Nazi – you're embarrassing me in front of my friends." Some folks got it, some were offended, most laughed and a few folks actually believed him. One lady was so taken by the idea of a son protesting his Nazi father she made up a song and sang it to him right on the spot.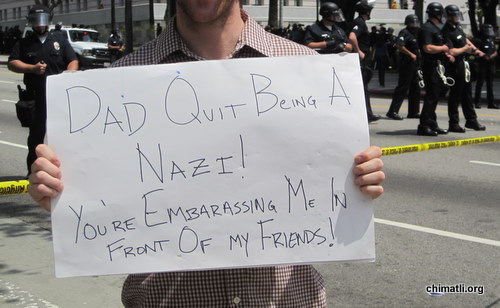 My friend's nervous-chuckle inducing sign
The Nazis arrive. You can barely see them as there is a huge perimeter between them and us.
Soon after, a guy ran through the crowd like Paul Revere yelling  "They're here, they're here!" A couple of minutes later, lots of 'boos' could be heard and way off in the distance behind three or four lines of cops, about 20-30 Nazis marched to the south side of City Hall waving big, ridiculous Nazi flags that were an amalgamation of the stars and stripes, swastikas and some other crap symbolic to these losers. The protester crowds rushed to greet them from behind the police tape, yelling all sorts of chants – some familiar and some that hardly made sense i.e. what the hell does Haiti have to do with Nazis? It helps to focus on the issues at hand.
Why does she have her badge number covered? Hmmm…
The pasty, I mean paltry group of racists brought out a PA system and started shouting some obviously stupid things but could barely be heard above the cacophony of protesters.  One bloated skinhead looking dude tried to taunt us by waving his super-sized swastika flag back and forth in front of the crowd. How tough can you look when you got a thousand cops protecting you? After a half an hour or so standing at the frontlines, the cops were being told to turn their batons out, in a threatening stance to face the protesters. For what? To be ready to strike at our tender bellies? Uh, we're not the ones who started World War Two! This kind of action is a good example of how upside-down our world has become. It also makes one wonder, who's on whose side?
Big guy with the swastika flag trying to instigate.
Police being told to turn their batons to a more aggressive position
It seemed I'd gotten the gist of the protest and I wanted to leave before those plastic bracelets got put into use, so we spent the rest of the afternoon wandering around Downtown streets. Later in the day at the 5th street subway station, a punk girl on a bike told me the Nazis got pelted with rocks and bottles while trying to leave the rally. It's nice to be able to end this account with a happy ending.
While in Downtown I spotted…
Nice bike with portable radio on handle-bars
Multi-generational edifices

Interesting video by Hood News of the Anti-Nazi Protest Rally.