The torta has got to be one of the most unappreciated cheap Mexican fast foods around, the lonely and homely half-sister to that king taco that gets all the attention.  How can a mere sandwich even begin to measure up to glory that is the taco? Still, little Miss Torta has her own charms. Sometimes the Torta is exactly the one you want to do. I have a few favorite spots where the torta is the only item I want to put in my mouth. (Hmm, that sounds funny.) But I figured it was time to venture away from the known and try a few other places, see how their so-called tortas stack up. Someone needs to start the Great Torta Hunt to kick off an appreciation of our most favorite utilitarian sandwich.
I took a few notes and pics of some recent examples across our city, for what little its worth. Click ahead to see the State of the Modern Torta in Los Angeles.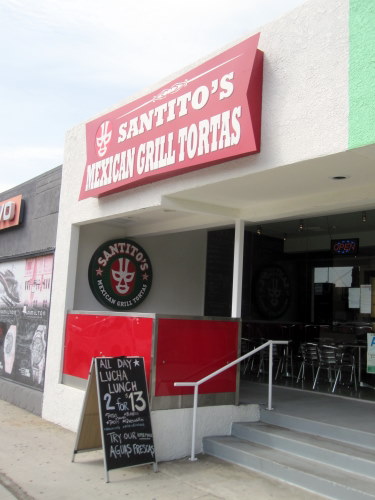 The real reason I considered considering tortas other than the ones I've known was a recent ad in the LA Weekly for this Santito's place on Melrose, that promised Mexican style tortas close to work. I had my doubts. The luchador icon made me think this place was a few years behind the times, cuz that icon is dead as a signifier of Mexican-ness. Yet the limited food options in the ghettoes of the wealthy makes one take unnecessary risks. Adventure in the pursuit of flavor!
They have a veggie torta, just 15¢ shy of 8 dollars. Let's just call it an $8 torta.
I think the chips and salsa are supposed to be extra, but the friendly staff gave us some anyways. The salsas were ok, but a bit too much on the mild side. I guess they know their intended clientele.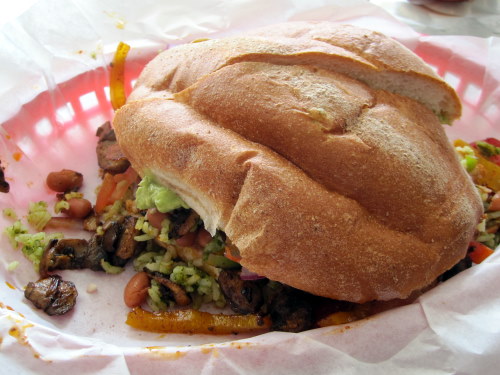 Well this I wasn't expecting: an ungrilled torta at the Mexican Grill Torta.  Just a plain old cut telera, like you can get from El Pavo.
Inside the ungrilled flat telera there was a wisp of beans, some "cilantro rice", and a mix of mushrooms and bell peppers. I don't want to diss on these well intentioned and friendly folks, but boy was this a boring torta. Mostly bread, not much filling. And at $8 I have a hard time finding reason to go back.
One of their side option is esquites. But they make theirs with canned sweet yellow corn. Not quite esquites.
And way over on the other side of town, in the thought-provoking region sometimes referred to as the Eastside, a new Torta-eria opens up. Driving by we were struck by their chosen name, and figured it wouldn't last too long once some corporate monster got wind of it.
Ha ha! A few other items also play on the name, plus the color scheme is familiar. I smell trouble.
And then I smelled a most wonderful torta, complete with avocado, queso fresco, beans, rice, lechuga, and salsa. And did you notice that it's grilled? Oh yeah! And they don't even use "grill" as part of their name.
We had to ask for this "sin carne" torta but even without mushrooms and bell peppers, they came up with something way better. Since it wasn't on the menu, they were obviously debating how much to charge. It was less than the normal $5.
I'm not going to give you their address cuz I don't think they understand the implications of their name. But if you see it as you are driving by, stop for a visit. It's worth your time and money.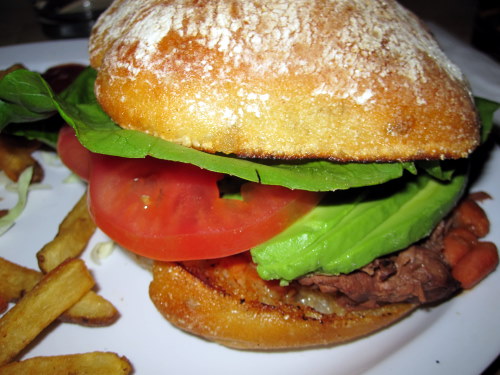 Another "torta" I've had a few times is the one at Pure Luck, a vegan restaurant in East Hollywood. It's a usually good imitation, stuffed with some seasoned jackfruit that pretends to be meat and some whole beans, on a hard "rustic bun". The $10 price tag is also hard to ignore, even with your choice of side. I mostly go here cuz its on the way home from work. And they have good beers on tap. But the quality of the dishes here seem to be steadily dipping, I'm gonna wait awhile before I go back. Tip: don't get the soups, they all taste the same.
Yet another decent imitation torta is the one at Veggie Grill, a chain of vegan restaurants that are surprisingly good. The filling is some fake carne asada that is quite decent, but the bun is some weak whole grain-ish type of roll that makes you want to laugh. After the giggles, you tend to hesitantly concur that the food is overall good, even though you wish you had a good reason to hate it. I couldn't find one good enough. Drats.
I consume the bulk of my veggie tortas at eateries that don't advertise their existence. But I'm going to keep those options to myself cuz I don't want you fucking things up for me. Get your own supplier! 😉
PS. I'm going to keep notes on tortas going forward, so expect an update sometime in the future.