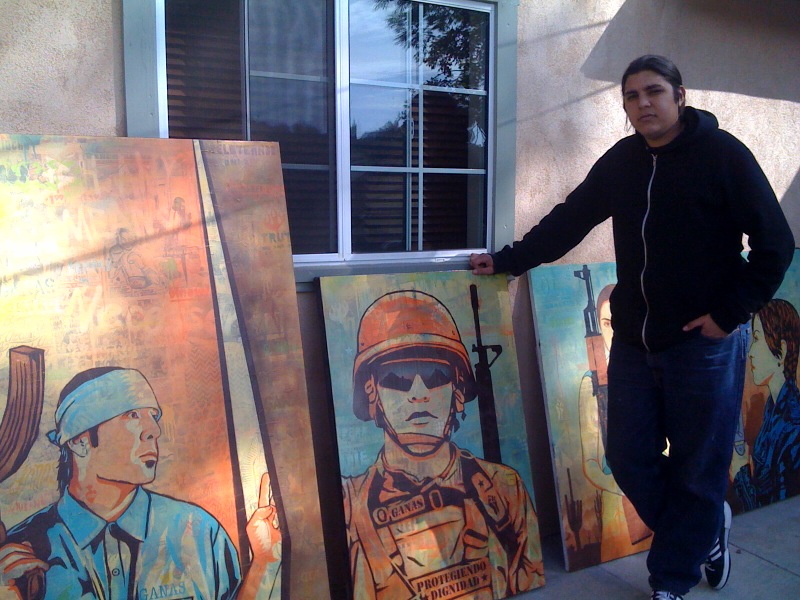 Ernesto Yerena has ganas. At 23 years old, he is garnering attention in the art world for his unique artistic style and in the Latino/a community for his involvement and advocacy for immigrants rights. His visual style incorporates vibrant colors, blending backgrounds, stencils of iconic figures like Fidel Castro, Cantinflas and Cesar Chavez. Yerena's work also highlights the cultural richness of the Latino/a community in his works by featuring everyday people like musicians. He's currently working on his latest piece of astronaut Jose Hernandez, commissioned for the Coalition for Humane Immigrant Rights of Los Angeles. Individuals Yerena admires because of the ganas they have to accomplish the great things they are recognized and known for. It's what pushes him to do what he loves and to continue to push his limits, his will to the next level, but Yerena admits that it isn't easy.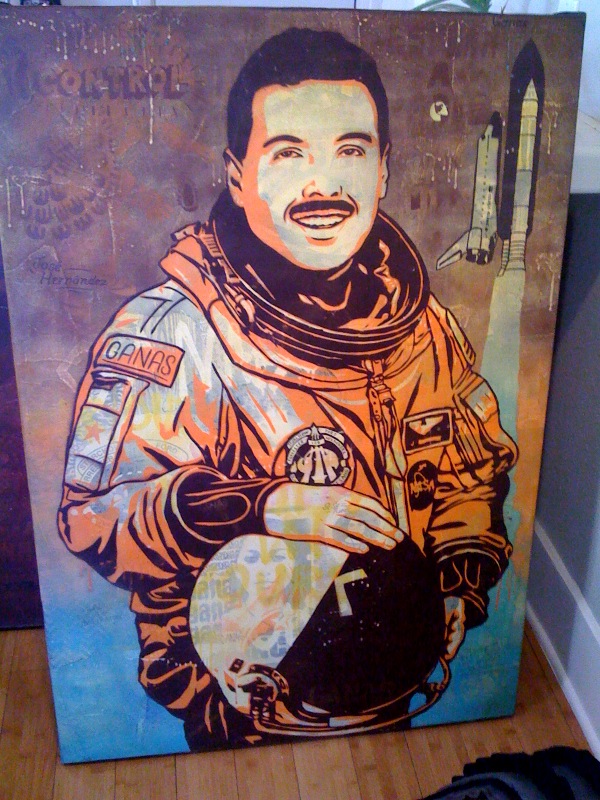 Growing up near the border, Yerena become aware of the differences between Mexico and the U.S. quickly. The social dynamics and customs of each country never escaped him, even when hanging out with his friends. He says that growing up, he held back at times because he didn't want to be made fun of for being too Mexican or too American. He wanted to find a balance between both worlds, saying it's a, "fine line back and forth." A line he was able to balance with advice from his dad, who helped instill the spirit of ganas in him. Yet, no matter how hard he tried, friends in Mexico would call him "pocho" for being able to speak English. His parents also nurtured and encouraged his artistic tendencies since he was two and picking up crayons and paper. Since then, Yerena has never stopped drawing, painting, cutting or creating on his computer. He's constantly moving like a river down stream.
During his formative years in high school, Yerena askwed from the mainstream as he started reading about Che, Castro and other revolutionary figures. Figures he idolized and found he had more in common with them than the ones being taught about in his classes. His attention was soon began to focus on the corruption of the U.S, how it oppresses people and the damage it causes. He became apathic and spent his time drawing, rather than paying attention in his classes. This caught the attention of a teacher, who he credits for helping him follow his artistic tendencies more seriously. By the time he graduated from high school he still wasn't sure what to , while at the same time his parents were pressuring him to continue on with school or to go find a job. Soon after, almost as if by chance he received a letter from the Art Institute and decided to check it out. If anything, just to get away from his current life said Yerena.
He admits that when he first visited the school he hated it. He didn't like it and was about to give until by chance, as he was leaving he saw a flyer for an event on campus with Shepard Fairey. A fan of his work, Yerena made the trip the next day to see Fairey with the sole intention of getting an internship with him and his company. He showed him his portfolio after the event, impressing Fairy with his works, which are visually influenced by him. Fairy gave him an internship on the spot, so long as he moved to Los Angeles. In 2006, he moved to Los Angeles after having spent some time in school in San Diego and transferring to an L.A. Campus. During his time with Fairy, he developed the "We are Human" campaign. Signs, shirts and stickers that are still used today at protest and marches. At the same time he was developing his body of works even more working side by side with Fairy and his company, meeting other L.A. Artist, forging his own path. His body of work continues to increase, now more so than before, working with Self Help Graphics and Art and continuing to build on his body of work for his first solo show later this year, "Ganas 2020."
The show will debut at the White Walls Gallery in San Fransisco in November of this year and it's one of the biggest projects Yerena has undertaken. He explains that the concept of the show is tied to the Latino/a, African American and any other community that is marginalized in our modern society. The show revolves around the essence of ganas and people taking control of their lives. He explains what his show is about through an analogy his father once said to him about how trainers at the circus keep elephants under control. He explains that the trainers domesticate elephants at a young age with a collar and chain around their necks, tied down to a post. For years the elephants live with the chains until it's ingrained in their psyche that the chains that hold them in place are part of who they are, an extension of their bodies He says that people have that same kind of mentality sometimes, that they have invisible chains holding them down, oppressing them and taking away their ganas. He wants people to realize that those chains are not there and they are free to do anything they want.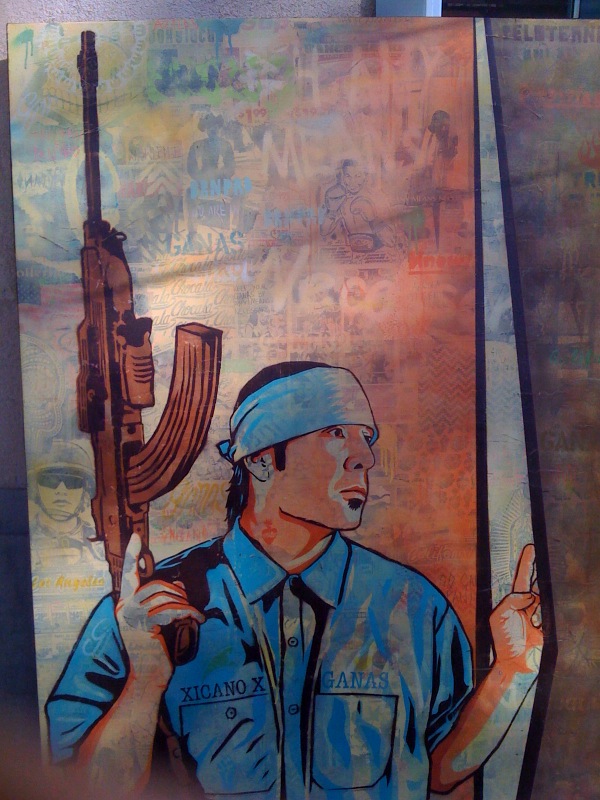 For his show, all of the art work will be based on scenes and individuals from a story Yerena wrote, in which communities all over the world learn to use their ganas to take back their communities, empower individuals and driving out corporate stores and corrupt politicians. All so they can create sustainability and educate others within their own communities in the span of 10 years. As the story progresses, people eventually stop using currency and instead replace it with their ganas, trading services and goods for things they need from community stores, becoming self reliant. Soon enough, big brother and the powers that be start noticing the success of these communities and plot to take away their ganas and make everything like it was before. They do this by attacking key leaders in the ganas movement, creating an army to fight them and trying to turn people against them by using the media. The story, for now, ends with the corporations in control of the people and taking their ganas away.
The main exhibition will be in San Fransisco, but intimate showings of the art work will be on view in Los Angeles, leading up to the opening. Yerena says that some of the locations in which he will exhibit the works include Antigua Coffee House in Cypress Park and Self Help Graphics and Art. Till then, Yerene continues to work on his solo show, donating his time and art here and there, protesting at rallies and keeping the spirit of ganas alive and well.