One thing we can all agree on. In this edition of the rundown I'm walking 18 miles, 40 years of Chicana/o History and other events that I won't be attending because I'm pretty sure I won't be doing much of anything after walking 18 miles. Anyone wanna give me a foot massage later ?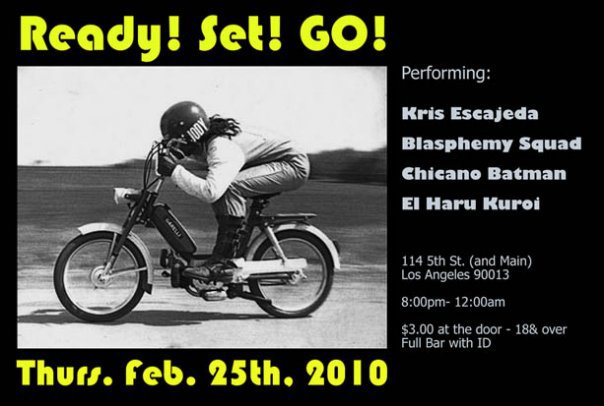 I love Chicano Batman and not just because of their name. They tear it up live and so does El Haru Kuroi.
Friday February 26
Los Angeles Critical Mass
Meet at Wilshire and Western Metro Station 6:30pm
Ride at 7:30pm sharp
Los Angeles Critical Mass rides through the city of Los Angeles, exerting our right under California Law to ride bicycles on the street. This is a easy-paced ride. Be Courteous to Drivers. We ride to have fun. We ride to eliminate the hate against bicyclists. Fixed-gear fast riders are encouraged to cork intersections then ride up to the front of the pack and cork again.
Though LAPD has been mostly tolerant of our rides, we don't want to provoke them. Since this is a night ride, you might want to get a rear red blinking light and a front white blinking light. If they (LAPD) tell us to stop at the red lights, we should stop. When they drive off, we can resort back to our old LA Critical Mass ways.
USC riders meet at Tommy Trojan 6:00pm, Ride to LACM at 6:30pm.
UCLA riders meet at the Bruin Bear 6:00pm, ride to LACM at 6:30pm
Westside/Culver City/Mar Vista/Palms riders meet at Crank Mob park (Venice Blvd and Canfield Ave)
6:00pm, ride to LACM at 6:30pm
818: Meet at Noho Station 6:30pm and ride Redline down to Vermont and Wilshire. Then ride to Wilshire and Western.
Glendale riders: Meet at Rally's (Brand Blvd and San Fernando Rd) 6:00pm, ride to LACM between 6:30 and 7pm.
Eastside, please use the Metro Gold Line, Blue Line and Red Line to get to the Wilshire and Western Metro station.
Find and Follow LACM on Twitter: http://twitter.com/LosAngelesCM
Saturday February 27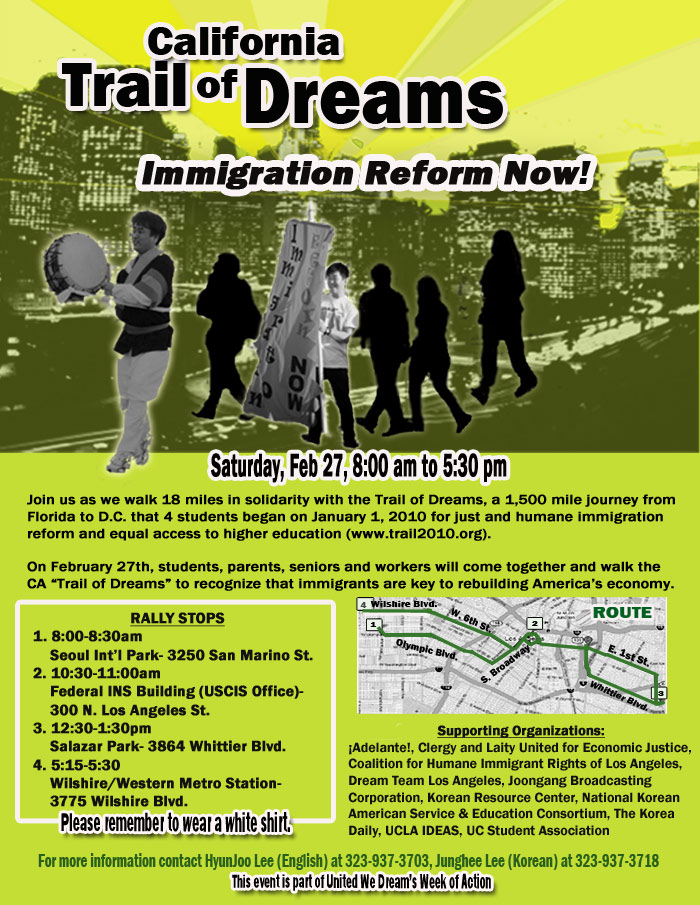 For the last few weeks I have been helping and doing what I could in helping make this walk happen. Spear headed by the Korean Resource Center, this Saturday I will be walking 18 miles in solidarity with four students walking 1,500 miles from Florida to Washington for the DREAM Act and immigration reform. Just this past week the walkers ran into some klans men who shouted idiotic things. Pendejos. Come by Salazar Park and walk with us through the East Los leg of it and join us. We will be walking through all of Whittier and through 1st street. You won't be disappointed. You can give me a foot rub 🙂
Sunday February 28
The 40th Anniversary Commemoration Committee of the Chicano Moratorium Presents:
February, 28 1970 5,000 Chicanos Marched In Rain to "Bring Our Carnales Home" From War in Vietnam Raza filmmakers made a documentary of it that rallied the Movimiento nationwide to say "Chale No, We Won't Go!"
40 Years Later, What About Now?
See the historic film and discuss the Issues
February 28, 2010 2pm at Salazar Park Hall
3864 Whittier Blvd (East) L.A. 90023
Join Panelists
Gloria Arellanes: Chicano Moratorium and Brown Beret leader 1970
Ana Rosa Rizo Mayor of Maywood/peace and justice activist
David Sanchez Prime Minister of Brown Berets 1970
Jesus Trevino Award winning filmmaker & Vietnam War conscientious objector
Moderator Rosalio Munoz 70's moratorium leader/director Latinos For Peace
For information: chicano.moratorium@gmail.com tel 323-229-1994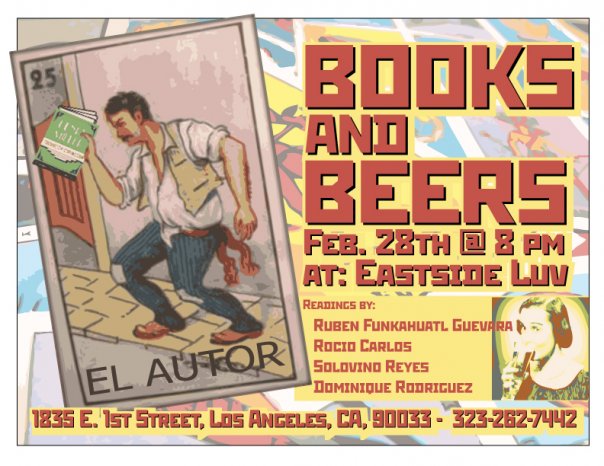 Not all drunks are created writers, some have to work very hard at it. Come listen to local authors read some original works.
Ruben Funkahuatl Guevarra
Rocio Carlos
Solovino Reyes
Dominique Rodriguez
The authors will have their books available for purchase and the bar tender will be pouring proper drink specials.
21 & over. No cover.
Eastside Luv Wine Bar
1835 East 1st Street
Los Angeles, CA 90033-3410
(323) 262-7442
Monday March 1 ( It's March already !?!)
In the fall of 1967, La Raza newspaper appeared in Los Angeles and was then the only grassroots newspaper of its kind to be bilingual in English and Spanish. It was run of, by and for activists and members of the Chicano community. Through its articles and photos, La Raza informed, united, educated, inspired and raised the community's consciousness into an effective movement for social change. La Raza gave a voice to the Chicano community who frequently wrote to the paper, and it gave credibility to up-and-coming Chicano organizations like UMAS, MEChA, Chicana Welfare Rights Organization, the Brown Berets, the Chicano Moratorium Committee, the East LA Health Task Force, Católicos Por La Raza, La Raza Unida Party, and Chicano Studies programs.  The newspaper/magazine also gave solidarity to the United Farm workers, helped build support the high school walkouts and it was too a motor for affirmative action.
When/Where:
Monday March 1st from 6:20pm—8:50pm
At Cal State Los Angeles', University Student Union building; 3rd floor,
Los Angeles Rooms A&B
Panelists:
Eliezer Risco – Founder of La Raza newspaper/editor. A writer for the farm worker paper El Malcriado, helped establish CSU Fresno ethnic studies.
Joe Razo – La Raza editor. Cal State LA Graduate, defender of worker and immigrant rights with the state Labor commission.
Raul Ruiz – La Raza editor & photographer. Historic leader/candidate of La Raza Unida Party, Chicano Studies Professor at CSUN, writer and cultural producer.
Patricia Borjon-Lopez – La Raza staff writer. Career activist, Chicana nurse establishing special programs for Latinos and low income, created training programs for Latin@ nurses throughout greater Los Angeles.
Felix Gutierrez – La Raza photographer, Cal State L.A Times editor, Cal State L.A Student Body President, Professor of Journalism, USC Annenberg School for Communication and Journalism. Moderator.
************************************************************
For Information Call the Department of Chicano Studies, 323-343-2190 or
Email Event Organizer Cindy Aragon at <caragonz@yahoo.com>
This event is sponsored by CSULA MEChA, Instructionally Related Activities, and the CSULA Department of Chicano Studies. Parking is available at the rate of $1.00 per hour at the yellow kiosks in the parking lot across from the Luckman Plaza
Tuesday March 2
The Roots of Afro Peruvian Music
Susana Baca is a Grammy award winning artist whose work seeks to recover the African presence in Peruvian music. She will discuss the roots of Afro-Peruvian music; this is not a performance. This event is free and open to the public. Sponsors: Latin American Studies IRA, Latin American Studies Program, Department of Music, Mujeres Activas en Letras y Cambio Social (MALCS)
Tuesday March 2nd
6:00 pm
Music Hall Room 149
California State University, Los Angeles