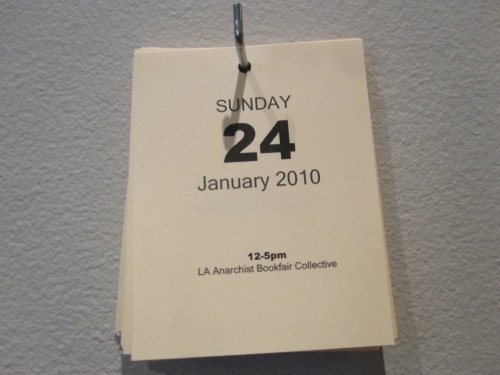 It's a bit late, and other people have covered it but here's a few pics I took of the recent LA Anarchist Bookfair at beautiful Barnsdall Park. Yes, when we're not burning and looting, we do take some time to catch up on the latest theories and practices to be found in print, its ammo to fuel the anger. Haz click para la rabia!
Under the shadow of the Hollywood sign, an invitation to Anarchy. I prefer the orange one.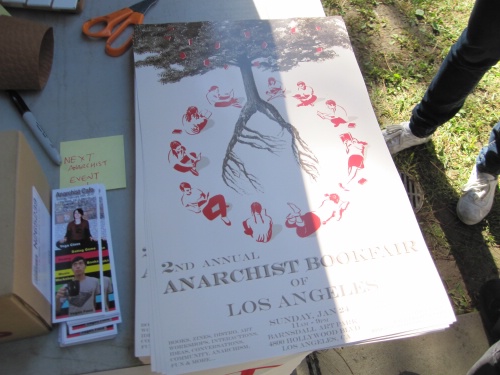 Anarchist Bookfairs have a long and historic tradition. I think. In any case, for many years anarchos here in LA have been traveling north to go to the Frisco @ bookfair. It was only recently that people in Los Angeles decided to do their own and this latest one was quite well organized. Please, no stupid jokes about anarchists organizing something, cuz that'll only show how ignorant you be. Besides, your jokes will pale.
The main point of these bookfairs? Distributing books. Or acquiring books. Or magazines. Or zines. Or pamphlets. Or flyers. And meeting up with individuals that think beyond the Democrat/Republican dichotomy.
All kinds of groups come down to showcase their latest publications. Here we see one insane member of a dialectical posse, calmly going thru his notes. Mild looking agitators put out some provocative analysis, like this here essay titled "Crisis in California."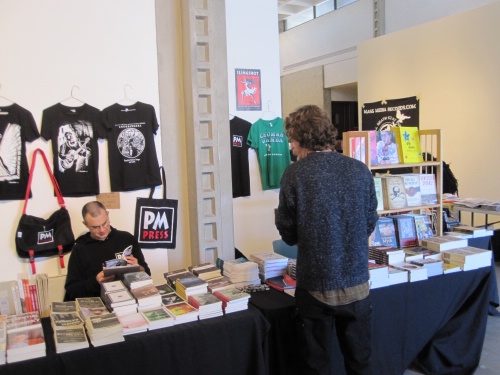 Fairly new, PM Press has already published quite a few items.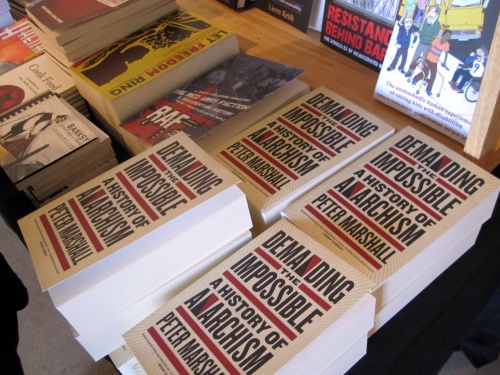 They have an updated edition of "Demanding the Impossible: A History of Anarchism." Put this on your desk at work and people will leave you alone.
Before the bookfair started a group of Aztec dancers gave a blessing to the bookfair proceedings. You ain't going to see that in SF. Los Angeles really does have a diverse @ scene that other cities might not understand.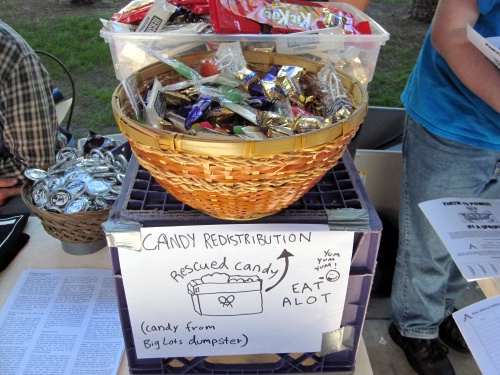 The Catholic Worker table had this nice basket of candies that somehow made it on to the LA Times story and in their photo caption. It's just a basket of free candies, why did they make such a big deal about it? I assume its a not-so-subtle way to make this event seem ridiculous. They also used the most hippie photo ever by which to showcase the bookfair. Of course. If I had some free time I would start covering all those shitty DNC and RNC events just for laughs as well, cuz that would be super easy. One of you radical leaning liberals should get me a pass, I will do your dirty work for you.
Strange that right next to the dumpstered candy table, Cucci set up their own table. Why not pick on their rubber wares? Or are dildos not safe enough for the LA Times public?
Here we see a full-knuckle fun toy being demonstrated as to its proper usage.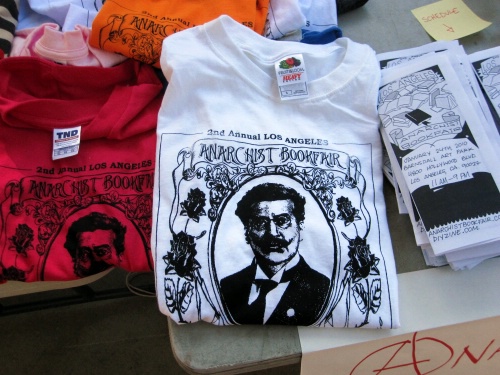 Yes, even though Anarchists are against commodity consumption, a few commemorative t-shirts were for sale. Contradictions are our stock and trade, we ain't beyond going beyond them.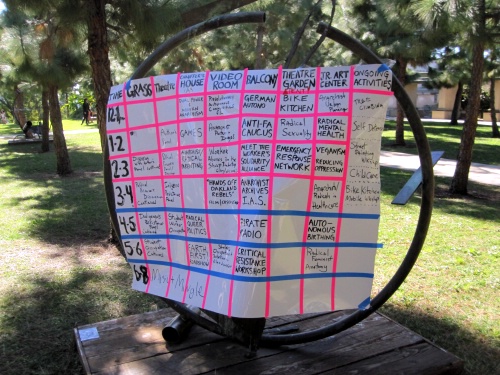 A schedule of events for the day. With enough empty space for others to fill in their own activity.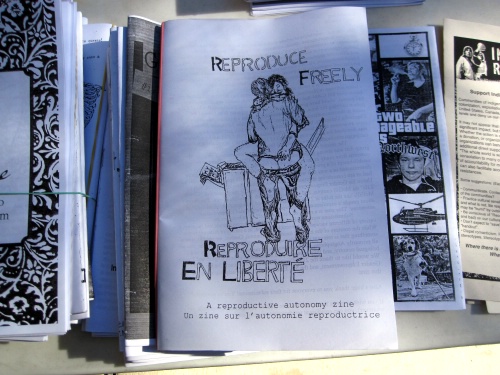 Some pro-sex publication, with a pro-reproduce this zine message. Thumbs up! And other things.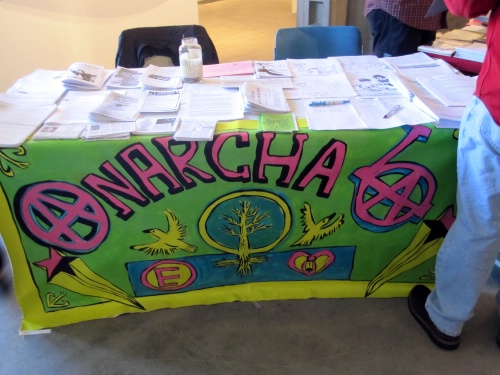 Anarcha LA had a bunch of leaflets.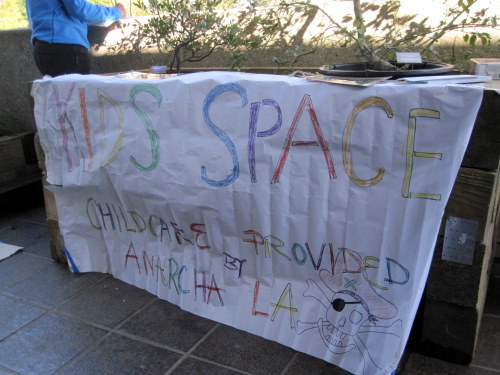 And they provided childcare so parents could go check out the panels and books.
There's some kids playing now.
Outside of the space, someone was making healthy juice from veggies.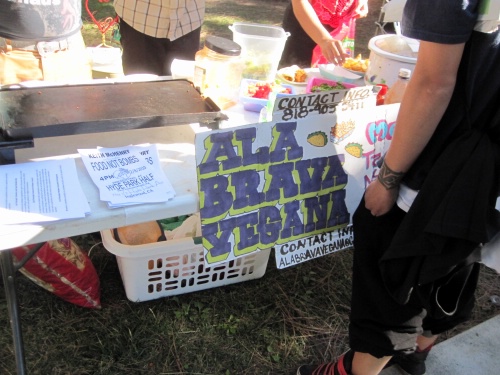 Ala Brava Vegana were offering papa-chorizo tacos to the crowd for a suggested donation.
It was food. I've had better.
A crowd shot. Even though there were lots of people you could still easily get around to see all the different tables, not like the previous bookfair at the So Cal Library that was too packed to actually see any of the books.
A close up of the AK table.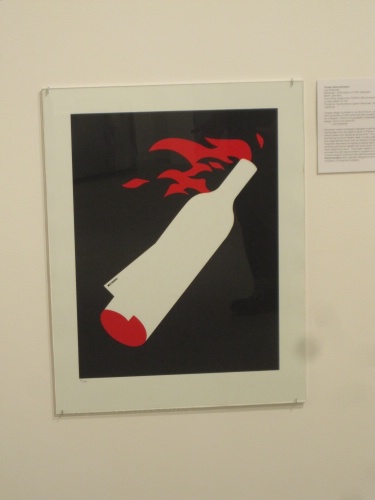 Ideas in action.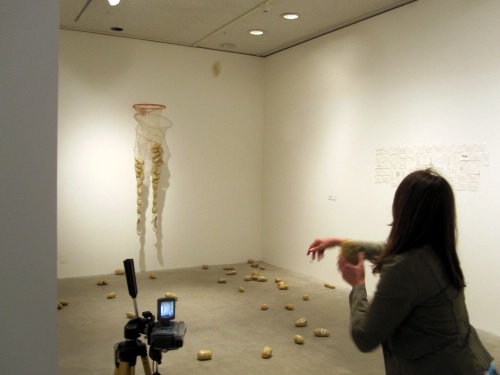 Part of the interactive exhibit Actions, Conversations, Intersections. You should check it out, it runs until April.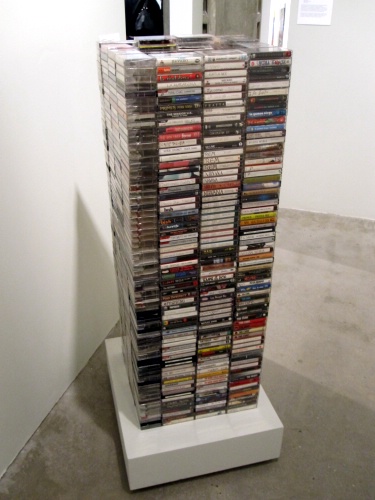 I liked this one, I think its called "The Passage of Time" as defined by all the cassette tapes one collects.
I was helping a friend with a table and got a chance to read a few things. This nicely printed zine had a pretty silly argument against phones. It was worth a few laughs.
There was another food booth with much better eats but I forgot to take a pic of my quesadillas. Here we see the plate of one attendee neatly organized to look like a circle A. Its all about aesthetics.
Hmm, whats this? Is that a beer? Oh yeah! The Gallery Theatre has a small concession stand including a few decent beers (like this Sierra Nevada Pale Ale) at $5, not bad at all.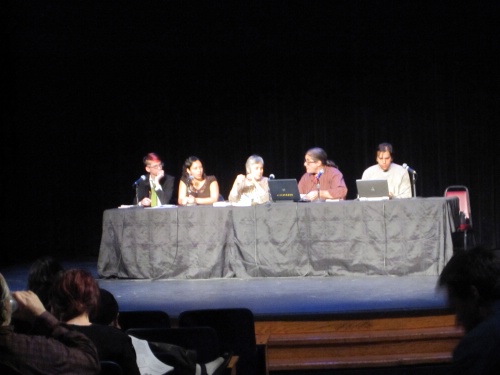 It was a great way to relax while listening to a panel that included discussions on the takeover of factories in Argentina, Greek riots, Korean labor strikes, and the current occupation movement in the universities. You know, the usual Sunday afternoon chat session.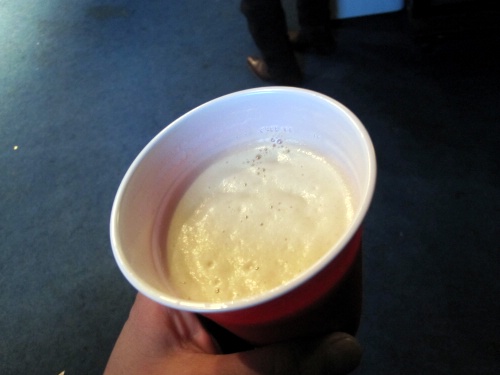 Who knew revolt could be so civilized? And refreshing!
There were lots of booths I kept meaning to revisit for a pic, like the fine wares at Little Black Cart, but somehow I got stuck "helping" way longer than anticipated. Oh well, mutual aid and all that. Over all, a very well run event, at a perfect location, and certainly one to top.  See ya' next year!
Check out www.laanarchist.org to keep up to date on the latest @ events in LA.