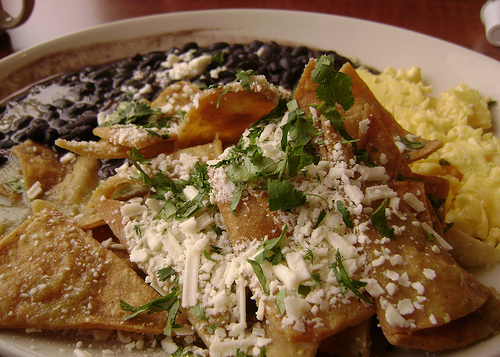 Earlier today, a friend noted that there was nothing sexier than a man who makes good waffles. I scoffed. Waffles are overrated. Find me a man who makes excellent chilaquiles and I'll fall in love. Yes, chilaquiles are that awesome. They're simple yet so tasty, the perfect example of what I grew up calling "poor people's food."
A couple of years ago I started a project on my blog to review chilaquiles at local Mexican restaurants. (Yes, I was copying El Chavo's huevos rancheros series.) I did one review and then let the project go, but continued to eat my fair share of my favorite breakfast dish. The problem with reviewing food is that a photo is necessary, but I often forget to stop and take a picture.
On Friday morning, I was patient… at least for a minute.
I finally got up early enough to try the tasty breakfast at Homegirl Café. Although I was craving chilaquiles, I almost chose the flor de calabaza omelette (only offered when in season). They had four (I think) different types of chilaquiles. I chose the chilaquiles made with a minty tomatillo salsa, a side of scrambled eggs and black beans. My friend chose enfrijoladas with a chipotle salsa.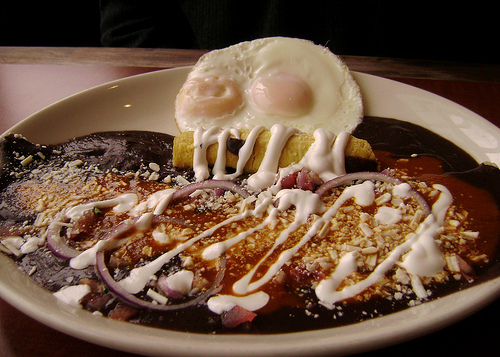 The chilaquiles were tasty, but a tad on the cold side. I would have appreciated if they were spicier and if they were a little soggier. Although I usually don't add crema or sour cream to my food, I think crema and onions would have been good toppings for the chilaquiles. The chilaquiles were topped with just the right amount of queso cotija. The beans and side of scrambled eggs were also delicious. Unlike my friend, I couldn't finish all my food… I wanted to leave room for something from the bakery.
On the way out, I bought half a dozen highly addictive Mexican wedding cookies to take to my dissertation writing group meeting. The powdered sugar has to be laced with something.
The total for two at Homegirl Café was $20 and change. Next time I decide not to sleep in on a rainy Friday, I'll sample something else from the breakfast menu.