Something that I've always been intrigued and interested by is how people of color come to, in a way, escape their perceived cultural outposts. For non-POC folks being "strange & different" is seen as plain eccentricity while doing the same while being a POC is seen as pure deviance. We are maligned by both the "dominant" culture and our "traditional" culture. As  noted in such films such as AfroPunk, we exist somewhere neither here nor there (but maybe everywhere?)
Although this existential malaise is common to the experience  of the Chican@, it only becomes more acutely raised when we not only choose to go beyond  our prescribed norms but seek to be essentially human; and no longer a walking stereotype.
In youth this extrañeza can be easily arisen. As a teenage punk I was maligned by my classmates for not being macho, racist, sexist, and interested in normality. I was called a"Satanist" because I professed my un-belief in God (although, this un-belief would logically lead to Satan too).  Preferring red wine over bottles of Corona was a sure act of race betrayal: every choice imbued with the notion of acceptance or rejection of our cultura.
"Here one can neither stand nor lie nor sit." – T.S. Eliot
IÂ  quickly then rejected identity politics wholesale: they were too interested in binary oppositions, us vs. them, oppressor vs. oppressed. The nuance of discourse is abandoned to make emotive arguments that may touch on one's experience but ultimatley are a dead-end. Seeing culture as static and not dynamic; as though any relevant reflections on life had ended 500 years ago; perfection in self need only be found in the past and not created in the present.
This is not a diatribe  against all tradition, but an argument for the free expression of all regardless of  background. Since it is difficult to be anti-tradition  when  I have not  experienced, directly, a concerted effort  to efface my identity as many peoples  around the world have felt. What I see is a confluence of directions where all possibilities are left on the table. Where my being  a citizen of the Eastside of Los Angeles could define me as much as it creates unique, yet infinite possibilities for human experience.
Truly one can only be human and nothing else. You can truly no more be a Chicano than one can be a chair because you were not born a Chicano but made into one.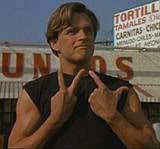 Case in point: Miklo in "Blood  In, Blood Out" had the experience of being born into whiteness but he chose to make himself into a Chicano.
Bienvenidos al mundo topsy-turvy de la realidad tal como es.