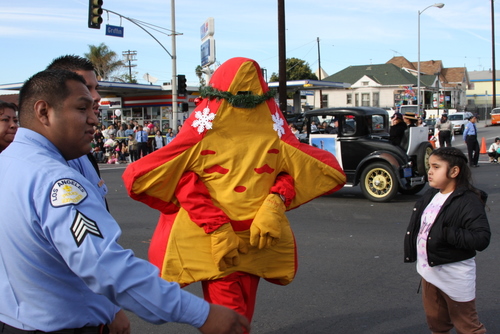 (From last year at LH, when a girl tried to do a citizen's arrest on a promoter of unhealthy food.)
(Edit: Damn am I stupid. Thanks to Crisis for pointing out the obvious. LH parade is on the 13th. HLP is the 6th. Argh!)

What you doing tomorrow morning? Nothing? Well then, might I suggest you consider attending one of NELA's Xmas parades. This year, you'll have to make the grueling decision of which one to attend as both the Lincoln Heights and the Highland Park parades are happening this Sunday Dec 6, even though they are usually spaced a week apart. What happened? Is La Crisis so bad that local parades have to battle for attendees and their few crumpled dollars? Oh wait, they're both free. Nevermind.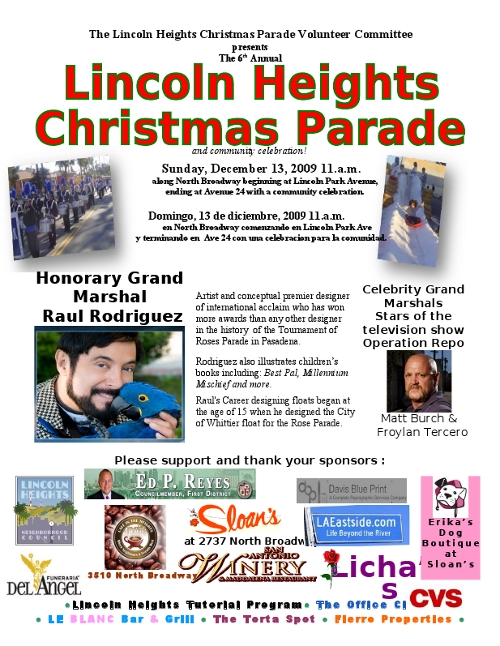 LH starts at 11:00 am, at least on paper. 😉 Best spot is around N. Broadway and Griffin. Plus they are having a Tree Lighting event today Saturday at 5pm at Mirabal Mortuary.
To tell you the truth, I feel sorry for the HLP parade cuz everyone knows that the Lincoln Heights one is always better, so your decision should be easy. Ha ha, I said it! But here's that info, just in case a few people want to go just so they don't feel bad.
65th Annual
Northeast Los Angeles
HOLIDAY PARADE
" Unity in the Community "
SUNDAY, DECEMBER 6, 2009 ~ 1 PM
Traveling down Figueroa from Ave. 60 to Sycamore Grove Park followed by
WINTERFEST CONCERT & ENTRY AWARDS CEREMONY 4 PM
http://northeastlaholidayparade.com/
I guess you can go to LH first and then hurry to HLP. Hmm, that's not a bad idea.