I missed out on Halloween in LA again this year, but I ended up getting a bit of a taste of it down south in Mexico. Like WALT! I've always been a fan of the holiday, mostly for the trick or treaters, and until just a few years ago, the trick or treating! Yeah, IÂ  was older than the average TOT and people laughed at me, but it has always been fun getting a chance to pester people at home and harass them for some goods. I was once chased off a porch by some old fart with threats of calling the police. He thought I was too old for candy and didn't see the humor of me cursing his home and hexing the family with a year of bad luck. Serves him right. Then there's that lady in Lincoln Heights that deliberately makes her house seem open for trick or treaters every year only to trap people with some BS about "Jesus injections". My tirade against her was even more special, but let's just leave it at that.
Now it must be said that many proper Chicanos and Mexicans see the spreading of the Halloween tradition down south as a form of Cultural Imperialism, and they claim it will displace the traditional practices of Dia de Muertos in the country. I disagre. Mexicans have taken the holiday and interpreted it in ways that fits their needs, making it their own. If anything the two different traditions have mingled to make it a season that the whole family can look forward to, instead of just the adults. Anyone that claims they "enjoyed" Dia de Muertos as a kid, which basically means going to the cemetary and  watching the grandparents do their thing, is a fucking liar. Yeah, you heard me. I can appreciate it now as an adult but someones gotta stand up for the bored kids!
I'm gonna get some shit from the Chicano Militants about how wrong I am but they've been telling me that for a long time, y me vale. Halloween has made its way to Mexico and its going to stay. Make your piece with that aspect of a changing culture and your traditional practices will only get stronger. I'm more worried that it will disappear in LA with it becoming more of a party night for adults that want to play dressup WITH ABSOLUTELY NO TRICK OR TREATING INVOLVED! Or worst, just another consumer holiday where you buy all your props and costumes, and go to safe environments like the Shopping Maul to pretend to participate in an ancient tradition.  Now that's the sort of cultural imperialism I worry about. If you can't be creative on Halloween you are hereby ordered to soap your own windows.
Ok, all that useless text just to show you some pics of some Trick or Treating in Patzcuaro, Mexico.  A little late, yes, pero que se le puede hacer?
Dinero, dulces o trucos: queremos nuestro Halloween!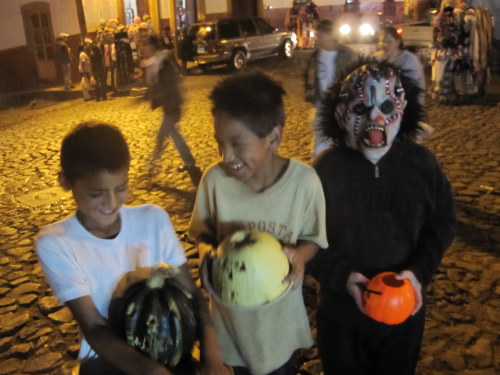 That last queremos halloween line was something I overheard some kids chanting in Morelia. I can share some of those pics later if I can't squeeze them in here. And these last two pics show the usual grouping of TOT's, a small group of friends going around asking for either their Halloween or "para mi calaverita", a request for some pesos so they can buy their own calavera.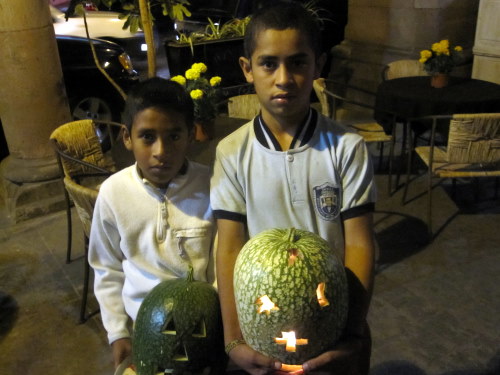 My mom says she remembers going around asking for her calaverita. It's the equivalent of "penny for the guy" in England. In Mexico, they are used to getting pesos or some other coins for their effort. I'm too cheap so I just bought a bag of candies. Something by the name of Rellerindos, mostly because I overheard some lady in the dulceria talking about how much she loved them.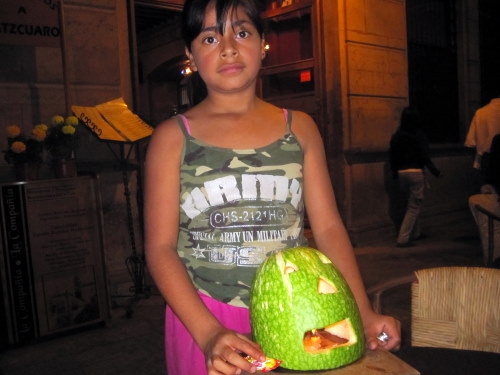 I was sitting in a plaza having some hot chocolate, the kids would just come up to me. I traded candy for pictures, some were a bit less enthused than others.
But some kids loved the idea and wanted to see how they looked. Notice the pumpkin carving technique that seems to be vastly superior to our own: they dig out the calabaza guts from the bottom!  Then they place a candle on a board or dish and place the pumpkin above it. Not a bad idea.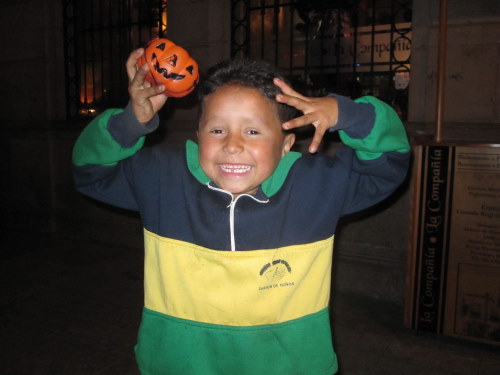 And some kids just go with the cheapo plastic jack o lanterns and a scary look.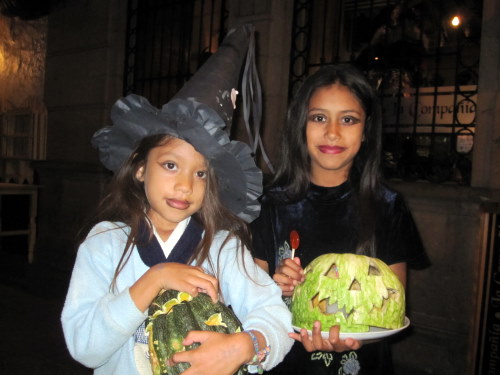 For the most part, kids go out in traditional scary garb like witches, monsters, vampires, or pumpkins. We even saw a few bed sheet ghosts that kept losing track of their eye hole cutout.
Damn is this chavo terrifying!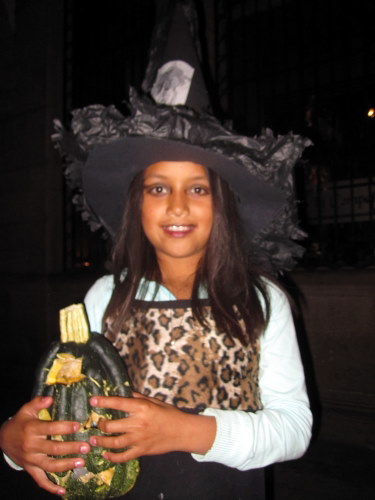 Another cultural practice we can learn from these Mexican kids is that Trick or Treating starts early. And I don't mean early in the day, I mean it starts on Oct. 29 or earlier! Come November 2 they are still going strong. Now that's what I call a potential for loot.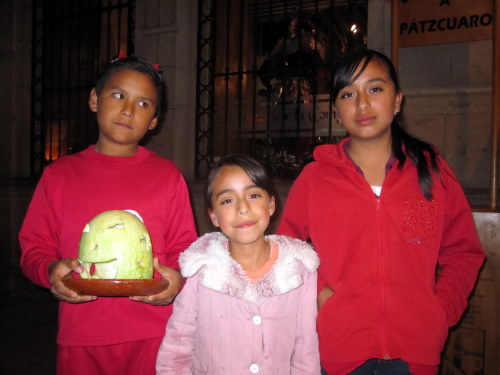 This pumpkin is still in good shape but I saw a few that were already rotten by the 29th, no doubt the kids had started very early.
Some kids came around with parents but most didn't. Kids out and about just having fun, now how can you thumb your nose at that?
Bonus!
And now a few pics from Morelia. These were the kids with that trucos chant mentioned at the beginning.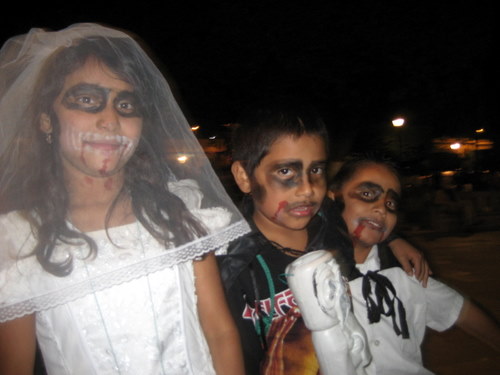 The Groovy Ghoulies.
Not sure what the girl is supposed to be, but it's scary.
Bonus! Bonus!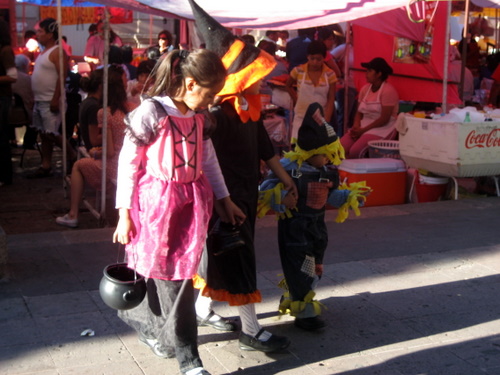 On November 2nd people were still BUYING halloween outfits in Queretaro.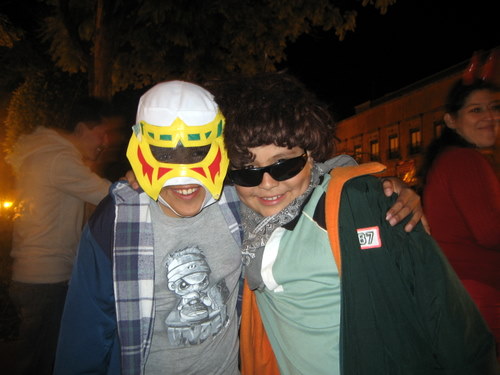 No manches.
Bonus! Bonus! Bonus!
And then, all of a sudden, the dead arose and crushed the heads of all the lil' children! JAJA! Not really, this is just the locals hanging out in the Mummies museum of Guanajuato. Mexicans sure love their death.
I hope you've all enjoyed this lil tour of Trick or Treating in Mexico, and I hope it inspires my fellow Angelenos to enhance their current cultural practices.