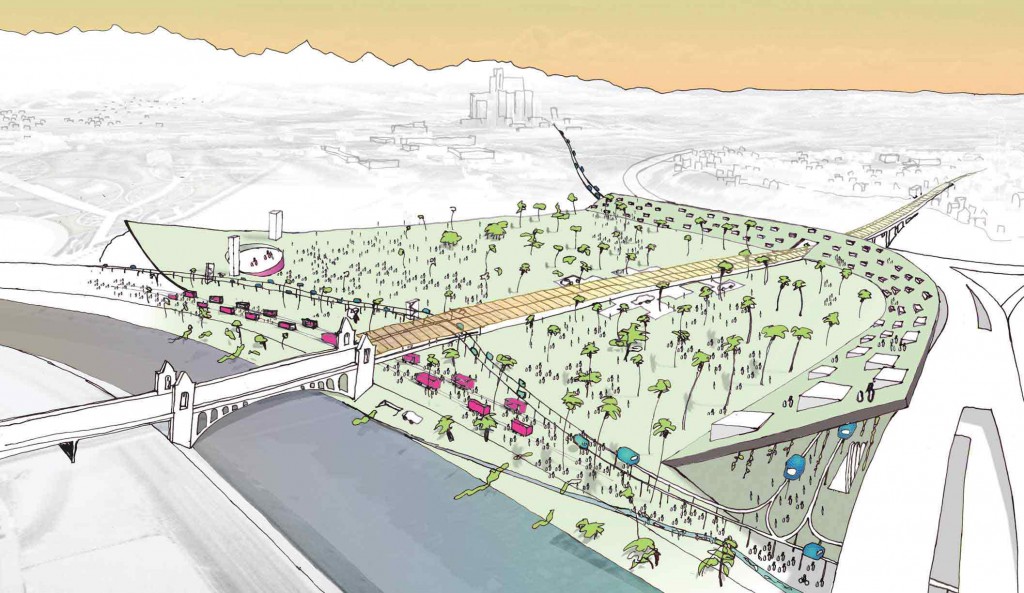 I love L.A. and there is nothing I would change about this beautiful city, except maybe peoples attitudes but that's another story. Gallery 727 and Department of Architecture at the Royal University Collage of Fine Arts in Stockholm and the Latino Urban Forum present what will be a great show on how L.A. can survive without fossil fuel.
From their press release:
Professional students from the Royal University Collage of Fine Arts' Department of Architecture in Stockholm Sweden will be descending upon downtown Los Angeles to propose an alternate future for Los Angeles in which the concrete-encased Los Angeles River is radically reconfigured to become a catalyst for a new Los Angeles. This team of Swedish architects, planners, artists, engineers, writers, and set designers will transform g727 into a three-dimensional, full-scale day-glo pink model of a section of the LA Riverbank. This version of the LA River will cut a hot pink swath through the gallery space, its riverbanks lined with a host of artistic proposals on how to develop the LA River into a transformative public space for Los Angeles communities.
In preparing for this project, the students have created a strategic plan specifically for the section of the LA River that flows through the eastside of downtown, specifically through communities such as Elysian Valley, Cypress Park, Lincoln Heights and Boyle Heights. This strategic plan, called The Fifth Ecology, emphasizes architecture and planning strategies for environmental sustainability, and proposes a chain of urban places which transform a currently dysfunctional urban zone dominated by industrial infrastructure into an energy producing, post-material public space of spectacular urban qualities.
A Public School Class will also be held titled: BEYOND IKEA AND CARL LARSSON: EXPLORING THE WIDE (WILD) WORLD OF CONTEMPORARY SWEDISH DESIGN
Here's a description of what the class entails,
Beyond Ikea and Carl Larsson:Exploring the wide (wild) world of contemporary Swedish Design course guided by John Benjamin Kamp
Traditionally one thinks of Swedish design in one category:  Ikea.  Clean lines, light-colored wood, with accompanying names such as Ekdahl and Pamela.   For those who know slightly more about Swedish design, there is Carl Larsson, representing the opposite end of the spectrum:  rustic, curvaceous, colorful, folksy.   However, what lies within and beyond this oversimplified spectrum? This course welcomes a group of artists and designers from Sweden who, over the past year, have been crafting specific architectural strategies for a more sustainable Los Angeles, particularly in and around the Los Angeles River.  They will bring their unique design and cultural perspective to the table, to help broaden the American mind with regards to Swedish design and all that it encompasses.  Additionally, the course will seek to introduce students to approaches to the design process that might be distinctly Swedish, and what cultural and environmental conditions of the country might give rise to both the process and the product. Beyond Ikea and Carl Larsson is a course gruided by John Benjamin Kamp who also is an landscape architect living in Los Angeles.
Class Schedule
10:00 am Meet and Greet at Public School
10:30 am Public School Opens
10:45 am Beyond Ikea and Carl Larsson Starts
12:30 pm Class Ends
DATE

November 15, 2009 at 10:30am

LOCATION

The Public School (951 Chung King Road)

TEACHER

John Benjamin Kamp

LIMIT

15

FEE

$5.00

The exhibit runs through Dec. 12 and the opening reception is this Sunday from 5 – 9 p.m. Regular Gallery Hours are Tuesday through Saturday 11:00 a.m. – 7:00 p.m. Be sure to stop by the gallery this Thursday for the Art Walk. Till then, you can view the whole project online before seeing it first hand at the gallery.