Okay, so I know I'm kinda late with this post. I mean, we already got a post up about Tropico de Nopal's Calavera Fashion Show but seriously, what's a full-time working gal who just came back from two fabulous weeks in Mexico supposed to do? Stay up late to edit photos and try and figure out which artist did which creation? Yeah, I guess so…(sigh).
Anyways, I'm not sure who the target audience for this fashion show is supposed to be. I don't think it's me, so I will refrain (or at least try to) from commenting too much on what I saw that night. I mostly went to support friends and to stand for hours in uncomfortable shoes and endure the constant leaning and pushing of a young girl behind me (who I hope was drunk because there was no other good reason for her getting all up in my personal space the way she did) but I digress…On to the fashion show!
By the way, my camera was being totally uncooperative that night.  It's a cheap little thing not well equipped for nighttime photography so pardon the blurriness. Or just consider the fuzzy photos my artistic touch.  It won't be the last time you stretch your notions of artistic good taste in this post!
Rebeca Guerrero – Two Poets that Touched My Heart and Soul
Edith Abeyta – El Hombre Invisible
Inspired by the ill-fated William Tell routine between William S. Burroughs and his wife Joan Vollmer. Look closely and you can see both models (Tom Jennings and Joshua Stehlik) are completely nude under their see-through clothing. The realization of this provoked audible gasps and nervousness from the audience. Art should provoke and challenge, kudos to artist Edith Abeyta for doing just that!
Joe Bravo – Mother of Duality
Before the show started, a friend of mine in attendance said "I hope they just catwalk so I can get a good look at the designs. Last time there was too much bellydancing…" She bellydanced but I was able to get some still shots.
Daniel Gonzalez & Maria Gomez-Gonzalez – Siembra y Cosecha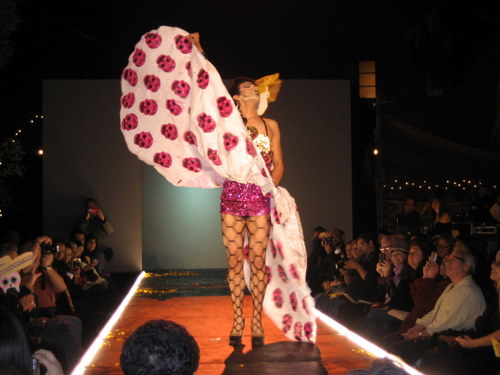 Miguel J Barragan-Miranda – An Homage to Gloria Anzaldua
She owned the catwalk, impressive!
Check out those Flamenco arms! Or maybe they're bellydance arms? Whatever, Kitty Morena La Surena worked that stage!
Rosanna Esparza Ahrens – Luna de Juarez
Ah, las mariposas!
Jennifer Gutierrez Morgan – Ode to the World of Ricardo Eliecer Neftali Reyes Basoalto aka Pablo Neruda
Marialice Jacob – Gracias a la Vida
Rosanna Esparza Ahrens – Do You Remember
Everyone loved this Michael Jackson calavera dude. I'm no Michael Jackson fan so the magic was lost on me.
Abel Alejandre – La Prensa
Consuelo Flores – Stars Never Really Die
A tribute to 2009's dead celebrities.
Stephanie Mercado Reyes – A Stitch in Time
I loved this Marie Antoinette inspired creation! It was dedicated "to all the working class individuals whom have gone blind overseeing stitches and threading needles…"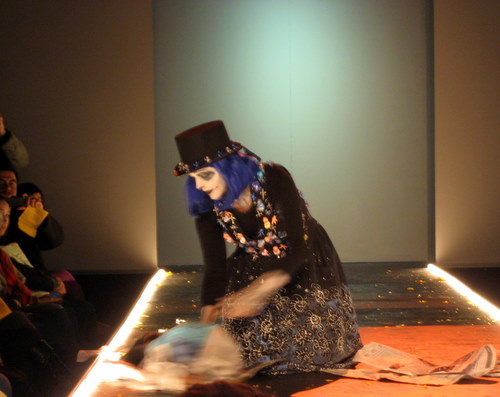 Poli Marichal y La Ojos – The Death of Homeless Children
Hmmm, what's under this newspaper?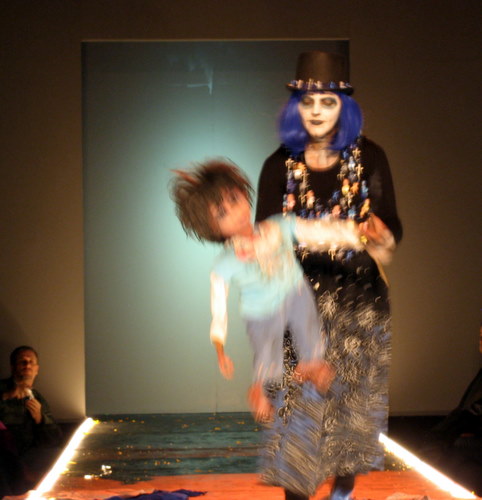 Ahhhh!!! What is that thing? This was dedicated to all the street children and it's a very noble and touching sentiment but I have to say, I wasn't the only one creeped out by that little puppet.
Marianne Sadowski – Homage to Mercedes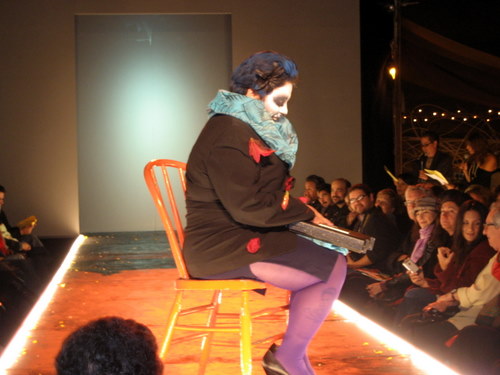 Jose Lozano – Lindas Secretarias
I kept thinking of that Banda Machos song: "Que linda secretaria es la que tiene usted…"
Juana Flores – El Angel Volado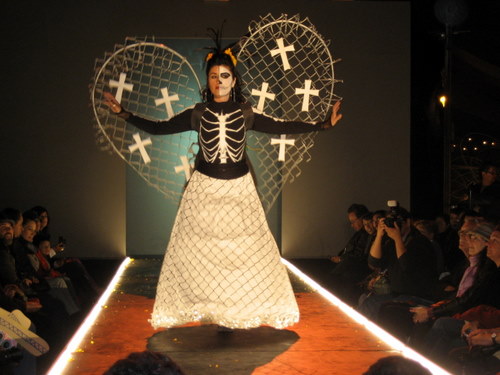 Lilia Ramirez – La Frontera
Also by Lilia Ramirez
The visual similarity of corn husks to feathers is stunning.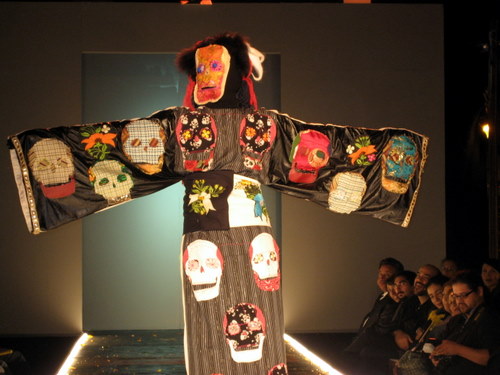 Orquidia Violeta – Spirit of White & Black
Another of the favorite of the night! Inspired by Japanese Noh theater.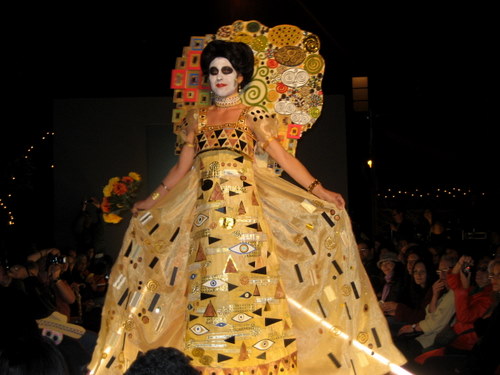 Robert Quijada – To Gustav Klint and Adele Bloch Bauer
This piece looked much finer in person. The gold caught the light beautifully.

J. Michael Walker – Mexi-Kali
Right about here, my camera battery died and I wasn't able to get good photos of Linda Gamboa's fun pieces. Luckily, I captured a few images with my crappy cellphone cam while trying to change out the battery.  I also took a moment to tell Ms. Cuddles (the drunk girl leaning on me) to back off.
Linda Gamboa – From Posada to Pochada
Excellent title!
Cici Segura Gonzalez – Watermelon Man
My suggestion for next year's Walking Altars is for the artists to show off their designs and not invest so much time in creating short theater pieces. Some of the attempts worked really well but others not so much. The clothing should be able to express the artistic sentiments without the audience being clobbered over the head with "MESSAGE!" But then again, who am I? Most likely not the targeted audience.