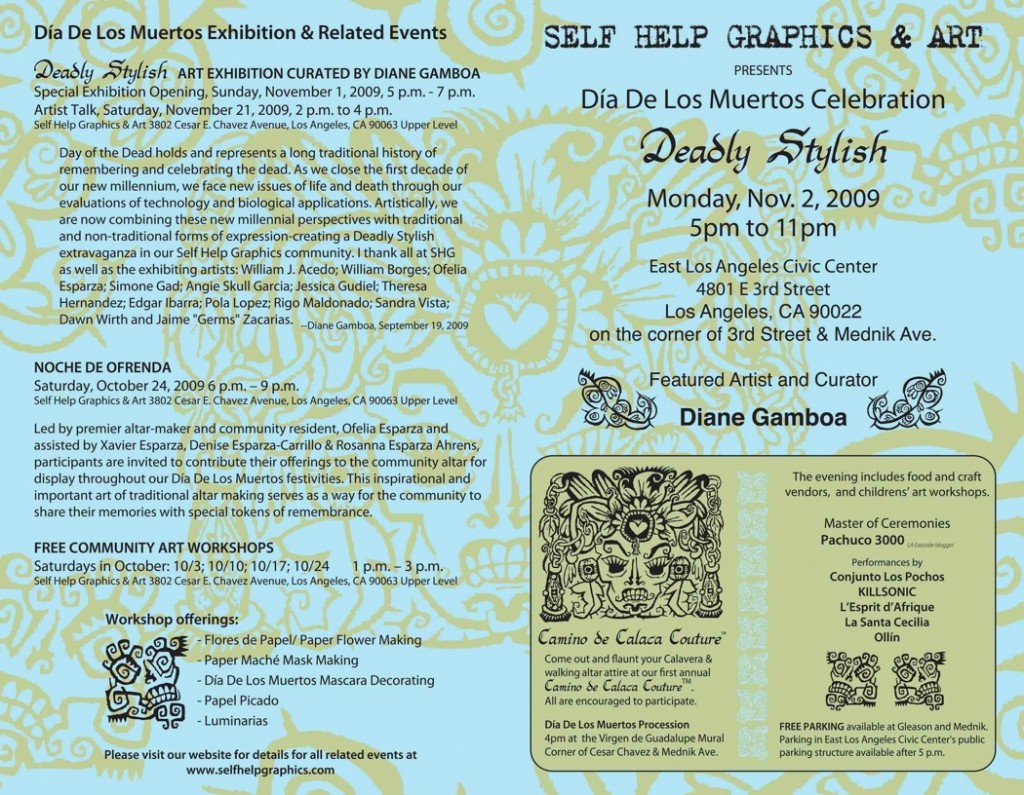 This year, Self Help Graphics & Arts celebrates its 36th Annual Dia De Los Muertos in a new location–the East Los Angeles Civic Center, in Belvedere Lakeside Park. With so much space we are able to expand SHG booths to accommodate more of our faithful vendors, increase the kid's arts space, and expand the entertainment area. This year, we need many more volunteers than ever before. As an experienced Day of the Dead volunteer, we are asking that you join our efforts by giving us your time to make our signature event a dynamic and memorable evening for all who participate. Our main event will take place on Monday, November 2, 2009 between 5 PM-11 PM. We can use your help with event set up, event design and décor installation, face painting, vendor assistance, entrance guardians and event breakdown. For those who cannot assist in the main event, other opportunities to volunteer at Self Help Graphics & Art (in the Upper Level of the building located at 3802 E. Cesar E. Chavez Ave., Los Angeles, 90063) are:
· Workshop assistants on Saturdays in October between 12 PM – 4 PM
· Noche De Ofrenda, Saturday, October 24th, 2009 5 PM to 10 PM
· Deadly Stylish Art Exhibit Opening, Sunday, November 1st 4-8 PM
· Deadly Stylish Art Exhibit Docent, Tuesday, November 3-28*
*Additional training required, Docent schedules to be determined upon availability. As you can see, there are many opportunities for you to participate in. We are requesting:
· A three-hour commitment per shift and
· Attendance to one brief Volunteer Training Session at Self Help Graphics on:
Tuesday, October 20, at 7 PM or Thursday, October 22 at 7 PM. If you're interested in volunteering, please read and fill out the attached volunteer form, email it to volunteer@selfhelpgraphics.com.
Click here to download volunteer application
Muy Agradecidos,
Day of the Dead Volunteer Committee
Self Help Graphics & Art