It was a beautiful day in the neighborhood. My home in City Terrace is but a twenty minute walk to CSULA. Grab my headphones, a notebook and we off. Gotta take some notes because I won't remember all things literary at such an event.
Got there and I'm handed a program guide (how organized, no?)
The set up was all right. I always have such low expectations at such events. Still, I wished it was overcrowded. Should they have served beer? Oh no I didn't!
I checked out the schedule and some familiar faces caught my eye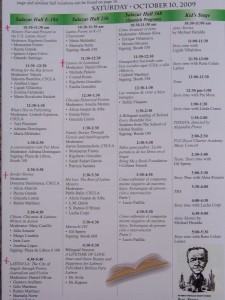 but I focused on the panel topics. First up:
10:30 History Past and Present in the U.S. Latino Novel
Panelists: Montserrat Fontes, Reyna Grande, Ignacio Lopez-Calvo and Eduardo Santiago
During her introduction, Grande mentioned that as a child on her journey to the U.S. (she described her status as "illegal") she injured her knee and it got as big as a… can you guess what she said? Well, like much of what she said, it was predictable. She said grapefruit, don't you know? She wrote
Across A Hundred Mountains. Just not my style. Some had mentioned, "It's in the vein of Rain of Gold." Huh? That's a compliment?! Rain of Gold? That one is almost 600 pages and it's 500 too long. I gave AAHM a shot at the ELA library but chale. Publisher's Weekly mispelled typical by calling it "topical." It should be in the young adult section. Not that there is anything wrong with that.
She read an excerpt as did Fontes and Santiago. But I know how to read. I have an idea! How about a panel discussion? But what do I know?
Later Grande ended a comment with, "That's what I like to write about." WTF? She is a fellow UCSC Banana Slug, so I winced even more. Maybe her second effort will be better. The crowd was very attentive and some got up to speak to the authors. (How bout those olive green seats? State of the art. 1971!)
Lopez-Calvo gave a powerpoint pres. It was probably from one of his class lectures but it was all right. He spoke that most foreign of lenguas: acadamese. "Cultural reproduction and the representation of reality carry with them an impetus of taking possession of social space in both its territorial and political manifestations." He was losing me then he took a jab at TC Boyle's The Tortilla Curtain and Kate Braverman's Palm Latitudes. He claimed those books suffer from racial guilt. He went on about Famous All Over Town and Revolt of The Cockroach People. Comparing "Santiago" to Acosta was somewhat of a reach, but he went on to his most interesting point: all those inane LA based apocalyptic films come from the fear that the "city of angels" is becoming browner every day. Maybe.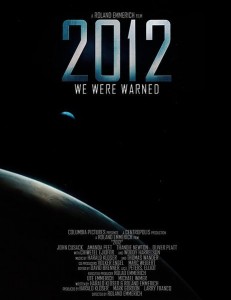 Monserrat Fontes said her piece. She said "crap." Can you be named Monserrat and say such things? Her First Confession is popular at Roosevelt High.
The moderator asked the authors about their subject matter. Grande said, "Women are complicated… women are intriguing… women are so different." She kept picking up her book. "That's what I like to write about… that's what I like to do." Huh?
Even the moderator couldn't take it, "But it's more than that," he added. The look on Fontes' face was priceless. Grande continued and ended with, "…and that's what I do." I swear. Hey, at least she has a book out, no? I guess.
Later, Monserrat mentioned a book she is working on and how her grandfather was actually executed in 1929. Now that's interesting.
Off to the next one because Estella, a high school buddy, is working on a novel and was included in the anthology Latinos in Lotusland.
11:30-12:30 LATINOS IN LOTUSLAND
Panelists: Estella Gonzalez, Rigoberto Gonzalez, Melinda Palacio, Conrad Romo
During her intro Estella said, "I'm living on unemployment and I wish it could last forever."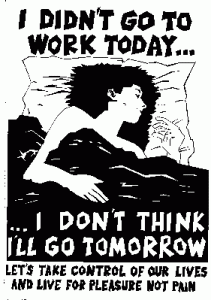 There was silence. See, that's why we're friends. She mentioned her piece in the anthology was "inspired" by her divorce and she can now see her ex hubby does serve a purpose. She funny.
One thing should be clear: I like to concentrate, focus. I was at a movie recently and this couple kept making noises with their straws/ice and I wanted to exsanguinate em with a rusty butter knife. Here too. Opening their water bottles ever so slowly and that cap driving an anvil into my parietal lobe. I was just trying to listen. Then there were the few who arrived late. Did they walk around the panel? Fuck no! Right in front. Pencil at the ready, I was gonna stab somebody. I know she near 70 but she would have had to cancel Christmas if she had cut in front of me again.
Palacio wasn't too riveting but one of her poems was ok. "It's about visiting my father in Folsom Prison. It's a family story…" I'm in. It was called "Folsom Lockdown." Then she ruined it by talking about her "chapbook" and "I won a prize" blah blah abba zabba rikki tikki tambu. The moderator was touched by everything read. Sensitive freak or just yakking because he edited the book? After the panelists read, he might as well have kicked me in my scrotisserie. From out of nowhere, he said, "Well, my novel, which comes out in 2011, University of Arizona Press…" Doh! Baphomet help me! I should have stood up, went over to him and…
Time for a a break. I was hungry. And what do you know? Homeys came through with the veg options. Don't get me wrong, there were still plenty of dead animals to be had, but thoughtful to keep us tree huggers in mind.
I had some vegan tamales and some horchata. "Vegan tamales?" you bellyache. STFU! Manteca = 666. Pork? 666 x 2. That would be 1332. That is evil. Tradition dictates that…blah blah. I got your tradition right here!
The Oaxacan folks were more than happy to tell me that their horchata didn't contain cow excretions. Those kind folks are with Oaxacalifornia at the Mercado Paloma. Those "gourmet" "euro mex" tamales were 3 fuckin bills each. This ain't the South Pas or Monrovia farmers markets! Those damn euro mex!
I sat and ate when Ana, a friend and festival volunteer, joined me and wondered about the discussions. Hmm, it hadn't crossed my mind, I lied and laughed. I noticed Lopez-Calvo walking by. I stopped him and introduced myself. Very forthcoming. We traded emails. Later someone mentioned some of the problems he faced at CSULA. He is a Spaniard (oh no!) and some hardcore aka knuckleheaded Xicanos could not respect him. Some saw him as Cortez incarnate. How silly. These are probably the same aholes who look down at ELAC cuz it's a jc. Poindexter, please. Most universities are overrated. Once ELAC is all upgraded, it will be CSULA that is left behind. Say what? You heard. In fact, I found it hard to concentrate at times during some panels. I was distracted by the handball court passing itself off as a classroom hosting a panel at a book fest. You want proof? Have some.
Ana had to go but I managed to catch one of the festival's organizers, and all-around literary force at CSULA, Professor Roberto Cantu. The festival can only get better with him involved. Was he busting some rhymes, doing the hokey pokey or just being interviewed?
Stomach satiated, I was ready for more. Up next was
2:30 – 3:30 Border Stories
Panelists: Alicia Alarcon, Reyna Grande, Graciela Limon, Ruben Martinez
Grande said that part of her writing is "to speak for the voiceless." About twenty minutes later, Graciela Limon, one of the nicest people I have ever met, commented, "I just want to paraphrase Demetria Martinez who said, 'this giving voice to the voiceless is nonsense. Everybody has a voice. The question is, who is listening?'" KaPow!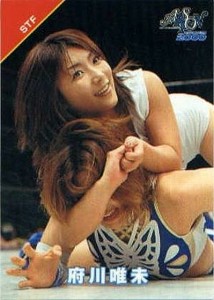 Limon's description of her latest novel, The River Flows North, was interesting. I have several friends who really liked Song Of The Hummingbird. Many students at RHS dig Memories of Ana Calderon. Her confident humility is a breath of fresh air.
Alarcon was funny and blunt. When asked what should be done about the disgusting and accepted bullshit hurled against the "undocumented," she responded, "You really need to be more drastic, naked and creative, attract attention." What could that mean? Oh, the infinite possibilities. I haven't heard her radio show, but I might check it out now.
4:30-5:45 LATINO LA: The City of Angels Through Poetry, Journalism and Fiction
Panelists: Gustavo Arellano, Julio Martinez, Ruben Martinez, Marisela Norte, Hector Tobar
Who named these panels? Latino LA? What is this, sixth grade? I even looked around for Laura Diaz and Henry Alfaro. Gustavo Arellano read his shit too. WTF? Did he offer any interesting anecdotes or maybe something spontaneous? Please. Maybe those who read did so because they didn't plan anything. Hmm. It's like going to a gig and instead of the band playing, they played cds. Orange County is the title of his book. Again, not with it. We all have our tastes, mine tend toward…(see video at top). I got the book at the ELA lie berry. The back cover read: "witty" and "sassy" and "wickedly funny" and "picante." The inside flap claimed Gustavo is the "spiciest voice of the Mexican-American community" who "offers sharp, caliente (italicized, of course) insights…" Spiciest!! Caliente!! Who wrote the blurb? Lou fuckin Dobbs? Surprisingly, in his foto he is not on a donkey wearing a sombrero. Or grinning while holding up a tamal…. damn, homey. Yes, he did.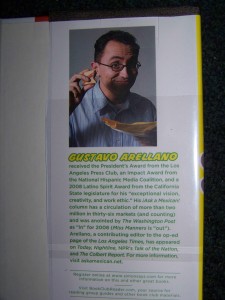 Somebody could write a thesis just on the book jacket. Even with all that, I still gave it a shot. Here I am in my office, trying. To no avail.
Bueno, como escribía, queremos Energía, no anuncios. ¡Hablen con el público! Sé que para muchos la escritura es un negocio pero, damn, pensaba que éramos una comunidad no un mercado. Quiero que todo sea gratis. Qué poco realista de mí. ¿Qué sé? Tengo una idea.
[audio:https://laeastside.com/wp-content/uploads/2009/10/la_idea.mp3]
Hector Tobar continued, another fellow Banana Slug. LA Times columnist. I wouldn't know, I don't read that. He also read. Way too long. I heard "pecadillos" and "Sherman Oaks Galleria." Shit! Do they have any sense of time? I swear he went on for 15 minutes. He even said, "quotidian chatter." Say huh? Crowd was half asleep and when he finished, everyone politely collapsed/clapped. Thought I heard snoring.
Marisela Norte is a poet known for not ever having a driver's license. Said, "Never had one, don't need one, don't want one." Didn't seem as pretentious as the other "writers." During her intro, she mentioned she grew up near Brooklyn and someone said, "Cesar Chavez," and she repeated "Brooklyn." What could she mean? Hmm. Julio Martinez read a long story about his dad and it had a great ending. Ruben Martinez said some things, and they were just some things.
Alrighty then. That was a glimpse into the panel discussions. No quarter from this pen. The way it should be, que no?
He has left the building! I stretched me arms and said good-bye to some. Looking over some vendors wrapping up their wares, I thought of the skimpy attendance and hoped tomorrow would have much more support. Also, at a Latino Book Fair I had hoped to discover some Literature, with a capital fuckin L, and maybe I did, I just always want more. In the words of that great Venetian poet, Mike Muir, "Cause me, me I want more!" A lot more. Well, there is always Day 2.
I leave you with some sage advice, so obviously they are not my words. Such self-deprecation, no? Maybe some of these pinche so-called writers should try it some time. Or some humility. But maybe not, since both are free.