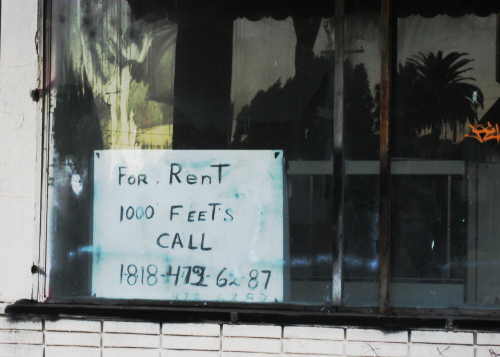 For the feetless in Highland Park

Botanitas is an ongoing feature bringing you stories and news from various sources, upcoming events and other bits of ephemera that might be of interest to LA Eastside readers. Suggestions welcome!
Click for dolls, eagles, jarochos, realists, vegans, nowtopias, parks and a tribute to a long-time Eastsider.

Roaring Aughts!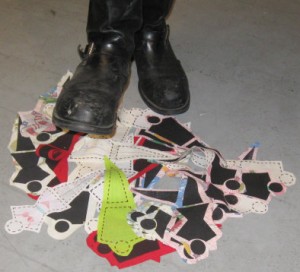 The Fifth Shift of the Roaring Aughts is October 3, Sat at The Public Library in The Brewery.
Location: The Public Library at The Brewery Art Colony
2100 N Main, A-15. Lincoln Heights, Ca. 90031
Time: 7pm
What: Talking about the exploitation of the professional worker, focusing in on the tech world, education world, and I paid 80k for my degree and I still have to go to the free clinic world.
Eating vegan pizza from Purgatory in Boyle Heights.
Drinking plum wine from Marukai in Little Tokyo.
Screen printing, sewing and decorating dolls from the community's donations of cloth.
When: Saturday, October 3.
The Roaring Aughts is an art installation/project named by nostalgia and the now: the Great Depression (1929-1930s) and the present decade (2000-2009). The project examines the contrasts of these two significant periods in American history; making dolls is just as important as making conversation. The goal is two-fold: to make 898,863 dolls (each of which represents a person in L.A. living below the poverty line) and to prompt people to explore how the economy impacts people.
There will be six Saturday-night shifts in total.
With overtime being offered during The Brewery Art Walk Oct 23 and 24
The Public Library @ The Brewery
www.thepubliclibrary.org
2100 N Main A 15
Los Angeles, CA
323-342-1977
Browne@ShameTrainLA.com

Eagle Rock Music Festival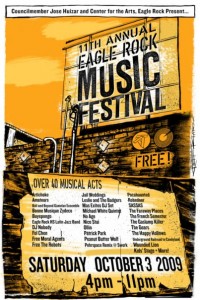 "Los Angeles City Councilmember Jose Huizar and Center for the Arts, Eagle Rock present the Eleventh Annual Eagle Rock Music Festival, the yearly FREE music festival with a unique and independent neighborhood vibe, taking place on Colorado Blvd. in Eagle Rock, on Saturday, October 3 2009, from 4p.m.-11p.m.

The Eagle Rock Music Festival will welcome the eclectic, local lineup for which it is known, highlighting the ethnic and cultural diversity of the Los Angeles music scene. From Filipino rock, pop and soul top 40 cover group The AM/FM Band and The Gears, Glassell Park veterans of the East Los Angeles punk scene of the early 1980s, to Highland Park's Fol Chen, No Age, SASSAS, and a Future Roots stage curated by the prolific Los Angeles based collective DUBLAB in celebration of their 10th anniversary, the festival gives voice to the multiplicity of endeavors that find their home in Eagle Rock, its surrounding communities, and— in a few cases— greater city, reflecting the hybrid multiculturalism of 21st Century Los Angeles. The festival attracts people from a wide range of backgrounds and ages, creating a gathering place for Angelenos to come together to reveal the cultural tapestry of our city's neighborhoods.
Musicians perform at fifteen unique one-night-only venues ranging from auto shops and formal stages to coffee shops and a motel balcony along Colorado Boulevard, which will be open to pedestrians between Eagle Rock Boulevard and Argus Street. Each venue highlights a different type of independently-minded music, going beyond the traditional genre boundaries that define most festivals."
More info here.
Make sure and check out the special Fandango/Son Jarocho party happening within the festival:
Calling all
jaraner@s, bailador@s, etc…
and everyone who is into son jarocho music…

Fandanguito! (7 – 9p.m.)
Saturday, Oct. 3rd
at the Eagle Rock Music Festival
1910 Colorado Blvd, Los Angeles, CA
(address is approximate, we'll be on Colorado somewhere near there)
FREE
Visceral Realists

Ah, so fiction has become reality.
The Search for the Visceral Realists: Exhibition Trailer from Alfonso Delgado on Vimeo.
Trailer for the exhibition titled The Search for the Visceral Realists- the first U.S. retrospective for the controversial Latin American conceptual art collective known as the Visceral Realists.
Curated by York Chang, in collaboration with Federal Art Project and Pink Cloud Events.
Federal Art Project
Downtown Los Angeles
316 West 2nd Street
October 3-November 14.2009
Opening Reception:
October 3.2009
Liberation Fall Festival
Hang out with some politically aware folks and people watch to see what the fashion trends will be in a couple of years (I'm serious).
Check the website for schedule and workshop info.

Llano del Rio Collective and Another LA

"Where trying to find another LA!
You're already here, we'd just like to see you a little clearer.
(please forward widely)
The Llano Del Rio working group is creating a map, to be published and made available (free to you and others) of Another LA. We seek your entries of sites where activities making real other possibilities occur.
Do you operate a backyard beehive? Member of a coop? Part of a cycling mob? Are you working in public, not getting paid and not considered a social worker or public artist? Are you painting bicycle lanes on Glendale Boulevard? Are you planting gardens in traffic medians? Are you inventing, selling, or operating solar powered gizmos? Stirring shit up? Tilling an urban farm? Planting urban nightmares? Do you participate in schizo-cultural activities furthering esoteric beliefs and practices? Are you encouraging indiv
idual and group detours away from economics as we know it? Are you a guerrilla historian? Participating in an alternative news source? Do you operate a no-profit space? Are you developing stuff that will make sense when the shit hits the fan, the love bomb drops, or somewhere in between? Are you pursuing alternative models of development? Do you chew gum in public with friends and call it something other? Do you run a print kitchen, beer kitchen, bicycle kitchen, bio-fuels kitchen, a stitching kitchen or just heat an oven? Are you a part of a neighborhood vigil against war? Are you aware of a business resistant to time like a typewriter shop or a mythic location where shamans roam the valley? Is there a neighborhood your aware of with so much front yard agriculture that you just got to share it? Are you supporting the pursuit of an esoteric art and craft? Player in a radical cheer group, marching band, or cycling ensemble? Popularizer of unpopular or unknown wisdoms? Do you have difficulty with the pronoun "I", but find comfort talking about "we"? Are you aware of another LA beneath the traffic lanes?
Please email llanodelrio@gmail.com with the following information immediately (deadline Oct.31).
1) The name of group, activity, collective or etc…. (something that can be a title).
2) A two to three sentence concise description of what you do otherwise.
3) The physical
address or addresses of your center of operation(s).*
4) Email contact info.
*If you are shy about giving an exact location, consider sharing your neighborhood, or perhaps a fictional LA address will do.
If you have any questions please contact us at llanodelrio@gmail.com.
We look forward to seeing you all.
The Llano del Rio working group is an ad hoc group of artists, activists, social ecologists, and writers with a long standing interest in the alternative infrastructure of LA. Author and activist Chris Carlson contends in his book, Nowtopia, that beyond the world of traditional labor, people are building practical alternatives to the current order. We'd like to see ifand how that is so. Maps will be a part of an exhibition planned for this Fall at Otis College. There after they'll be distributed widely."
Highland Park Gateway Meeting

"The Ave. 50 Studio Beautification Committee welcomes you to join a community input meeting Sunday, October 4, 2009, 2-4pm. We will use the community's feedback to develop a design for a Highland Park Gateway Park outside of Ave. 50 Studio, for which we will then apply for a City of LA Community Beautification Grant. Come be heard and participate in this exciting project! RSVP and feel free to forward the evite to others. To volunteer or obtain more information, feel free to contact Melissa Guerrero at ave50studiobeautification@gmail.com. "
Evite here.
—————–

My father with Frank on the right
I'm sad to announce a life long family friend Frank Ernest Tinoco passed away September 26, 2009. Frank was an Eastsider through and through, growing up in City Terrace and Boyle Heights. He and my father met as teenagers in an Eastside soda shop/pharmacy and remained close friends throughout the years. He will be very much missed.