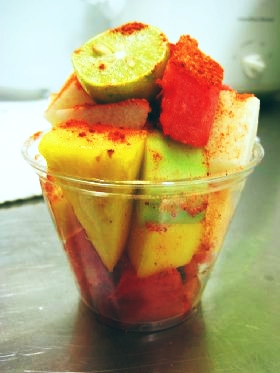 Sometimes something as simple as a way of preparing what everyone eats can lead to a moment of otherness.  Surely this can happen to most everyone: but it specifically happened to me in Emeryville (near Berkeley, CA) while working at a Trader Joe's.
I followed a lovely woman to live in Berkeley with her in 2005.  I got a job. I slowly got a foothold on the culture(s) of Berkeley. It's social stratification and subgroups. I was a Chicano (term used for brevity) from Los Angeles, born & raised. Did I feel out of place? Of course. Was it absolute? Of course not. But Berkeley really is another world.
Now to the story: I was in the breakroom of a Trader Joe's where I was working and was peeling an orange. Having peeled the orange I sprinkled it with cayenne pepper (didn't have any Pico De Gallo brand powdered chile). I ate a few of the slivers when I realized everyone was looking at me.  Looking at me as though I was eating a baby chicken, alive. One person finally spoke up and asked me: what are you doing???
They had never seen anyone, ever put chile on fruit and then eat it. Salt they knew, and sugar is what one Southern coworker told me was the norm to him. Here I was, a Chicano in a room of people that made me feel other. I'm sure they didn't mean to but they did.
Having lived in Los Angeles my whole life I was accustomed to the ubiquity of the influence of Mexican tastes all across the city. A sentiment that I recently found echoed in a fellow classmate who said that while in Santa Cruz she finally noticed the un-ubiquitousness of Mexican culture in a place lacking it greatly.
Fruit is something that is a huge part of Mexican culture. Something that I thoroughly enjoy in México because there are fruit stands everywhere; and often with fruit you'd never find in the USA. A definite cultural influence we should all take in (and maybe leave off the macho aspirations of eating 10 tacos at a time). And here in Los Angeles we have morphed this love of fruit and chile to make something so culinarily curious: the mangoneada (mango ice cream in a cup of chamoy, lemon, chile and salt).
I will continue to eat chile-powdered fruit, here and elsewhere. Bringing on maybe another moment of otherness.