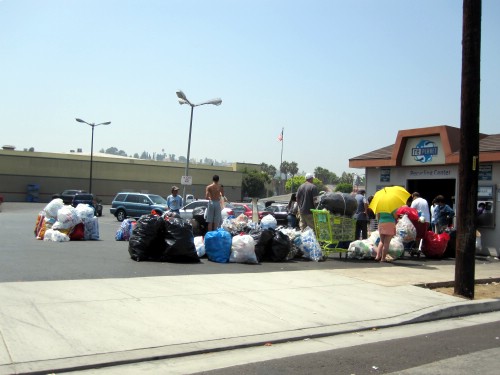 (Click on pic for a larger version)
I've spent time waiting in recycling lines before, but this one struck me as being massively long. You must take into account the other waiting people outside this frame, towards the left of the photo, whom left a gap to allow car traffic to come in and out of the parking lot. We were turning a corner and I just barely managed to turn on my camera to snap this one pic, but I'd say there were at least another 5-7 people waiting to turn some cans and bottles into a few dollars.  Consider also that this was on a Tuesday around noon, not a common time for the casual weekend I-want-my-money-back recycler. These all appeared to be jobbers. Also note that is was just off Atlantic Blvd in Monterey Park, certainly not a place I'd expect this scene. Monterey Park, Montebello, and the areas beyond always seemed like neighborhoods that represented a first step beyond urban poverty, at least to me. I don't know what's happening out there right now but I'm seeing some familiar sights.
When the non-wino class starts getting into this less than lucrative business, that's when you know things are getting tough.