It's been awhile since I did one of these, and I've bet you've all just been sitting around waiting to be told where to go next, eh? Well the wait is over! Warm up your engines, or pedals, or sandals, or whatever, cuz there's a new day trip excursion around Los Angeles for you to consider. And to which exciting and fascinating spot are we headed today? To the library! Wait a minute…what?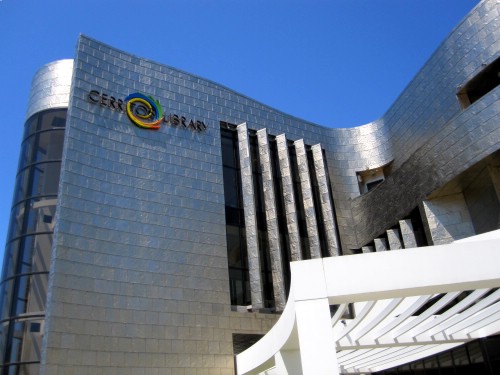 Yes, a library! I'd heard about this place from a friend who said it was super fancy and worth a trip, so it was on my list. We were in the area (more on that later) and did a quick cellphone lookup on google maps, and we eventually found our place. (Note to self: leave the Thomas Guide in the car!) It certainly looks like a fancy building!
Plus they have some fancy fountains, like these jumping dolphins in the middle of some water squirters. I'm not very knowing in the ways of public art installations but doesn't this seem like a bad painting you'd buy at some shitty Art gallery by the beach?
This one I liked cuz it was a bit more fanciful, with squirting flowers and giant sapos. Need I remind you this is a library?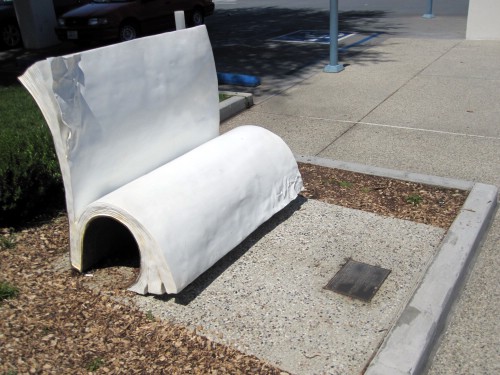 The Book Bench. That's pretty neat.
Crazy trees on which to sit and read the latest issue of People. Celebrity gossip needs to be consumed in a vegetative state.
A giant book titled Illuminations: The City of Cerritos 1956-2006. I'll wait for it to come out in paperback.
Looks like the inside must be interesting as well, there's already lots of people waiting for the doors to open. On a Sunday. Don't they know only nerds go to the Library on weekends?
Damn! A giant aquarium just as you walk in. Somebody must have had lots and lots of cash.
With fishies even. I think this one is called a yellow finned gray spotted fish.
And this fast moving specimen is the spotted stripped tube shark, known for their odd diet of golf pencils and bookmarks. I read that somewhere. But maybe I should do some more research.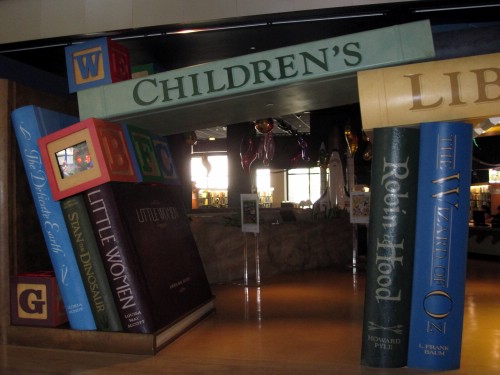 Right next to the fish tank is the kids tank, where you can drop off the mocosos while you go find the back issues of People. And maybe Newsweek to wrap it in. That's quite a nice entrance I have to say.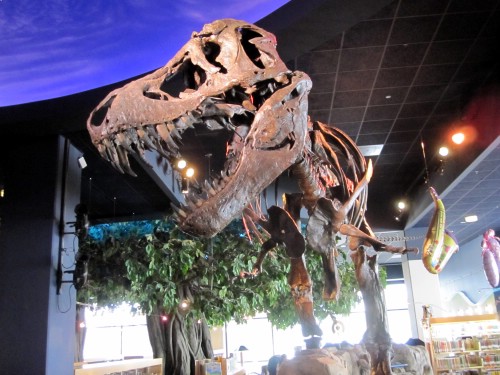 The kids area is dominated by a real dead dino. None of that Barney quackery here.
Such an old giant powerful beast, yet they name it Stan. 'stan locos.
A dedicated area for Kids Art. Otherwise known as the Room of Terror by refrigerators everywhere.
A giant fake tree that pipes in some foresty sounds, not unlike something you'd experience at Dizzyland. And even though there are NO SIGNS ANYWHERE, you are not allowed to climb this tree. Pero no se enojen…
A theater for the kids? They're gonna get spoiled.
Part of the ceiling is amazing.
Pre video games game. I got close but still couldn't solve it, it's harder than it looks!
Individual desks for the lil' book nerds. Is this the start of training for the atomized society? Let me look it up.
Oh wow! The computers they use run on linux and x-windows! Awesome. I don't understand why any company or group with more than 10 computers would pay for that expensive MS Windows license when you can get a great OS for free.  Usually it's cuz the IT dept doesn't want to learn anything new. Now let's see if I can get a shell…
The fancy train continues with some nice workstations.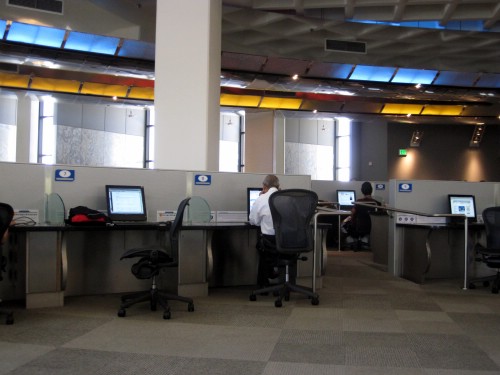 Now this is how you check your friendster page in style! Or are me moving on to myspace now?
Over by those giant windows, some modern art with some modern chairs on which to fake relax as you figure out wtf it's all about. Take it from me, its a metaphor about paperclips,  mailboxes, and the reign of Charlemagne.
And this bit of art is just a water fountain. But the water gives you life. Think about it.
Oh yeah, ha ha. They also have books. With words.
They have a different cataloging system than LAPL or the County libraries, but you can still find things. Here we see some some decent and some terrible Mexican cookbooks. Plus some "Latin" ones for good measure. Those crazy Latins.
Some sort of crack pipe/bong art high up in the air.
It's a mix of styles inside this library, as if someone couldn't settle on a theme. Here we have what is known in the trade as Queen Mary decor.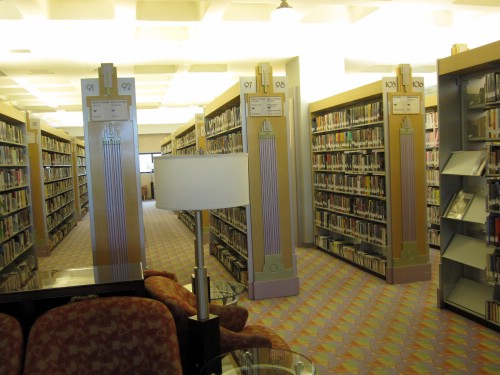 And the nautical theme extends onto the shelves. Books Ahoy!
Way over in the hidden but still popular multi-media room, they offer Blu Ray discs. In case you didn't know, that's a new type of dvd that enhances the experience of all your favorite Smurfs episodes. The American appetite for The Smurfs is re-shaping the entertainment industry.
Out of nowhere, a display of Futbol jerseys. Yay! But still, huh?
Next door is the other architectural theme known as Lumberjack Sunday. That's cuz lumberjacks were bored on Sundays and started sticking extra bits of wood everywhere, for a more woodsey look. When you answer this question correctly on Jeopardy, thank the library!
The fancy lamps get fancier…
…with their own power outlet and ethernet connection! Lumberjacks are rolling over in their pine boxes.
The Temple o' Magazines.
The Friends of the Library have a display of donors names on the spine of some ghost books. And on the multimedia display.
The sad thing about this library? You have to live in Cerritos to get a free library card. Or own property. All you other chumps pay $100 a year for the right to borrow books. Hmm, I think I will wait to get it next time.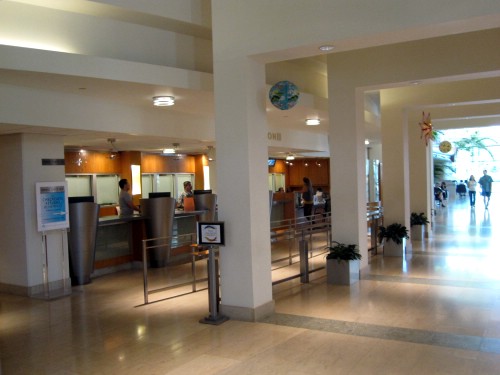 Should you decide to get one, there's about 5 clerks and no line at the circulation desk. Nice!
Separate but equal.
So that concludes our visit to the Cerritos Library. I'm not going to be checking out any books here, but it's definitely worth a visit. If I can, I try to check out the libraries of most cities I visit, just because they represent one of the greatest ideas ever: a community getting together to provide access and service of knowledge for everyone. And maybe some dvds as well.
Seriously, where else will you find a space like the library? It's usually free to borrow items. You don't have to sign up just to visit. They don't make you buy stuff just to be there. Sure it's a communist principle, all these collectively owned books that anyone can access. But a good idea is a good idea!
Now if IÂ  could only get the Librarian to tell me what to do about this swollen ankle, then I'd be set. I wonder if anyone is working on a similar concept for health care? You know, a free place that anyone can visit to get some basic medical information? Hmm, maybe I'll look it up.
Oh yeah, if you want to make a full day of it, head over to Artesia (either before or after) for some eyebrow threading, aka plucking of unwanted hairs. The ladies get all annoyed when I show up with my own rope for the chest hairs, but the results are worth the insults!
And the real reason I head out to this part of So. Cal: the excellent vegetarian fare of Jay Bharat.
Punjabi Thali.
From a previous visit, Punjabi and Gujarati Thali. I dream of these flavors. I'd give you a better review if I could do it justice, but I can't. I just love this food.
It's all just a suggestion.
Cerritos Public  Library  562.916.1350
18025 Bloomfield Ave.
Cerritos, CA 90703
http://menu.ci.cerritos.ca.us/
Jay Bharat 562.924.3310
18701 Pioneer Blvd.
Artesia, CA 90701
http://www.jaybharat.com