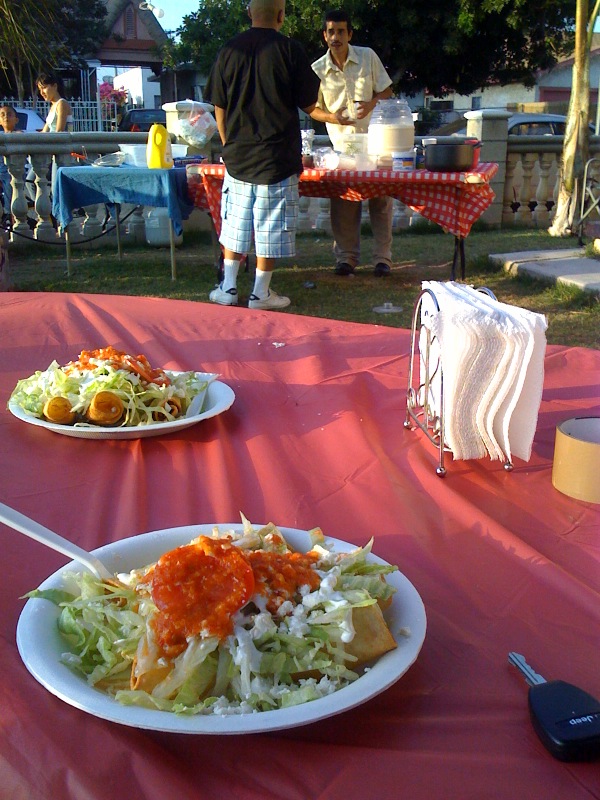 Most of us know that East L.A. has a unique and colorful character all of it's own. I thought I'd seen everything in Do-It-Yourself entrepreneurship in my old Barrio, until today. "La Crisis" has spawned so many forms of creativity to make financial ends meet that nothing really surprised me anymore. That is until I heard the latest "Chisme" while visiting my Mom in the Eastside. "Have you heard about those people down the street who are running a full on restaurant on their front lawn?" she asked. "Holy Crap!", I gasped. "This I gotta see"…..With great curiosity, my bro' and I set out this afternoon to check out this suburban spectacle for ourselves. I remember that while visiting Mexico D.F. years ago, the sight of multiple homes in residential neighborhoods that would lay out smorgasbords of food for sale to passersby was a common sight there. But here, well, that was quite a different matter. I'd never heard of such Nervio! As we walked up to the house our disbelief was greeted by the sight of a festively decorated, but modest residential yard with hand-written signs welcoming all to "EL BANQUETAZO". Wow!…..
We were greeted by the two gentlemen running this establishment with a friendliness rarely found among even the city's most hoity-toity restaurant maitre'd's.
"Van a comer aqui?" we were asked. Upon hearing our affirmation, the two men instantly carried out a nearby dining table and set it out for us in the middle of the lawn. "Sientense por favor!" they smiled. "Wow, what service!"
We then pondered our dining choices from the posted menu,………….hmmm,…Tostada de Tinga and Flautas de Carne y de Papa were the day's entrées.
The kids were happily lounging about the whole time watching Daddy work!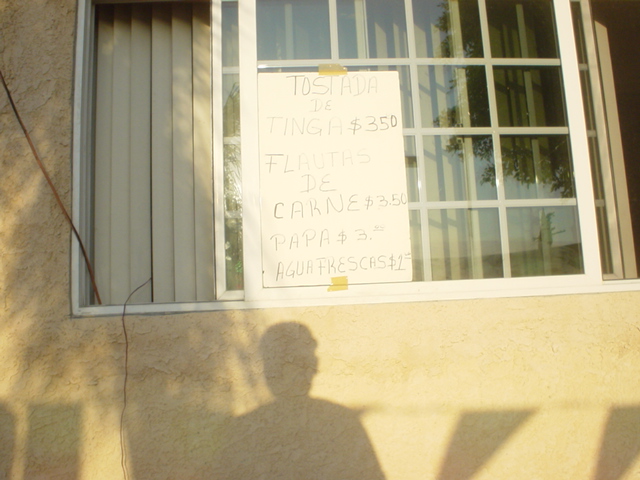 We asked for a combo plate and the staff happily obliged as they diligently prepared various meals….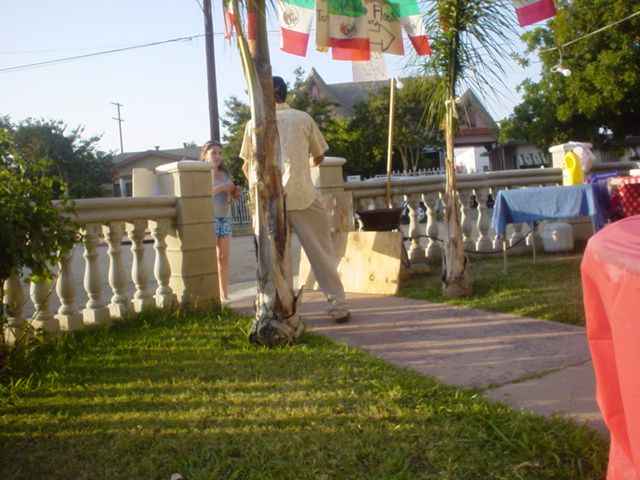 As we waited, we observed numerous local customers arriving to place and to pick up orders. These guys were busy! business looked good! One lady laughed as she picked up her family's order: "Thank You! You saved me from cooking in a hot kitchen tonight!"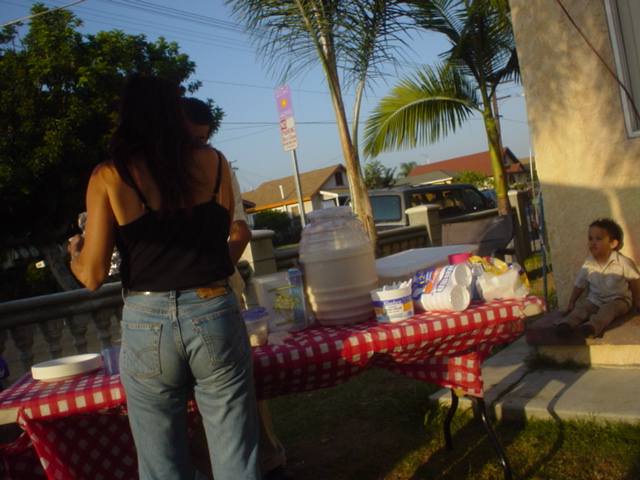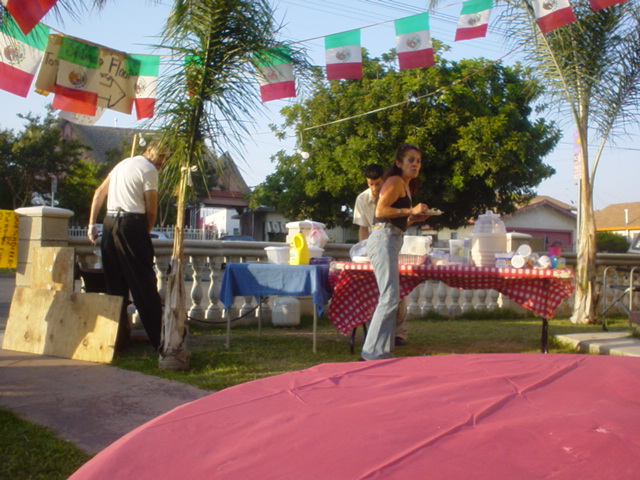 By now, our food had arrived and we admired the tasty looking dishes! The flautas were light and crispy. The beef as well as the potato ones were wonderfully seasoned somewhere under a mountain of cool fresh shredded lettuce, sliced tomatoes and fresh cream. From my seat I observed as the cook had gathered the fresh ingredients from his kitchen's refrigerator. My brother noted that the server guy was thoughtfully wearing those restaurant plastic gloves as he handled the dishes.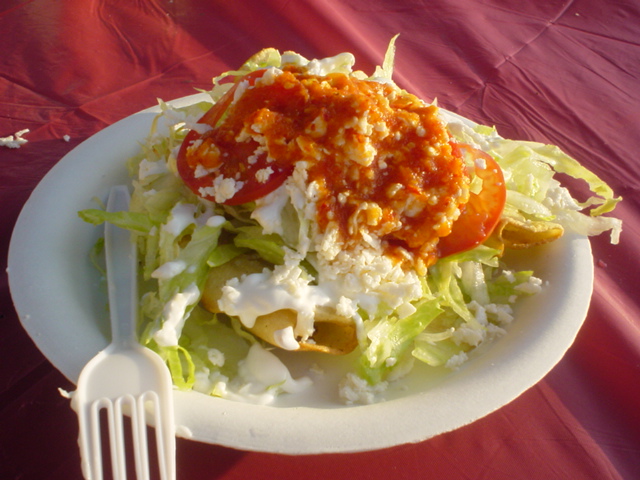 Delicious and yummy! They told me that they might feature Gorditas on their menu next week and "Yes", they do deliver and cater parties!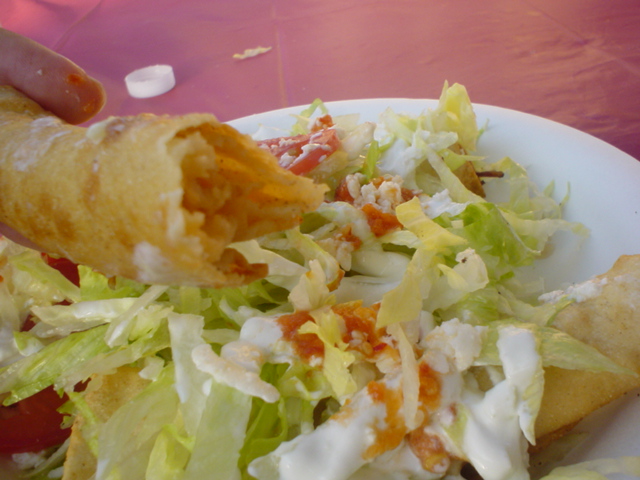 After enjoying my flautas, I went over to thank the two men and learned that one was from Mexico D.F., the other from San Luis Potosi. They had no previous restaurant experience but learned to cook while observing the cooks in their family while growing up. I asked about their set up here and they explained that this was their first month of doing it after both being laid off from their jobs. I told them that I was happy to lend my support to two locals such as them and that I admired their spirit and drive to provide for their home and family through whatever means they could.
They explained that they will continue in this venture as long as they can.
When "La Crisis" strikes, I see that some individuals will turn to financial advisors, seminars, Suze Orman, even booze, drugs, crime and depression. While others bear down and find means to generate income somehow. Albeit under the radar. A survivor instinct kicks in and communities find ways to support each other during these down periods.
I will not include the men's names, the location or any other specific information about this place here. If any of you know me or want to contact me, I may consider sharing the info. Maybe. A few reasons for this being:
I don't want to get them busted.
I don't want to tip off any hipsters
I don't want to see this place wind up on Yelp!
Que te importa!
EL BANQUETAZO
Location: The Eastside
Hours: Open only Fridays and Saturdays, 4pm until the food runs out. (And it does!)
Cash Only
Street parking where you can find it.
Letter Grade: No Mames!!!
We thanked our hosts, paid our bill ($9 for two combo plates and two drinks) and after some warm "Hasta Luegos" we walked down the side street about a block when we noticed another hand written sign in front of yet another house….
Competition! Another house was offering it's own menu selections! Wow! This is turning into House-Restaurant Row! This may be catching on!