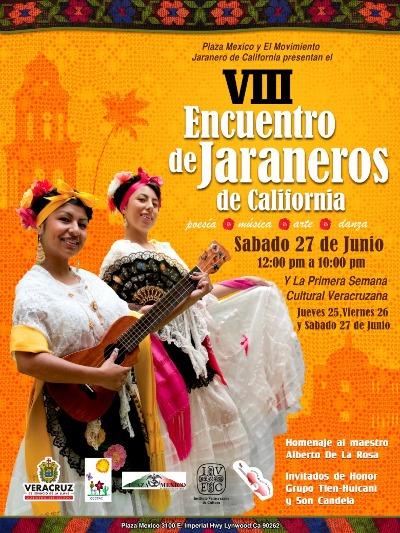 This coming Saturday, June 27th, the 8th Annual Encuentro de Jaraneros is taking place at Plaza México in Lynwood! It's not common for events like this one to get much publicity outside of Spanish-language media, and that's where LAEastside.com comes in!
El Encuentro starts at noon and is scheduled to end after 9 p.m. The full list of performers is available at the website. The Masters of Ceremonies are Radio-Mas Veracruz's Rafael Figueroa & KPFK's Betto Arcos.
What is son jarocho? More info & music after the jump!
A definition of son jarocho from the Encuentro de Jaraneros website:
The Son Jarocho of southern,Veracruz is one of the most dynamic variations of the musical/dance genre known as the Son Mexicano. The "folk music" of Mexico, the Son Mexicano emerged during the colonial period as a mix in between Spanish, Indigenous, and African, music and dance. As early as the 16th century, the Spanish introduced the native indigenous population to stringed instruments such as the violin, harp, and various guitar-types. These three instruments thus became an "instrumental core" and for the next 300 years natives and Mestizos developed their own regional stringed instruments on the European models. Some of these instruments are the vihuela of the west coast, the jarana huasteca of the eastern-central regions, and the jarana jarocha of Southern Veracruz. As a distinct regional instrumentation developed so did a distinct regional music/dance tradition. Just as the Son Huasteco from east-central Mexico and the west coast Son de Mariachi have their own characteristics the Son Jarocho can be distinguished by its percussive rhythms, syncopation, vocal style, and improvisation in its harmonic and rhythmic framework and verse.
Readily accessible via public transportation (Long Beach Green Line Station, Buses 60/760/251/121/612) & free!
VIII ENCUENTRO DE JARANEROS DE CALIFORNIA
Plaza Mexico
3100 E. Imperial Hwy. (Between State & Long Beach)
Lynwood, CA 90262