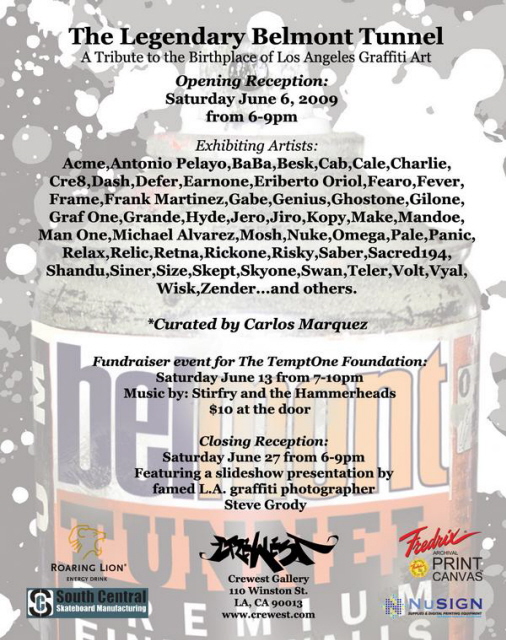 Special Art show coming up this weekend.
A tribute to the now  gone Belmont Tunnel graffiti yard. This show features art by some of the first generation of Los Angeles graffiti writers. 
The Belmont tunnel was the Toluca substation for the Pacific Electric Railway that ran in and around downtown LA starting in the 1920's. It was left abandoned around the 1950's when freeways and more cars started popping up. ( I guess they did not  think we would need such train now huh!) Anyhow it was left alone and abandoned for over 30 year's until the mid 1980's when the graffiti/bombing era was coming up. It got noticed by writers as a potential place to do art. The rest is train and graffiti history it still holds a special place to many of these talented artists, and others who hung out and  grew up around the area. The land was bought out and torn a few years back to make way to some boring apartment buildings lol.
Opening reception Saturday June 6, 2009
6 p.m. to 9 p.m
110 Winston St
Los Angeles, Ca 90013
Closing Reception
Saturday June 27, 2009
6 p.m to 9 p.m.
Video of a typical afternoon at the Belmont Tunnel graffiti yard, the gente used to enjoy it too playing Aztec ball games, singing making carne asada, and drinking some brews.
Also Check out  old school graffiti writer "Make" on his personal Belmont memories.