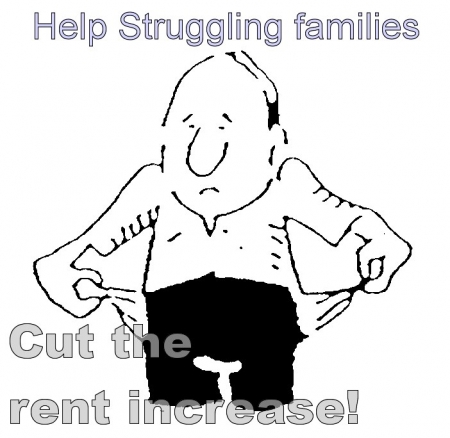 Of course, I'm talking about Santa Monica's newly adopted rent increase of 1 percent (effective September 2009 through August 2010) for their rent-controlled units, compared to the 4 percent increase the city of Los Angeles will allow in our rent-stabilized units (effective July 2009 through June 2010).  Santa Monica's Rent Control Board approved the relatively small increase last week in consideration of the hard times that currently afflict even the bourgie classes of renters in that city.  To say the least, it's thought-provoking to see the contrast between the two cities' rent policies… to think that those of us lucky enough to live in rent-stabilized units in LA could see our rents go up 4 percent after July 1—even while housing market rates actually drop in the face of rising unemployment.  
 
How the hell can that be, you ask?
 
Well, it must have something to do with our neighboring city's local political party called Santa Monicans for Renters' Rights (SMRR), which not only won passage in Santa Monica of the "strongest rent control law in the country" in 1979 but has continued to control much of municipal government ever since, helping the city earn its nickname:  People's Republic of Santa Monica.  (See?  Positive things happen when people organize!)  Also helping rent-paying households there, however, is a more democratic government structure, one that gives folks the right to directly elect the members of the Rent Control Board, and this has allowed the SMRR to regularly secure almost every seat on that body since its creation.
 
In LA, by contrast, all seven members of our Rent Adjustment Commission (which sets maximum allowable rent increases where applicable here) are appointed by the mayor and confirmed by the city council.  So while tenant advocates fill every seat on the Board in Santa Monica, as decided by the people, Mayor Villaraigosa's appointees to the Commission inexplicably range from progressive civil servants to serious business types—and all, by law, must be homeowners.  (An example of this schizoid selection of commissioners is the mayor's recent replacement of a fighter for workers' rights, Sharon Delugach, with a corporate lawyer, Belinda Vega.)
 
In a city where at least 3 out of 5 residents is a rent-paying tenant, one would think that we renters would wield more power and influence over our city's policies. But instead, LA's Rent Stabilization Ordinance—which is more landlord-friendly than a real "rent control" law in that it allows a unit's rent to go up to market rates when it becomes vacant—hasn't seen any major updates since its own creation in the 1970s, when Angelenos also organized to win some housing security for those who can't take out mortgage loans.  This means that renters living in homes built since the enactment of the law (or in any single-family home, no matter when it was built) have hardly any protections against excessive rent increases or unfair evictions. 
 
For their part, the residents of another town nearby—tiny, rascuache Maywood—are still celebrating an impressive victory from last fall:  After an arduous year of organizing and campaigning, in October they got their city council and mayor to approve an ordinance against unjustified evictions.  They probably would have gotten rent control on the books, too, were it not for California's Costa-Hawkins Act, passed in 1995, which prohibits the expansion of rent regulations to any units not already covered by such laws in the state.  Modifying Costa-Hawkins and expanding rent regulations in LA and everywhere will require thousands more renters throughout California following the example of the people of Maywood in their determined fight for greater housing security.
 
Ah, yes… I can already hear them:  Property owners and the defenders of capitalism saying that limiting how much rents can be raised on tenants is simply theft, a violation of the sanctity of property rights, and conducive to—you know the word!—inefficiency.  "[Rent stabilization] makes me not want to fix up the place," a landlord told me the other day, pointing out that in a free housing market (like in the building next door that he also owns but which isn't rent-stabilized because it was built in 1980) he'd be able to drastically increase rents on his apartments, perhaps kicking out the low-income families in the process, to not only recoup the money he'd invest in replacing obscenely old carpets, fixing leaky ceilings, and giving the building a much-needed new coat of paint but also immediately profit from the investment.  I've heard even some smart people argue that regulating rents discourages maintenance and leads to dilapidated homes due to the reduced profit motive in keeping up a property.  But they're all missing the point:  If you earn working-class wages in LA (like a waiter, a janitor, or even a teacher), would you want see the entire city look like Brentwood even if it means that you'd have to move out to San Bernardino where rents are still affordable?  Do we just want a nice LA? Or do we want a city that is affordable to us all?
 
Don't get me wrong, controlling (or stabilizing) rents is hardly The Answer to our need for affordable housing.  But landlords have no good arguments against such regulations—it's the tenants that are still getting the short end of the stick.  Just as Marx said about the relationship between the worker and his employer, the tenant-landlord relationship is naturally antagonistic.  When a tenant pays rent, she's really paying the mortgage but under an agreement that keeps her from building equity.  So when she moves, she leaves with nothing—she's lucky if she gets her security deposit back.  Rent control leaves this exploitative relationship intact; it merely attempts to mitigate the renter's sorry circumstances.