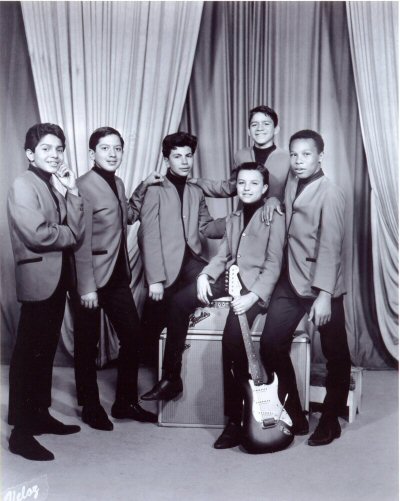 Mark & The Escorts (1964), Left to right: Ricky Almaraz, Trini Basulto, Richard Rosas, Mark Guerrero (seated), Ernie Hernandez, &Â  Robert Warren.
LAE: Were there many female bands in the Eastside scene at that time?
Mark: The only girl band I can think of is The Four Queens. In fact, Billy Cardenas managed them. Billy also managed my band, Mark & the Escorts, as well as The Premiers, The Blendells, and many other Eastside bands. I don't think The Four Queens made any records, but they used to play shows on the Eastside circuit. We played on the bill with them at St. Alphonsus Auditorium in 1965. The Sisters weren't a band, but a three part vocal group like The Supremes, the Arvizu sisters. Ersi Arvizu later became lead singer for El Chicano for a time and has a solo album out now produced by Ry Cooder. She was also on Cooder's 2005 album, "Chavez Ravine," which also featured a couple of tracks by my dad. There were other female vocalists in East L.A. back in the 60s, but I can't recall any other girl bands.
LAE: So how did your dad feel about you and your music and playing in bands?
Mark: He was proud and happy about what I was doing, but was pretty much hands off because he was so busy performing. He had his own nightclub in the 60's and was sometimes out of town playing shows. However, he did like my band. In fact, when we were about 14 years old he used us in the studio on some of his records and we played at his nightclub a few times for Sunday tardeadas. He also took us on the road a couple of times during that time. We played San Jose, Stockton, Bakersfield, and Indio. We'd open for him and were somewhat of a novelty because we were so young. It was amazing because we were doing rock & roll and surf tunes and the audiences were mostly Mexican, not Chicano! A Spanish speaking kind of audience, but they liked us.
Mark & The Escorts at Lalo Guerrero's nightclub with Lalo looking on.
LAE: Did your dad like your music?
Mark: He always praised my songwriting and musicianship. He'd say: "You're just like me all over again." We wrote a lot of songs together. I also participated with him in writing a lot of his "Ardillita" children's songs and arrangements and we recorded and played live events together. In the late 90's, I formed a band to back him up which we called Lalo Guerrero with Mark Guerrero and the Second Generation Band. We played a bunch of shows and I'm so glad we had a chance to do that. He was already in his early 80's and we both wondered why we didn't do it earlier. You can see a lot of those performances on you tube. My you tube page is www.youtube.com/markguerrero49.
LAE: What was life like at home? Was there much family jamming going on?
Mark: Not so much jamming because when I was younger I was into rock & roll and he was doing his thing, which was totally different. I was doing English language music and his was mostly Spanish. But in the early 70's, as I got more culturally "Chicano" and wrote songs like "I'm Brown", pretty soon it all started coming together and we began playing together more and became closer musically. But growing up I did see him around the house writing songs and things like that.
LAE: So did you get started musically by the example of having a musical dad around the house?
Mark: I'm sure it had an effect and an influence on me. But what really got me started was that in East L.A. in the early 60s, many 12 year olds had guitars. Usually cheap Mexican acoustic guitars you could buy in Tijuana, but it was cool. They'd be out on the porch learning Honky Tonk and La Bamba. I had friends who had guitars like that so I asked my dad to buy me a guitar in Tijuana. On our next trip down there he bought me this little guitar for $8 and showed me a few chords. If you read my dad's book, "Lalo My Life and Music," he says that by the time we were driving back home, I was playing and singing "La Bamba." That's a true story.
I want to point out that back in the Mark & The Escorts and Men From S.O.U.N.D. days, I never mentioned who my dad was. I kind of hid from it because I didn't want to use it or benefit from his name. Once in a while a show flyer would read "Mark Guerrero, son of famous orchestra leader Lalo Guerrero" and I'd be mortified, real embarrassed. I just wanted to make my own way and be one of the guys, not the son of a celebrity. When I started recording on major labels in the late 60's and early 70's, none of the people at the record companies even knew who my dad was so it wouldn't have been of any benefit to me anyway in that scene. It was during the late 70's that my dad started to become more popular with college students and better known in the mainstream. He was also starting to be looked upon as a Chicano icon. By that time I was doing more Chicano music so our music started to come together to where we could perform "live" together. I was also more secure about my own work and career that I could embrace it when his name came up in an interview or in publicity in relation to me. I also realized by then there was no escaping it anyway. I once heard Ziggy Marley say when asked about his father, the great Bob Marley, that they are one and "it's all the same man." I loved that.
LAE: You definitely proved that you were your own guy musically.
Mark: Thanks. I've worked hard and done my best.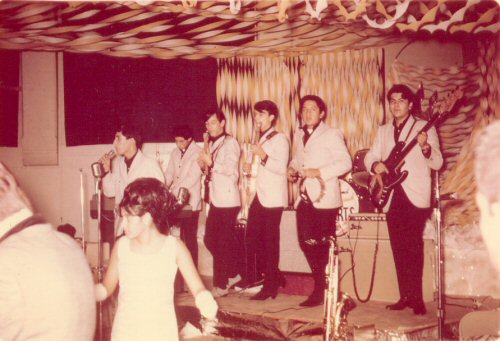 Mark & The Escorts play at Griffith Jr. High School.
LAE: I noticed that in your background, you spoke of attending Griffith Jr. High and Garfield High. That indicates that you must have lived and grown up in the East L.A. area. I point this out because typically, many Eastside Chicano families who find some measure of success tend to move out of the barrio to places like Montebello, Monterey Park, and beyond.
Mark: Like the Jefferson's, "Movin' on up?"
LAE: Yeah, it's seems that your dad kept it 'real" and maintained his home & family in the old neighborhood.
Mark: There are two reasons for that. One was that we loved it and were comfortable there. It was home and we were happy in the barrio. The second was that as famous as my dad was, he was never wealthy. The Chicano music business was, and still is, pretty limited as to how much money you could make. He wasn't a mainstream artist like Bing Crosby or Frank Sinatra. Also, my dad was never a businessman. He was always an artist. A genius with his head in the clouds who only cared about making music and earning a living. He was never out there trying to make millions and he wouldn't have known how to do it anyway. Amazingly, he never had an agent or a manager. He simply took opportunities that came to him. His whole career was like that and he got ripped off a lot, by record companies, business associates, even family members. For example, when he had a huge hit with "Pancho Lopez" in the 50's, it was also a hit in Spanish in Mexico, where they even made a movie about it that generated all kinds of money. My dad gave power of attorney to a relative down in Mexico City to collect his money down there and this guy just bought an apartment building and made a nice living off of it. My dad didn't notice because he trusted his family and was just so busy up here doing his thing that he never thought about it. Ten or fifteen years later my dad discovered that this relative had used the money and never forwarded any of it.
LAE: oh, man…..
Mark: When he was with Imperial Records, he made about 200 recordings for them and helped make the company successful that went on to later sign Ricky Nelson and Fats Domino. My dad used to get $50 a side from them and no royalties. So he'd record four songs at a time, which earned him $200 bucks, which was relatively good money for the late 40's and he was thrilled to get it. But the company would be selling 50,000 of his records or more and cleaning up. So he got no royalties and they got the publishing rights too. When my dad had his first major success with "Pancho Lopez," he had two partners who would fly to Europe on an expense account and live it up with the proceeds. I think my dad wound up with $30,000 off of the hit song, with which he bought his nightclub. But he got ripped off left and right because he was not a good businessman and he was trusting. So he never got wealthy, but we were always comfortable. He always made a good living. I would say we were middle class. We could have moved to a little nicer suburb, but didn't want to.
LAE: Where exactly did you guys live in ELA?
Mark: It was on McDonnell Avenue between Whittier Blvd. and 3rd Street, north of 6th Street.
LAE: Your dad was obviously a local hero in the community. What was it like for you guys?
Mark: I don't remember a lot of fans showing up at the door, but I do remember that a lot of people would come over to visit. We also had a lot of celebrity guests come to see my dad, Chicano and Mexican actors and boxers. My Godfather was Enrique Bolanos, the #1 lightweight contender in the world. He always gave me a dollar when he came over, which was a lot of money back then, especially for a 7 year old. He was a really nice guy.
LAE: What's the status of the house now?
Mark: It's still there. I was just over there recently. The house is still the same except that the owners grew a hedge that covers the entire front of the house and they put bars on the porch. In the late 80's, my brother Dan and I went back there to see it and actually had the guts to knock on the door. A lady answered and we told her we grew up in the house and our dad was Lalo Guerrero. She invited us in and we walked through. What a mind blower that was! I lived there from birth to 16 years old and to walk through those rooms we grew up in was pretty profound. The rooms were the same, but seemed smaller. They didn't seem so small in our memories. When we were kids, our backyard was big and had a little above ground cement swimming pool, a patio with ivy trellises, an iron framed swing set, and an old incinerator made from a World War II bomb! That's when it was legal to burn trash. Growing up, that backyard was for me a huge wonderland, even though it was un-landscaped and wild. When my dad made some money with his night club, he had some apartments built in the back, so that was pretty big-time for East L.A.! The building had two units upstairs, two garages downstairs, and a small room also downstairs that my dad used as an office and sometimes a place to escape and write songs.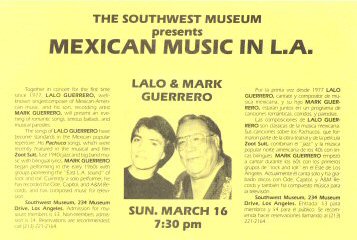 LAE: What were your favorite neighborhood hangouts growing up? Where'd you go to grab a snack or just go for fun?
Mark: Remember the Hat? The original Hat? And then there was the Monke-Uddle!!
The original Hat was on 3rd Street and Ford. Right up the street from Humphreys Avenue School. I used to go there as a kid and you could buy 12 hamburgers for a dollar! They were about the size of today's small McDonald's burgers. I loved the Hat but the Monkey-Uddle was my favorite! I loved those burgers! It was just north of Whittier Blvd.
LAE: Yeah, I remember that little shack just north of Whittier Blvd. on Kern Avenue.
Mark: They used to have Delaware Punch! Did you ever have that? Oh my God, that was my favorite soda man! It was purple and non-carbonated. I would have a hamburger with a Delaware Punch. Man, I was in Heaven. The guy who used to make the burgers there was a real old white man named "Pops". He was in his 70's or 80's, white hair. There he was in his white apron at the grill. I can still picture him. He was a really nice guy.
Another fast food favorite of mine was Bea's El Burrito on 3rd Street as it dips down, between McDonnell Ave. and Arizona Street. My thing was their taquitos de guacamole. Man, you'd get six for a dollar. I'd go there all the time. My family did all of our shopping in ELA. I'd go with my mom to Kress, J.C. Penny, and Jonson's Market. To answer the other part of your question about where I went for fun, when we were kids my friends and I would go to the "plunge," the public swimming pool by St. Alphonsus church on Atlantic Blvd. I also played little league baseball at Belvedere Park and Rosewood Park. My dad would also take me and a bunch of my friends to play football and baseball at Garfield High School on weekends. Of course as we got into our teens we went to house parties and local dances.
LAE: Also, the Center Theater had a snack bar & grill that you could access from the street.
Mark: Yeah, the Center Theater was the funkiest of the three theaters on Whittier Boulevard. It certainly wasn't the cleanest. But we still went there. Of course, the other two theaters were the Boulevard Theater and the Golden Gate Theater on the corner of Whittier & Atlantic, which was the nicest one. I remember seeing The Beatles movie, "A Hard Days Night," at the Boulevard Theater. I also played there with Mark & the Escorts on the bill with Little Ray & the Progressions in front of the screen before the movie.
LAE: Where'd you buy all of your hip clothes?
Mark: The clothing stores that were real hip when I was in junior high
were Kirby's, Gold's, and Roberts. I'd sometimes go downtown to Flagg Bros. to get the latest shoe styles. The record stores were the Record Rack, Record Inn, and Story Music. Story music was the most conservative, a traditional music store with instruments for sale, records, and music lessons in the back rooms. The Record Inn was all records. I remember the owner Mike Carcano. He was the guy you went to because he got joy out of having the rare records that nobody else had. You could order anything and he'd get it for you. The Record Rack had Tony Valdez behind the counter. He had a lot of the Eastside sound records over there too. Tony went on to be a popular newsman and television personality. I patronized all three record stores.
LAE: What about the Sound of Music store?
Mark: That record store didn't come into being until after I moved out of East L.A. I go there now whenever I visit East Los Angeles. They have a great selection of CDs and vinyl and a lot of "Eastside Sound" recordings.
LAE: Did you ever participate in the cruising scene on Whittier Blvd.?
Mark: Yes, I did. The height of it was around '64 to '67. In the mid 60's it was just jammin'. I was the perfect age to go cruising in my own car. Sometimes I'd go with my bass player Richard Rosas, who is now Neil Young's bass player. He had a cool '57 Chevy. I had a '62 Impala, two tone turquoise and white. We'd cruise up & down, usually in his car, with the music blaring. The guys were mainly there to meet girls and show off their cars of course. By '67 we were getting into the hippie phase, growing our hair long, starting to smoke pot, and listen to the Doors and Buffalo Springfield. So, one night we went cruising down there and the cops stopped us and started harassing us mainly because we had long hair. I remember the cop shouting to one of the guys in our car, "you look like an animal". That was pretty scary. Luckily they didn't beat us or arrest us, but they did verbally abuse us. That was the only bad experience I ever had cruising the boulevard. Overall it was a great experience, which I tried to capture years later with my song "On the Boulevard."
[audio:https://laeastside.com/wp-content/uploads/2009/06/on-the-boulevard.mp3]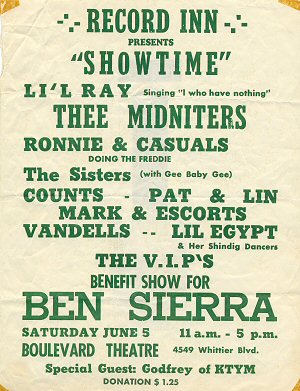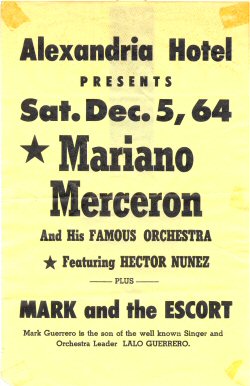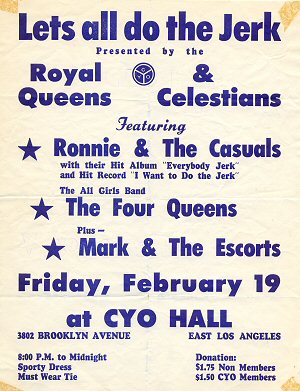 LAE: Tell me about the "Eastside Sound" as it moved into the 70's and 80's.
Mark: With me, I was part of the Eastside sound starting about '63 with Mark & The Escorts and then we became The Men From S.O.U.N.D. in '66. By the late 60's, we started going west and playing at clubs like Gazzarri's and other Hollywood venues away from the Eastside scene. Then we recorded for Kapp Records (MCA) in 1969. What happened in the early 70s was many of the bands and musicians with roots in the 60s "Eastside Sound" evolved into bands like El Chicano, Tierra, Macondo, Yaqui, and my band, Tango. The late 60s/ early 70s was the period when many bands from East L.A. began to "Latinize," bringing in Latin percussion, starting to sing some songs in Spanish, and having names that reflected our heritage. All the bands I just mentioned also secured major label record deals. In the late 70s/early 80s, bands like Los Illegals, Los Lobos, The Brat, The Plugs, and Odd Squad emerged. I knew some of the guys from Los Lobos and played with Los Illegals in 1985, but only heard about the other bands.
LAE: I've always felt that arts & culture from the Eastside is worthy and deserving of its own shrine here in Los Angeles. Hopefully we'll see it happen in our lifetime.
[audio:https://laeastside.com/wp-content/uploads/2009/06/im-brown.mp3]
Mark: Hopefully, there will be a museum in East L.A. someday. Meanwhile on the music side, documentaries like "Chicano Rock: The Sounds of East Los Angeles" are good even though they're somewhat limited. They can only give so much information in an hour or whatever allotted time they're given. The same with books such as "Land of a Thousand Dances," which have space limitations in regards to number of pages and number of photos. There are so many people that are truly deserving of recognition who should not be forgotten. That's one of the reasons I try to write about as many deserving artists as I can on my website, www.markguerrero.netI'm doing my best to keep Chicano music and the "Eastside Sound" flame burning.
LAE: Thank you Mark, for your time and memories.
Mark: My pleasure.