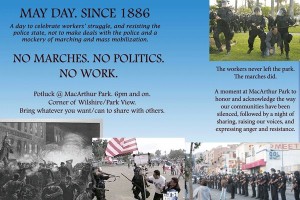 Botanitas is an ongoing feature bringing you stories and news from various sources, upcoming events and other bits of ephemera that might be of interest to LA Eastside readers. Suggestions welcome!

May Day events!

=====================
Los Angeles Times warns you about tomorrow:
At least seven marches are scheduled, including four in downtown Los Angeles, as traditional May Day celebrations of workers' rights have expanded to include immigration reform. Downtown march organizers are projecting between 20,000 and 60,000 participants, far fewer than the hundreds of thousands who turned out in 2006 to protest House passage of legislation that would have criminalized actions by illegal immigrants and their supporters.
Read more here.
============================
This May Day, celebrate that you are a worker by hanging out with friends, having some food at the park, and relaxing.
Friday. May 1st 2009.
6pm and on @ MacArthur Park. (corner of Wilshire/Park View) Bring whatever you want/can to share with others.
We will have some food, and you can enjoy the different events that will be happening at
the park that day. [Film, Skit, and Food Distrib. by RAC, May Day 07]
=====================================
May Day March by the South Asian Network
We hope to see you this Friday, May 1st, 2009 demand justice for workers working on Pioneer Blvd and around the globe. We demand an end to state, immigration and police violence targetting our communities. We will meet at 10:30am and marching down Pioneer Blvd to demand justice for community workers. At 12:30pm, we will be leaving from our office to join the larger demonstration for International Worker Solidarity Day in Los Angeles. Please share this information with your contacts.
Contact:
Joyti Chand
Associate Coordinator
Civil Rights Unit
South Asian Network
18173 S. Pioneer Blvd, Suite I
Artesia, CA 90701
Tel: 562 403 0488 x 102
Fax: 562 403 0487
www.southasiannetwork.org
============
Action and March organized by students at Los Angeles Community College
a group of students at los angeles city college is putting this march together. they are trying to get a convoy of students to march from los angeles city college to one of the two big marches (downtown or echo park). this will be the third year in a row that these students take over the street to joined the big marches.
For more Information: may_day_lacc@yahoo.com
May Day
International Workers Day
If you believe a world without exploitation and oppression is possible come and join our contingent of LACC students in a march to demand a stop to all the I.C.E raids, workers exploitations, and student fee hikes. Show support to all struggles in our country and in the world.
We will be joining a bigger march in downtown L.A.
Let's wake the sleeping giant again!!!
Let's bring another million people into the streets!!!
DATE: Friday May 1st, 2009.
TIME: 11:20 am
PLACE: Free Speech Area at LACC.
For more Information: may_day_lacc@yahoo.com
=====================
Echo Park March, 1:30pm
CHIRLA, as a member of MIWON, the Multi-Ethnic Immigrant Workers Organizing Network, will be honoring International Worker's Day on May 1, 2009, marching from Echo Park Lake at 1:30 p.m. heading south on Sunset Blvd. towards La Placita Church. At 4:30 p.m. hundreds of workers will be joining in a coordinated activity that will resemble a stadium human billboard. The "Postcard to the President" will reveal a message to President Obama visible from high above ground. The message is about the economy and the role immigrants play in its recovery. From 5 p.m. until 6 p.m. a program will feature keynotes speakers including Angelica Salas, Angela Sanbrano, and Maria Elena Durazo, among many other community leaders and workers.
=====================