I don't know what I did or what I said but whatever it is, someone out there loves me and is watching out for me. Today was an unusual day that could have taken a turn for the worse, but thanks to the Metro Freeway Service Patrol, it ended nicely. My friend calls me up asking me to help her take one of the dogs to the vet because the cabeson broke his leg last week. We get there, drop him off and make our way to a gas station because my friend didn't put oil in her car and it was smoking harder than a hipster at an art show. ZING!!
So we put in oil and make our way when while on the 5 freeway the car starts to make a weird clicking noise. It starts to smell funky and we feel the car dying. So she decides to get out at the next exit, but the car didn't make it to Glendale. Instead she had to pull onto the shoulder as cars and trucks rocked the car back and forth as they whizzed by. By this time it was high noon and we were baking inside that fucking car. She makes some calls while I twitter and out of no where, almost as if he's riding clouds, the Metro truck pulls over, backs up and the guy ask us if we needed help. Damn straight we needed help.
I ask him if he could get us outta the freeway because I remember all those horrible fox specials about car crashes. The guy is SUPER NICE and helpful about everything. Getting us to a safer spot as we wait for AAA and driving us to a store to buy snacks. We chitchatted with him the whole time, making jokes and having fun. My friend asked me if we should tip him and I was like, "I don't know what's the etiquette for being towed. We bought him a bottled water and gave him our eternal gratitude. I knew of the Metro service, but in my infinite wisdom didn't realize to look it up or call for help. I was to busy twittering.
All you have to do is dial #399 on your phone and they'll come and get you. FOR FREE !!!! They won't drive you to your house, but they can help tow you to a safe spot or hook you up with jumper cables. They're job is to literally drive around freeways all day and help people out. Amazing. Needless to say my friend learned her lesson and is regretting not servicing her car regularly. Lesson of the day…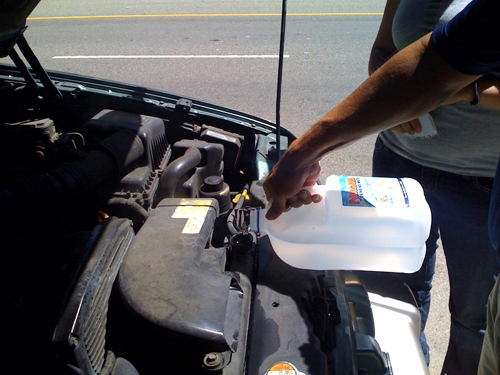 make sure your car has water, oil and all that regular stuff. I don't drive so I'm not sure what other maintenance is needed. Be safe out there people and if you get stuck on the freeway dial #399 and a "Random Hero" will come to your aid. Just like they did for me.