I'd heard from a few people that Manuel was considering changing up the menu at El Tepeyac, adding some healthier options and smaller portions, due in no small part to some health issues with some employees and the growing trend of vegetarianism on the Eastside. But apparently, a daughter of one of the cooks recently turned vegan and had an influence on Manuel, cuz he's actually gone to an all vegan menu! At least for the time being, as he's waiting to see what the reaction will be from long time fans of the place. "I think they might not be too happy, but it's good for them" Manuel said. I sure hope it catches on, we can use some healthier Mexican-American food over here.  I made sure to get there to try out some of the new items. Click ahead to see the tasty new menu!
An all vegetarian menu, I can understand and applaud, but all vegan? That seems a bit extreme. In any case, there was a line out the door yesterday to try the new healthier fare, I guess everyone wants to try the new menu.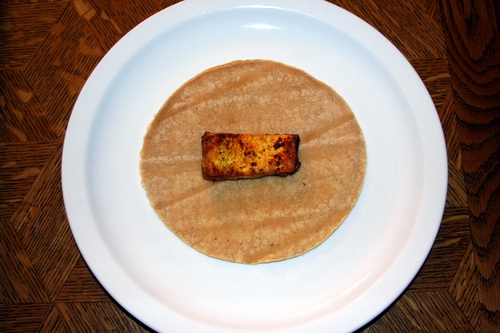 So how was the food? Well, it was okay if a bit plain. I ordered the tofu taco, which consisted of a fried tofu piece in some sort of delicious seasoning. It could have use another piece, and maybe some salsa, but not bad for a vegan dish at El Tepeyac.
The spinach-mushroom quesadilla was a bit more interesting, but they didn't do anything to replace the cheese. Looks like an item in development. I'll keep my eyes on this one.
The most absurd dish was the Vegan Hollenbeck Burrito, which was just lettuce on a flour tortilla. Okay, that's inexcusable. What happened to all the sauces and salsas? How about some guacamole? Or what about the BEANS and RICE!?! They seem to have taken the beans off the menu, since they only know how to make them with manteca. C'mon, it can't be that hard to adapt the recipe, can it?
So there's obviously some growing pains to this new menu, but it's definitely a welcome change from the lard, cheese, and meat heavy fare of yore. It's still pricey (the tofu taco will run you $5.50, yikes!) but I encourage all the Eastside veggies to show up and encourage this new, much-needed menu change.
El Tepeyac  323.267.8668
812 N Evergreen Ave
Los Angeles, CA 90033