OMG just got back from the most awesome game Dodger game ever!!! This was the biggest crowd at Dodger Stadium for an opener: 57,099.
So my day started at 8am when I was ready to go to Dodger Stadium. My dad and I got there at about 8:30 and we were fifth in line for where our car was.. well there I was so excited that I couldn't even read my book or study for my test that I have in about a few hours LOL… well walking around seeing the tailgaters it was pretty cool. My dad and I started talking to those around us and then people started parking right next to us, which is a left turn lane, every one was annoyed (well those that were heading to work LOL) so a couple next to us ask if it was ok I told them yes they can leave their car there. Suddenly with those annoyed patrons one women hit another car while trying to make a left, it was pretty funny. Then the cops came trying to be all tough and saying that they were about to tow away the cars parked right next to us.


I had to find that couple that I told it was ok to park there luckily they were close by and went to their car to see what was up. We got to talking and well then I got a few drinks out of it.. walking into the tailgaters zone it was such a big crowd of Dodgers fans coming together and enjoying themselves and of course they were mainly Hispanics there. I couldn't help but notice the cock fest amongst me.. I was like wow left and right just every were..ok enough bout the cocks.. then I had some girl come up to me swearing she knew me from some bar..pretty crazy I was like ya ok…I had my drinks and it was almost 10:40 I got back to the car and was ready to get in the stadium to see what was up.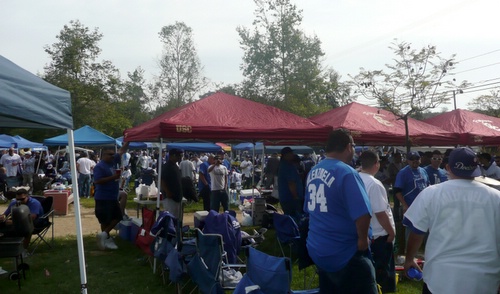 There I was walking ahead of my dad to get into the stadium awwwww what a site my second home that I live sooo much I get to forget all the things that are happening to in my life. Dodger Stadium is truly the most wonderful place on earth!!!!!!!
The Dodgers were still having their batting practice as I walked in I said hello to those I already know and they were all happy to be back working and being at the stadium. The pregame ceremony was the greatest ever. The Dodgers line up actually came through the fans which was great! Manny came out and walked out from the stairs on the left field pavilion it was soo cool. Fireworks and the big American Flag held by the Navy and Marines was great I had goose bumps the whole time. There of course was a moment of silence for Nick Adenhart and those that lost their lives. Then Doves came out of boxes while the Anthem was sang by 16 year old Charice, who did a hell of a great job!
Then the moment came with Hall of Famer Vin Scully throwing out the first pitch then saying his famous words which honestly almost brought tears to my eyes "It's time for Dodger Baseball!!!!"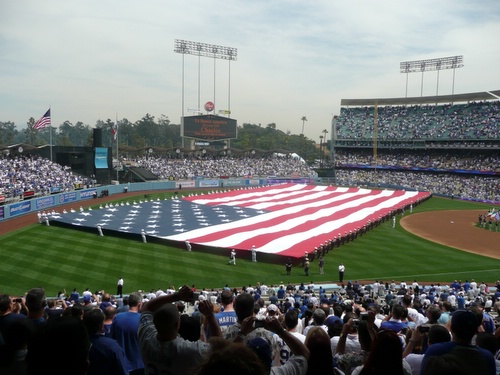 awwww man the fans were going crazy and a game against the hated Giants what can be better.
Manny coming up for his first at bat almost had a home run wow would that have got us fans going crazy but the Dodgers started their scoring in the 3rd when Orlando Hudson hit a solo home run. The Giants came back, but not for long the Dodgers broke the game open in the fourth when Ethier hit a home run, then after that Furcal got a 2 run RBI, Hudson a RBI double and walking Manny Martin came up and got a 2 RBI double giving the Dodgers a 6 run 4th inning!!!
The top of the sixth was history in the making when Hudson came up and hit a triple that was announced right after that he had hit for the cycle!!! The first since Wes Parker in 1970!! Then Loney came up to get a RBI and then Ethier came up to hit his second homer of the game!!!!!!!!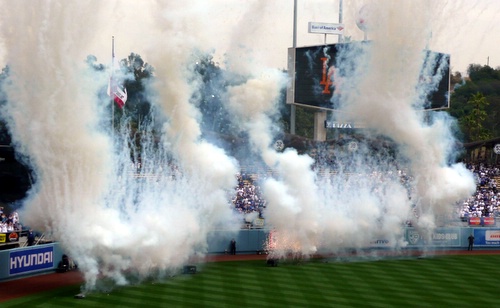 The Dodgers crushed the Giants 11-1 and everyone got coupons for free mini hamburgers again! GREAT game to HUDSON!!! and the Dodgers home opener didn't disappoint at all!
————————————-
Post submitted by Monique Muniz of the blog When I Fell In Love With Sports