Hey, it's St. Patrick's Day so I thought I'd share a few pics of that other drunken ethnic holiday: Purim! For those not in the know, which includes me, it's apparently a Jewish day of celebration and required drunkeness. So where's my invitation?
At one point, this holiday must have been common in Boyle Heights. Now it's probably only big on the Westside. Click ahead for a few pics.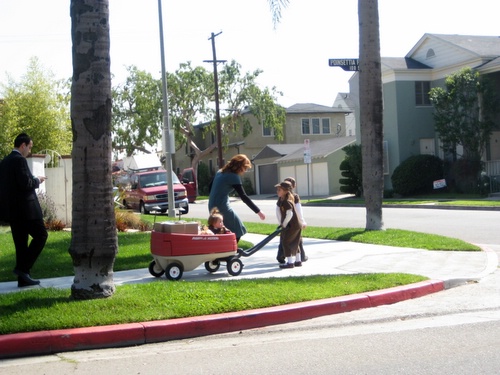 Someone I know called it the Jewish equivalent of Halloween. All I know is that I saw kids in costumes, including these as UPS workers.
Baskets of some sort of goodies and costumes. Excuse the bad photos, I was just passing through.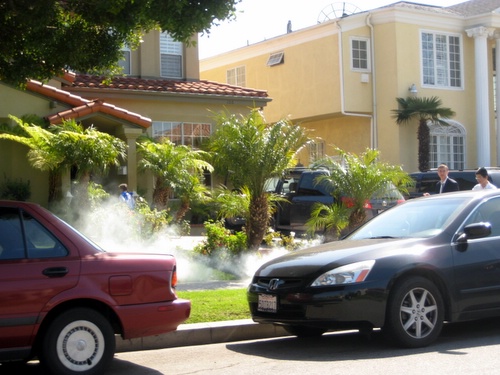 Firework smoke! Breaking the law in the name of celebration is not a crime!
For some reason, lots of popcorn was thrown around. It has to do with being joyous, I assume.
Wow, a Bouncy in the front yard of this neighborhood? That was surprising.
A collection of those water bomb poppers. Livin' it up!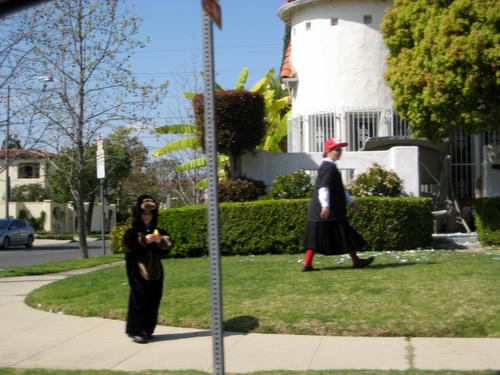 A boy in a monkey suit, he was spinning a little matraca.
So that's all I have to contribute. I'd add more details and links but it'd just be me doing a google search. But I betcha all those wack Westside blogs will be all over this next year. I betcha.