I have mentioned that I paint murals to make up for karmatic wrongs and  have something to talk about at bus stops, maybe one day when i dont have 2 screaming monkeys keeping me from blogging I can elaborate.
Here are my 2 chongos, and their primos whom I am sole zuramaro of:
(PS, the trouble of taking this pic for tia/mama was the foundation for cleaning up Downtown on weekends when they get older, i primed them with LA river cleanups already)
 Me and my wife started a small nonprofit about 7 years ago that paints murals and promotes art awareness in working class comunities, blah, blah ,blah…
So Ive been busy the past week or so securing the permits and painting a mural regarding watershed and indigenous philosophy in Cypress Parque on Macon st. and San Fernando Road.  The mural theme is Tlaloc, the aztec deity of water, creating rain on the city of LA (behind tlaloc is map with the LA River and Arroyo Seco highlighted) which flows into the LA harbor.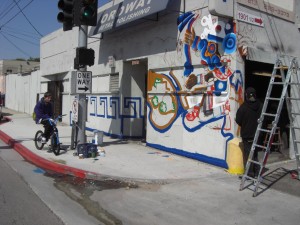 We worked with schoolkids from the area, but I get all flustered when I see a pack of chicos coming and work solo, so I have a bad habit of not getting documentation. I got some local kids from franklin and the east La Occ center helping me paint (aka, when I remembered I had a camera that day, ps. whoop whoop to elaocc). Either way, I painted with at least 100 kids, spoke about watersheds and the Arroyo Seco to all of them and hopefully planted the semillas of consciousness regarding watershed/environmental sterwardship.
I am bad at documentation, for the first several years, elacamp (our org, www.elacamp.org) had a few straight out community murals we painted that got one or two pics.   These murals made for great stories and a wall WE RUN TO THIS DAY, but in real world of charitable funding its all about documenting your work, so we got little fiscal daps. One mural we did was around Compton and Vernon, a 3 week mural literally took 5 months because we painted with EVERY darn kid and pelon/cornrow we could, which got tricky: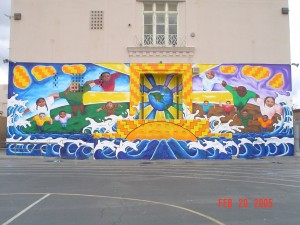 This is one of our first murals, at Ascot EM on Vernon and Compton Avenues.  This bad boy is about 75′ X 18′ and we did it with a little fold-out ladder so it took a while. Problem was so many hoods and kiddies played on this school during the weekend that we spent much of the time pushing painting lessons. We even had to create a schedule of what gangsters and associated kin could paint at what time in order to mitigate animosity that occurred when the whole hood was invited to paint at one time.  We painted with over 300 kids (no shit) and faculty, crips, bloods, 38th, 45th and 41st St gangs on the same wall. Every single person's name is on there. We painted with familias from the south central farm welll before the drama, and actually got some free comida out of grateful family members. I even got to hang at the farm before it got bunk, that bike shop across LB Blvd is the shiznit!  One morning me and my oldest boy (who was 3) went to take a blue line trip to visit the school kids and paint, we missed the Vernon stop because of foot traffic and stroller logistics and ended up hanging out in the LBC for an hour before returning home. When we got home we saw a baby had gotten shot in a stroller at the same time we where nearby, which made me remember we missed the stop because of a scuffle that may have led to the shooting. Anyways, this led me to pull away and finish the mural quickly, as the "hood" me realized my folks might be in danger and we did our good so the time was to depart. I had gotten too invested in the hood, and the politics were too deep to keep goin on, plus the mural was almost done so we finished up and bounced.  This kind of situation plays out in every barrio, and it is of the sharpness of the facilitator to realize when to pull out or make do with what is available (it's called being poor to most).
NEways, so we are painting a murale in Cypress Parque this weekend and wanted to invite anyone else interested in helping.  The mural is part of the march for water (www.marchforwater.org) which will highlight the need for water that is becoming a big problem in modern times.  Thousands of schoolkids will march from Cornfields Parque at 9 am to El Rio Parque on SanFer Road.  At 12 there will be some speakers and whatnot, then the marcheros will help me finish the bottom section of the mural at SF and Macon, PLEASE COME AND HELP!
 
Or Whatever. Come and meet up and do some actual good in the hood.  This mural is part of several that will indelify the Marcha, including another small one at the Ave 26 offramp of the Arroyo Seco parkway.  My job is to get more Raza involved in the Arroyo, so anyone interested please come.  These murales will be the kickoff of a community art program we will facilitate around the confluence area, so the more the merrier!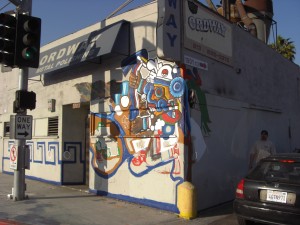 Come be a part of environmental awareness in NELA!!!