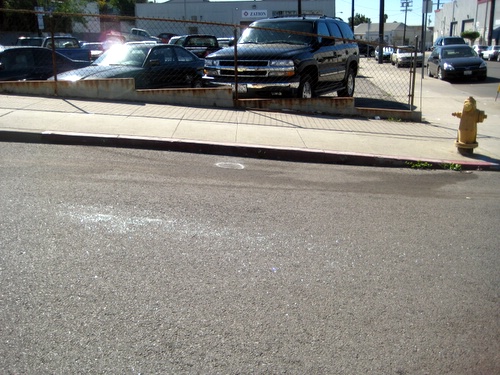 Chimatli mentioned this murder in a previous post, I decided to drive by the scene the morning after and take a picture. As you can see, everything looks normal on this street, except for the chalk mark near the sidewalk, no doubt circling a bullet case, and some shattered glass going the other way. I think we can make out a trajectory. Every media outlet said it was in an alley, but it wasn't. Which proves that the media is no longer doing it's job of actually reporting, keep that in mind for future reference.
The night of the incident, police quickly speculated it was "gang related", yet they still haven't figured out her hometown. I'd like to know why they use this "gang related" term before they have all the details, why don't they instead just call it an unsolved murder? Or do we not deserve that much? It may ultimately be true (Lincoln Heights is no stranger to gang violence) but that moniker is used too often as a code for 'don't worry about this one, there's a good enough reason." The name of the victim, a young woman of 25 years, was released: Breanne A. Hanna.
R.I.P. young lady, no matter what social group and stats sheet they finally decide is your proper place.