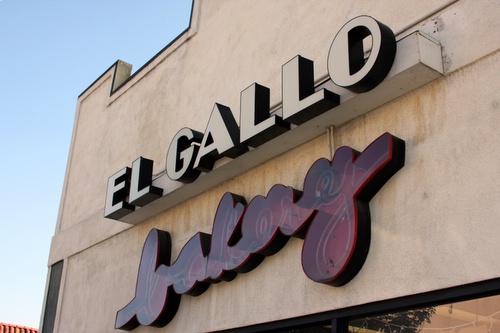 LA Magazine recently did a story on the "top 20" bakeries of Los Angeles. As usual, their tastes run a bit skewed from mine and squarely on the side of the American taste for desserts and sweets, so no Mexican Panaderias made the list. I had a friend who was crazy into baking and she didn't "understand" pan dulce, since she was comparing it to cakes and pies and thought it wasn't sweet enough. I tried to explain the concept and offered her some fresh examples from El Gallo, but it was of no use. I'd offer some to LA Mag but I expect the results might be the same.
It's okay though, I don't make my eating decisions based on that magazine. And for 60 years, neither have many East Los residents that have considered this the go-to bakery for pan dulce and a good source for teleras, that required pan for a proper torta.
I stopped by today for a quick look at their 60th year celebration. Click ahead for a few pics.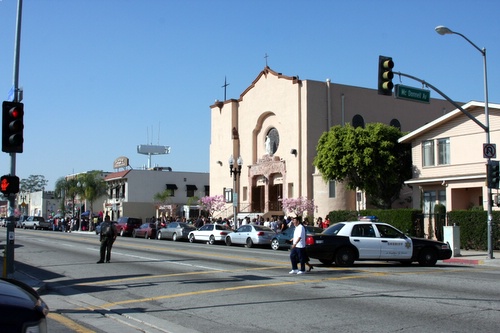 The Sheriffs closed off the block to let the party happen car free!
I was really there just to get some 10 cent conchitas, and of course some elotes, my favorite. That would be the bread, not the veggie. Looks like I wasn't the only one, the line was out the door…
…and into the parking lot! Yikes. Uhh, maybe I'll come back when the line gets shorter.
These piñatas were going out, the party store next door seemed to be doing brisk business.
I think the Gallo Bakery family owns quite a bit of property on this stretch of Brooklyn, including the plaza and cafe across the street. Inside of this space was where all the free food was happening. I got invited to sign up for food and a raffle but I was only going to be here for a short bit, I'm just waiting for the bread line to shrink.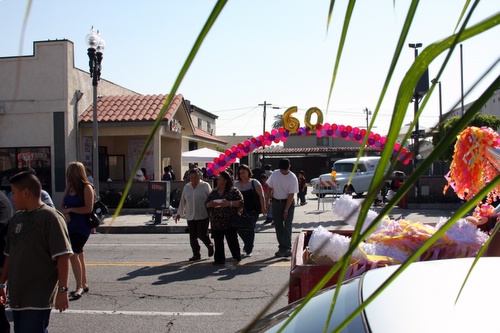 Hmm, it's still there. I'll wait a little more.
I love that they planned this party on a day when everyone else is talking about Souper Bowl Sundaes or something along those lines. I need to someday try one of these soupy ice cream desserts, hopefully they're not too sweet. The party store was selling some oddly shaped piggy banks, the pirate one looked okay but I'm still working on my current cochinito.
Frijolitos, a children's book publisher had a display. That's Albondiga the Mariachi Dog.
Okay, time to get my pan dulce. WTF? The line is still out the door. Oh well, I guess I'll just have to come back during a non celebration day.
I wonder if I can make a torta on sourdough bread….